Problem gambling has always been one of the main issues of the iGaming industry. Overspending is something that has ruined many lives. That's why gambling authorities worldwide are continually coming up with ways to prevent this occurrence. Overspending and problem gambling aren't harmful to those suffering from them only. They ruin the industry's image and lower the trust in authorities as they seem unable to deal with these serious problems. One of the solutions proposed by the UKGC for this matter is affordability checks. I've always believed that operators should be responsible for overspending and that they should be the ones to prevent it. Yet, the more I think about affordability checks, the more I wonder if they are a smart step or overstepping. Let me share my thoughts on the topic in my blog post below.
Possible Positive Outcomes if Done Right
While some industry experts claim that there isn't anything good about the affordability checks, I can give them the benefit of the doubt. Why? Well, they can be a good solution to a common problem if done right.
Here are some of my thoughts on how this tool could work and not turn into something that could only cause more issues. For instance, I believe that players should have the power of deciding how much they can afford to spend. Some sources mentioned that operators would have to perform these checks after a customer incurs losses of £100. This amount is too low, in my opinion.
According to NimbleFins, the average household expenditure for recreation and culture in the UK in 2021 is about £205. An additional £229 go to restaurants and hotels and £76 to personal expenses. Brits seem to spend about £56 a month on tobacco, alcohol, and similar expenses. As you can see, they can afford to spend more than £100 on remote gambling. More importantly, they have the right to do so. Nobody performs affordability checks when people buy cigarettes, alcohol, or cool gadgets.
As long as operators set proper limits and ensure they have good communication with their customers, an affordability check shouldn't be an issue. However, if it's imposed as something that must happen after losing just £100, nobody will like it or accept it.

Invasion of Privacy Raises Concerns
If done right and if players get the trust they deserve, there could be many positive outcomes from affordability checks. In a scenario where you place a spending limit of £300 and want to spend more, it's okay for the operator to request more details. But, should that information be an income statement right away, or could a simple chat suffice? I think that when someone is spending their own money, they at least deserve a chance to explain the situation before they're requested to present proof.
I believe this step could solve the obvious issue with the invasion of privacy that has raised lots of concerns. I don't think anyone feels extremely confident when it comes to giving all their income details to casino operators. It doesn't really matter how safe casino servers are. It doesn't matter how seriously they take care of your information. Giving such sensitive details to anyone never feels right. I know I wouldn't feel so happy about it. So, if I could at least postpone it by assuring a customer care agent that I can afford to spend more than £100 a month. I'd take that deal.

Problem Solver or Problem Creator?
Another thing I'd like to discuss here is the possibility of affordability checks to solve problems but also to create problems. For gambling addicts and players who overspend, this tool will be a lifesaver. For those who play responsibly, however, it creates a serious issue. They will be annoyed, they will feel lots of limitations imposed on them, and they will be asked to share sensitive personal and financial details.
In my opinion, that's not quite fair. So, I was wondering whether it's possible to employ the concept of affordability checks for online gambling without affecting the latter. For instance, I wonder whether it's possible to first flag problem gamblers and then impose the checks on them. On the other hand, those who don't have any issues with overspending or gambling irresponsibly would be left alone. I think that would be a great way to make the most out of this possibly effective tool.
Throughout this article, I focused on the players only. I am confident that the charm of the iGaming and betting industry lies primarily in the people who love and partake in these activities. That's why I always consider new regulations or products from the players' perspective. Still, I also must mention the strong opposition of the industry and operators as they forecast massive losses. I always say that operators should be responsible for the problem gamblers overspending via their platforms. Yet, these concerns must be considered.
How much will this step cost operators? Not only in lost customers but also in making such checks possible. Would these expenses affect the industry somehow? Would they result in cutting innovation or customer care budgets? I honestly don't know, but I believe it's something worth discussing.

How Will Players React to Affordability Checks?
The last point I want to discuss here is similar to the one mentioned in my post about the overly regulated market Germany is about to come. I'm afraid that the illegal gambling market will attract lots of UK consumers unwilling to bother with affordability checks. Just for the record, out of 1,500 British gamblers polled, 73% expressed concerns about sharing data and privacy issues. Moreover, 45% said they would consider playing on international and unregulated sites to avoid giving proof of income.
These are some scary figures that reveal one of the possible drawbacks of affordability checks, too. The tool may push players in the arms of illegal operators where affordability checks don't exist, but also ID verification isn't a thing. As a result, consumers may become victims of scam sites, whereas the country will lose possible income.

Feeling like you need some help?
Find out more

Have you heard about gambling limits?
Find out more
My Verdict About Affordability Checks in the Gambling Industry
Honestly, I can't say that I'm 100% on one side when it comes to this topic. Affordability checks could hurt the industry, deplete revenues for regulated markets, and invade players' privacy. However, if introduced, they could also prevent lots of problem gamblers from overspending. Protecting the most vulnerable customers has always been a serious challenge as well as an essential goal.
So, I will keep following the latest developments on this topic closely and see what happens. Generally, I support the idea of affordability checks but with much more consideration of customers' privacy and operators' resources.
Still, as with most other happenings in the iGaming industry, only time will show the impacts of any change. If the share of players opting for black markets grows and overspending remains an issue, we'll know that affordability checks weren't a smart step. If we see improvements regarding problem gambling and regulated markets don't lose customers, this tool will prove to be a success.
The situation can go in any of these directions, and I really hope the benefits will overshadow the drawbacks.
This article delivers the thoughts and opinions of the author, and it doesn't represent the stance of GoodLuckMate.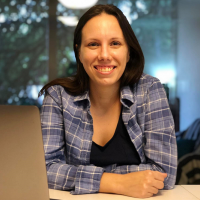 Milena is second-to-none when it comes to researching, reviewing, and recommending top online casinos. She stops at nothing when it comes to getting all of the facts and figures straight in each of her expert reviews. Plus, having worked as a writer within the iGaming industry since 2014, Milena has seen it all and is familiar with every aspect of online casinos.