Gambling has been prevalent among humans for millennia and in nearly every culture. People partake in gambling for various reasons: to socialize, find an escape from their monotonous lives, have fun, and win money, among other reasons. Like other feel-good activities, gambling can be a source of pleasure for many. That said, once it becomes a primary focus, well-being and other aspects of life can become seriously affected.
If you know someone who has experienced issues with gambling, you will be aware of just how serious the problem of gambling can potentially be. I have been pleased to see that a huge amount of focus has been shifted onto this subject in previous years, but I still question if gambling companies are doing enough. I wanted to explore and express my concern about how the gambling industry deals with problem gamblers as a whole.
How Many People Experience Issues With Gambling?
The proliferation of the internet and smart gadgets over recent decades has led to the activity becoming much more of a common topic of discussion. Moreover, the revision of the UK's gambling act (Gambling Act 2005) has also led to many changes.
With gambling and placing bets becoming increasingly accessible due to the internet, it has become exceedingly crucial to ensure the safety of vulnerable gamblers. Those who would have never dreamt of placing a bet in the past can now all too easily through their phones. This is why the amount of gambling issues has gone through the roof.
The days of local bookmakers banning someone for their well-being are gone since numerous avenues are available to those wishing to place bets. Therefore, prohibiting people individually is close to impossible. Consequently, the issue of problem gambling can longer be micromanaged, and this needs to be recognized by all.
Casino platforms have been subject to law reforms designed to safeguard problem gamblers for quite some time. That said, based on a study in 2021 by a research company called YouGov, approximately 66% of UK-based adults believe that the gambling industry is not working hard enough to help those vulnerable to problem gambling.
Said report also regarded global outlooks towards gambling, looking into how they compare with the UK. Individuals participating in the research were asked if they concurred with a particular research statement regarding gambling companies not taking problem gambling seriously, and 66% of UK-based adults agreed.
When asked the same question in Germany, 52% agreed, and 59% of French adults felt the same. Overall, 57% of all participants from European, North American, and Asian Pacific countries agreed with the statement.
However, according to other statistics, data suggests that gambling rates also generally decreased between September 2020 and September 2021. This is a great sign for individuals worried about gamblers in general.
Newer results released by the UK Gambling Commission in 2022 also confirmed that the rates of problem gambling had dropped to 0.2% in the year to June 2022, down from 0.4% the previous year.
Despite that, some still believe this to be insufficient since data around the same time showed higher gambling intensity among those aged 16 to 24.
The Problem With Gambling Advertisement
In the UK, viewers and prospective gamblers are often encouraged to bet on games. These advertisements have been guilty of giving the false promise that gambling is more of a game of skill compared to luck. This is a significant issue since unsupervised gambling can lead to declining health, criminal activity, and many other harms.
Gambling ads aim to get people to either start gambling or gamble more. Cutthroat competition in the industry prompts gambling sites to compete head-to-head to keep their businesses afloat, like any other business.
Sportsbooks spend millions on marketing to attract larger audiences. Online casino platforms and sportsbooks make gambling easy to participate in. They promise users that they can start gambling with a simple tap or the click of a button.
Gambling advertisements make gambling appear glamorous and winning achievable. Sports betting advertisements make gamblers look admirable among their peers. This in my opinion is where the question of ethics needs to come in. The advertisements for lotteries persuade people that gambling is acceptable and normal. Lottery ads feature otherwise normal individuals winning millions to convince the viewer to believe the person winning the lottery could have been them.
Advertising slogans by such companies aim to get the consumer keen on the idea of betting. Some platforms also offer "risk-free" bonuses, incentivizing players to play. Many even continue playing after having spent their free plays or credits.
Personally, I know very well that those who gamble their money away are not regarded in a positive light by others. Even successful gamblers face judgment for their decisions. I don't expect gambling companies to advertise this reality of gambling but making the punter come across as always the rational hero is wrong. Gambling is and should always be for entertainment purposes only but a lot of bookmakers like to push the angle of the successful gambler which is an incredibly small minority.
Is the UK Taking Action?
Whether the UK is taking strict action to safeguard problem gamblers is debatable. Many legislative standards encourage the gambling industry to consider the well-being of its customers.
There might be some problem gamblers whose lives have been turned around after receiving help, but others may still be struggling with their addiction.
With 66% of UK-based individuals agreeing with the statement regarding the betting industry not doing enough to protect problem gamblers, plenty of people believe bigger steps should be taken to protect the vulnerable.
Player safety, above all else, should be the primary concern for every gambling outlet but it is clear from countless pieces of evidence that winning gamblers get penalized while losing gamblers face incentives to continue betting.
Who Gets Impacted by Gambling Advertisements?
Gambling advertisements can leave a lasting impression on certain groups, as discussed below:
Minors
Although most gambling advertisements target adults, they often attract teens and children, especially if the advertisements are about e-sports. Since gambling is so normalized, children exposed to it grow up perceiving it as a harmless pastime.
According to a March 2018 research led by Ipsos Mori and the University of Stirling's Institute for Social Marketing, 96% of individuals around 11 and 24 had seen gambling ads in the past month, leading them to start betting. In my view, gambling awareness and education must be normalized to combat the normalization of gambling advertisements. There is also an argument to be made that such advertisements should not take place at a time of the day when they can be viewed by minors.
Vulnerable Adults
Gambling ads often end up targeting those who are most vulnerable to gambling advertisements. For instance, those expressing interest in gambling-focused topics like sports are most likely exposed to sports betting ads.
Once a gambler bets online, betting companies collect their data, tailoring their ads to that specific gambler. Moreover, people susceptible to problem gambling also report more impact from gambling ads.
Sportsbooks logically want the advertisement slot during a football match. This is however when fans often experience high adrenaline and such ad placement is likely to result in those most vulnerable placing a bet.
Conclusion
We may see betting sites expected to make bigger decisions to stop the vulnerable from using their services and offer support.
Many recent regulation changes have prompted online betting sites to adjust how they present their offerings to customers. Much of this is around ensuring the player is alerted of how long they have been playing–with the gambler ultimately responsible for self-excluding.
Despite this being effective for some, many still believe that online betting sites will be held more responsible in the future. At this point, they are expected to check player IDs, disallow betting via credit cards, and closely monitor players' betting activity.
This article delivers the thoughts and opinions of the author, and it doesn't represent the stance of GoodLuckMate.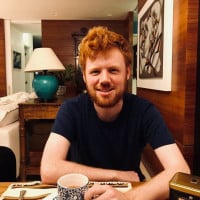 Matthew has been writing about the iGaming industry for several years. At GoodLuckMate, he shares his opinion about topics close to his heart - casino strategies, casino games, and sports betting. Basically, if the subject is gambling, we will be lost for words if Matthew doesn't have an opinion on the matter!