Casino games are different from what they used to be. In the past, players could have fun with 3 reel slot machines, or watch the roulette wheel spin without thinking much about rules, strategies, side bets, bonus games and other features popping up left and right. Compared to modern live games, even the most complex card games like poker seem simple and straightforward. If you don't rely on any specific poker strategies, all you have to do is memorize the values of hands, and you are good to go.
However, if you choose to have fun playing live casino games, you better grab a note and a pen, because there are more rules, twists, and turns than an average human being can memorize.
Let's Have It All and Have It at Once
Some might say that gambling is a cheap thrill, and they wouldn't be wrong. But as long as you keep things reasonable and adhere to responsible gambling rules, you'll be having a good time at a moderate price. Instant gratification at its finest. Unfortunately, with the latest games, it is often almost impossible to stay on the right track.
According to a study conducted by the Technical University of Denmark in 2019, the global attention span is getting progressively narrower. In a well-connected world, flooded with information, consumers find it hard to distinguish between important and irrelevant, and even if they find something worth their attention, they lose focus rather quickly.
This is something that doesn't affect only gamblers, but all people. Yet, for gamblers, it can have more devastating effects. As games become increasingly elaborate, they find it hard to keep track of rules and payouts. At times, live casino titles might even feel completely random (and I'm not talking about RTP here).
In my career, I have reviewed a fair share of live casino games. I don't want to sound like I'm bragging, but I know how to read the rules and make a conclusion. Yet, in the past year or so, I often find myself having to read the rules over and over again to figure out what just happened on the screen. I can only imagine how a casual player feels once elaborate game shows start.
Attention Spans Shorter Than Bonus Games
Back in the olden days, live casino games primarily focused on classics. With time, blackjack, roulette, baccarat, casino poker and others of the bunch have been adorned with side bets, multipliers, and special effects. Even so, the most complex live casino game based on evergreens seems like a walk in the park compared to the simplest game shows. At least when it comes to rules.
An average game show (we won't name any names) will have the base game, usually some sort of money wheel. Yet, once you hit the right wedge, things get turned upside down more than once. There are plinko bonus games, card games, side bets, multipliers, reels, dice throws. And although all this sounds incredibly exciting, it is, in many ways, like visiting a carnival – an attack on all the senses that prevents you from staying reasonable.
Who can keep track of it all? Probably no one. It goes without saying, they feel good, they look good, and their shiny lights, quirky characters, and massive maximum wins are more than enough to keep you hypnotized and wanting more. Doesn't every casino game do so? Of course it does! But in my opinion, simple games with less demanding mechanisms are far easier to follow, meaning players keep a greater control of their emotions, and in the end, their money.
The Pleasure of Slow Gaming
I understand the appeal of elaborate game shows, I really do. They are like a gate to another, more fun, galaxy. Yet even in an adrenaline-packed environment, players must be given the chance to take their time, make the right decision, or simply decide to leave.
In the past decade or so, we have all been obsessed with slowing down, minimalism, slow food, and hygge, so why not endorse the same values in iGaming? Not that I'm saying we should skip more intricate games and turn to cherry slots, but maybe we should all take a breather and appreciate every aspect of the game, after reading the rules a couple of times. And then once more. And if you are like me, once again.
Finding Beauty in Simple Games
Many casinos have a very interesting stipulation in their T&C regarding "technical difficulties" that sometimes serves as an excuse not to pay out the gamers who rightfully won. Just remember Andrew Green who had to take Betfred to court to get his hand on the jackpot he won.
I am not saying all casinos will try to fool their users, nor are complex casino games to be blamed for the existence of shady iGaming businesses. There are plenty of fair and reliable brands with platforms solid as a rock, and you can find them all at the top of our list. However, there are also some scammers lurking around, and these elaborate games could be their go-to way to avoid payouts. I already wrote about the issue of such stipulations in T&C two years ago, but nothing has changed, and I doubt it will.
The best thing you can do next time you are in the mood for live casino games is to combine fancy and ritzy live casino game shows with simpler live casino games. Find the beauty in games you do understand, rather than relying on learning as you go. Keep things balanced and reasonable, and remember to take a break every once in a while. Oh, and good luck!
This article delivers the thoughts and opinions of the author, and it doesn't represent the stance of GoodLuckMate.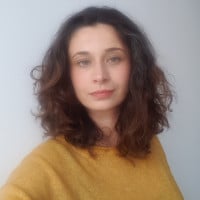 Borina Kopcic Pandur is a skilled and imaginative writer with years of experience in the gambling industry. As a writer for GoodLuckMate, she specializes in crafting detailed and engaging casino reviews that offer a fresh perspective on online gambling. With her unique writing style and profound industry knowledge, she provides readers with expert evaluations and insightful perspectives.