When the first slot machines emerged at the end of the 19th century, they had relatively unique visual imagery. However, the same pictures were used in almost all new slot machines. Things were slightly improved with the introduction of the first video slots in the 1970s. They included a few different themes, and the developers paid more attention to the visual side.
Yet, none of the video games of the 1970s and 1980s can't be compared with an average online slot in the last two decades. Online slot software developers have made these games stand out by investing more in design, especially in graphics.
I am not sure why they are still shy about implementing these changes in other casino games like blackjack, roulette, baccarat, poker, etc. Indeed, there were some attempts to make such releases look more attractive. Still, these attempts are nothing like the images and animations seen in online slots.
So, we can all agree that most slots today look great. Still, this doesn't answer the question found in the title of this opinion piece – can this form of entertainment be considered an art form?
Arguments for Online Slots as Art
Even though there's no universal definition of art, a few reliable sources can help us get a clearer picture of what can be considered art today. For instance, according to Google, art is the application or expression of human creative skill and imagination, mainly in a visual form like sculptures and paintings, creating works to be appreciated primarily for their emotional power and/or beauty.
The Merriam-Webster dictionary defines art as "the conscious use of skill and creative imagination, especially in producing aesthetic objects". On the other hand, Wikipedia defines it as a diverse range of human activity and resulting product involving imaginative or creative talent expressive of technical proficiency, emotional power, beauty, and/or conceptual ideas.
I don't know about you, but I believe online slots meet the criteria, and I'll explain why. Unlike classic slots created decades ago, the best online gambling brands have teams consisting of different professionals working on their slots.
For instance, composers focus on creating unique sound effects and music. Sometimes the music is repetitive, but in other cases, we have catchy tunes like the ones that often hit the billboard charts.
Also, we have real artists that develop primarily 2D, but in some cases, 3D imagery. Some releases include dialogues and written stories that you can see in the intros or during the gameplay. Finally, we have the coders/programmers mixing all these things into a final product.
All these things provide players an immersive experience, which is probably the essence of art. When you look at a painting, you say, "what did the author want to express with it"? Every book you read is written to cause various emotions and provide at least one point.
Of course, I am not trying to say that online slots can provide answers about the meaning of life or that they have some philosophical aspects. Still, the days when they were viewed only as mindless fun and included the same old symbols repeatedly covering 5-6 themes are gone.
The new titles provide memorable moments in front of your computer or mobile device. They have stories that are pretty deep sometimes. I know this because I reviewed hundreds of slots in my writing career. I got familiar with historical figures that I had never heard of before. I also had a chance to learn more about urban lifestyle, popular trends in modern society, and more. All these things were possible thanks to slots which act as mediums.
These casino games include sophisticated visuals and refined music. It goes without saying that not all releases are like that. Some providers stick to the retro appearance, which is okay because there's a category of players who likes that. But, take a closer look at the online slots developed by brands like Peter & Sons, for example. They look like video games with incredible cartoony graphics. Even the smallest details, like items in the background image, are covered very carefully.
Other examples include Relax Gaming and Hacksaw Gaming. The latter contains several slots that remind me of old-fashioned comic books, and we all know comic books are an art form. I will also mention Betsoft with its 3D slots.
Some may argue that the artists behind these games are doing this for money and that the objective of slots is to make people wager real money. Both claims have a certain degree of truth, but the world is not black and white. Only a few notable artists throughout history didn't sell their art pieces. Often, wealthy people were waiting for the artist to come up with something new to make an offer and purchase that piece of art. So, creating things for profit is not something unknown to the art world.
Also, I like to view slots primarily as a form of entertainment. Once again, I'll take myself as an example. I've spent hundreds of hours testing and checking online slots for free. In my free time, I play slots with real money or for free, depending on the mood. They are entertaining and make me relax and unwind. I also like their stories and, of course – the audiovisuals.
Final Thoughts
Modern online slots have evolved to the point where we can consider them an art form. Teams of artists in different areas work together to create entertaining slots for the leading brands. They unleash their creativity and try to be as original as they can.
Players have started recognizing and enjoying the specific styles used in some titles. Also, the creators have made their names thanks to these releases. While I can't say that we have an online slot that has the same value as da Vinci's Mona Lisa or Kubrick's 2001: A Space Odyssey, it's evident that they support artistic creativity.
This article delivers the thoughts and opinions of the author, and it doesn't represent the stance of GoodLuckMate.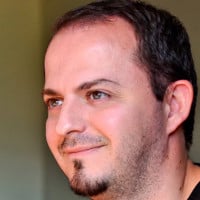 Andrej is an experienced writer specializing in online slots. He writes detailed slot reviews for GoodLuckMate, covering gameplay mechanics, graphics, bonus features, and payout potential. Andrej's expert analysis is highly regarded by both casual and serious slot enthusiasts. With his engaging writing style and deep knowledge of the industry, he is an essential contributor to the GoodLuckMate site.