I was thinking about how we live in an era of impatience, where people lack the dedication to handle complex procedures unless absolutely necessary.
In our wonderful iGaming industry, user registration and verification are the most boring yet needed processes. While the latter typically comes later in a player's journey, signing up is the first experience one has with a website. The more complex registration is, the likelier the customer will leave.
Quick signup solutions have come to the rescue, and I believe they do elevate the iGaming user experience. In this month's opinion piece, I want to discuss such solutions, how they benefit both users and operators, and what could come next.
The Importance of a Smooth User Experience
Read any customer acquisition report, and user experience is always among the most important aspects of your business.
The situation is the same even if I offer my personal experience as an example. If I have to fill out tens of fields before I can join any website, I will just not do it. And I consider myself – to some extent, at least – a patient person. The moment something becomes a hassle is the moment I will move on to something else.
As unique as people are, we are also very alike; especially in this regard.
Those who want to play online casino games want to unwind, relax, and have some fun. They definitely don't want to bother with multiple roadblocks. Imagine entering a shop and having first to register a profile, then confirm your identity, then complete a deposit.
Yikes, right?
Casino operators are aware of this and have been trying to simplify the process of getting to the games as easily as possible. They've also had the help of companies in various other sectors for this.
Over the years, I believe that the user experience in iGaming has improved. At least at some leading gambling sites that invest heavily in keeping newcomers engaged. I've also noticed that crypto online casinos seem more open to quick signup solutions. They have more freedom, possibly due to the lack of strict licensing requirements.
In any case, I'm seeing new options emerging and making everything better.
But are they working against the interest of problem gamblers? Are they skipping steps necessary for catching suspicious activities?
That's what I'm going to share my thoughts about next!
Quick Registration Options – Scary or Superb?
Before discussing the possible red flags with some of these options, let me mention a few alongside their features.
First, I must mention Pay N Play by Trustly. Pay N Play casino sites are currently available in a handful of European markets. These operators collaborate with various banks that support the BankID system. This is where the special part comes in. Those who use online banking and have verified their identity through BankID can play without any registration at Pay N Play gambling sites.
Why? Well, the registration and verification happen in the background as soon as they complete a Trustly online banking deposit. In this case, the operator gets full details about the players, while players get an incredibly smooth experience.
Another option I must mention is MetaMask. MetaMask is an increasingly popular crypto wallet but also so much more. It works as a browser extension that enables fast and anonymous crypto transfers. With MetaMask, users can also store, swap, and trade coins from several networks.
It comes as little surprise that crypto casinos have quickly adopted this method. Some have integrated it further by enabling fast MetaMask registrations. Within a few clicks, you'll be ready to make nearly instant crypto transfers, no extra steps needed.
As MetaMask doesn't keep any personal details and doesn't do verifications, this could be a potential issue, in my opinion. Yes, everyone wants privacy and anonymity. Yet, operators don't have information about whose MetaMask account is used. Players can possibly abuse this, and the two main issues that come to my mind are underage gambling and suspicious money transfers.
Finally, I would like to mention a few other options I commonly notice these days regarding fast registration. Visitors at some online casino sites can register quickly through their Google, Steam, and even Telegram accounts.
These work just like with any other service or app that lets you use them. Instead of completing a registration process, you simply log into your respective account. All information is shared in the background, and you can start playing in no time.
Once again, I say that the user experience is elevated. Once again, some necessary information may be lacking. In that sense, you may need to verify your identity later on, probably when you try to withdraw.
What's Next?
I do believe that operators with these quick signup solutions see better conversion rates. Convenience will always prevail. On the players' side, there's also an improvement. The option to start playing within seconds compared to completing forms is an undisputable benefit.
In that sense, I'm always excited to see casinos add new ways that enable consumers to get started faster.
As for what could come next, various options exist to improve the iGaming user experience further.
For instance, I've read about TransUnion and its innovative Open Banking for Gaming solution. It simplifies the payment process for both US players and operators. Moreover, it provides operators with player data associated with affordability, spending patterns, and source of funds. This single solution covers multiple essential aspects and efficiently removes several hassles for both parties.
In my opinion, products like this one and those that use similar concepts like BankID are the best options. They provide the perfect combination of convenience and responsibility.
I believe that many such services will appear. Some may possibly include features that I can't even consider at this point. Maybe they'll add self-restriction and limitation tools within the payment service, so players won't have to use alternative products.
And as online gambling spreads across the United States, it's expected to see many solutions whose goal would be improving the user journey.
Due to strict state and federal laws, US players must provide many personal details upon registration. The process is a hassle, and a revenue-oriented market like the US is sure to work on fixing it while staying compliant.
Overall, I like what I see, and I'm glad that casinos aren't ignoring the importance of user experience.
As long as the convenience doesn't affect responsible gambling and the operator's dedication to it, I have no issues with quick signup and payment tools. On the contrary, I'm curious and excited to see what new products may come our way next.
This article delivers the thoughts and opinions of the author, and it doesn't represent the stance of GoodLuckMate.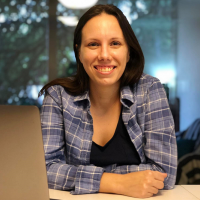 Milena is second-to-none when it comes to researching, reviewing, and recommending top online casinos. She stops at nothing when it comes to getting all of the facts and figures straight in each of her expert reviews. Plus, having worked as a writer within the iGaming industry since 2014, Milena has seen it all and is familiar with every aspect of online casinos.