A few weeks ago, Greek authorities made an announcement that could change the course of history: the Hellenic Gaming Commission signed a partnership with Mindway AI, hoping it will help prevent issues related to compulsive gambling and risky behaviors. The intention is, obviously, good. Problem gambling is a hot topic, an issue that has been persistent despite many efforts. But can AI really solve the problem, and more importantly, who regulates it? When will it be regulated? Or will we all face the same fate as David and Frank in Kubrick's 2001: Space Odyssey?
A Brave New World
When ChatGPT gained momentum in mainstream media this winter, people were impressed with everything the most accessible AI can do. However, many questions were raised, many of which still remain unanswered. The biggest question was, and still is, what the future holds for us.
And while the Average Joe was introduced to AI at the Christmas office party, the topic has lingered in iGaming for almost a decade. Usually, AI is used for marketing purposes. Mindway AI is one of the first companies to successfully implement safe gambling into its business narrative.
In the past, the brand signed deals with massive gambling operators such as Entain. Greece was the first country to go with the idea of using AI for responsible gaming purposes. If Greece proves to be fertile ground, we can only assume other European countries will follow. The United States will probably wait to see how things go in Europe before signing up for AI supervision. And Asia? Land-based casinos in Macau are already using AI to scan the faces of their patrons and detect certain behaviors.
Technology Out of Control
The fact that governments are willing to take advantage of AI to prevent problem gambling is not concerning per se. However, the fact is there is an entire industry, a potentially dangerous one, that is being given a free hand to process a massive amount of data and behaviors. All that, without being properly regulated, is something we all have to be aware of.
The chances are fairly low that AI which is supposed to encourage responsible gambling will turn into HAL 9000 and doom us all. At least for the next couple of decades. The AI still doesn't have that much power over the user, and even Mindway admits it uses a combination of AI and human psychologists to assess the risk.
What AI does have is access to personal information. Online safety is a pain that will never go away. I even dare say that with AI, it will only get worse, especially without any regulation in sight.
There is nothing preventing companies from mishandling users' personal information. Although I understand there are plenty of legit companies out there, of which AI is only one component in their entire portfolio, I assume we'll see plenty of dubious brands if the entire AI thing catches on.
Remember how so-called "Curaçao casinos" spread like wildfire? Perhaps we can expect some raging flames in the AI department, as well.
Is AI Really That Powerful?
AI is not flawless. After the initial excitement over ChatGPT, people quickly realized it lacks that certain X factor to do the job properly. It will get more advanced as time goes by, but for now, it is what it is.
The issue with AI controlling gambling habits is that human nature is unpredictable. In terms of prevention, which is the most effective way to keep habits under control, it is pretty much powerless. AI can process the data faster, and detect patterns more effectively, but that only puts it next to the best systems casinos were already using.
Another thing that remains unclear is how Greek authorities will treat red-flagged players. Will they prevent players from accessing regulated brands? They can still sign up with online casinos in the black market. Will they just send a warning? Okay, and then… What? Maybe the user's chosen physician is alarmed and advised to reach out to their patient with a suggestion of therapy. There are many unanswered questions here.
The Greek government might have good intentions but lacks a transparent plan on how the AI will truly benefit customers. It is taxpayers' money, after all. I give the Greeks the benefit of the doubt; they could be hiding a master plan in the lower drawer. But knowing how politics work, and how incompetent bureaucrats can be, I don't have high hopes.
Only Fools Rush In
I really hope I am in the wrong here. I dream that within two years, all players will gamble responsibly due to AI. However, my experience tells me it will take much longer than that, and there is a long and winding road ahead.
Just when it seemed iGaming went through all the growing pains, a new one showed up. We would be silly not to take advantage of what AI has to offer. Just think of all that data AI algorithms can process!
But also, think of what companies, authorities, and 3rd parties can do with all that data. Are we all becoming a part of a new Big Brother season we never signed up for? Marshall McLuhan's concept of a global village is already our reality. Not everyone is a fan of the way everything is intertwined, connected and tracked. With AI, things will only get more so. With little to no regulation in sight, things won't go South, but back to the Wild West, which we in the iGaming industry experienced not so long ago.
Let's all hope the Greek implementation of AI into the world of gambling will be successful. Otherwise, there is one hell of a ride waiting for us, just around the corner.
This article delivers the thoughts and opinions of the author, and it doesn't represent the stance of GoodLuckMate.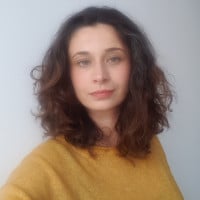 Borina Kopcic Pandur is a skilled and imaginative writer with years of experience in the gambling industry. As a writer for GoodLuckMate, she specializes in crafting detailed and engaging casino reviews that offer a fresh perspective on online gambling. With her unique writing style and profound industry knowledge, she provides readers with expert evaluations and insightful perspectives.