Whenever you open a website of a casino game developer these days, you'll see news about novelties of all kinds. The same applies to online gambling sites, as well. It seems that the market has become a battlefield where the primary weapon is innovation. We have new slot features introduced nearly every week. We have all kinds of mechanics, animations, videos, and storylines incorporated in casino games. We even got a live dealer casino game where the main hero is actually an animated character we all know as Gonzo. As someone very passionate about the iGaming industry, I must say these innovations are all too exciting for me. I mean, I did write an ebook on the topic. However, I've been wondering lately whether players actually do care about this stuff or not really. Let me explain my thoughts in this week's exclusive GoodLuckMate opinion piece.
Players Like What They Know
I'd like to mention first how I came to think about this at all. Those who follow my articles here may be familiar with my opinion piece on how I believe Royal symbols are boring and unneeded anymore. Well, the same topic was discussed on a thread we started at bitcointalk, and something interesting came up. Most of the players (nearly 60%) said that they didn't care whether Royal symbols were there or not. More than a quarter said that the Royals shouldn't be removed.
This gave me an interesting and new perspective, something I wasn't aware of as I've always loved all the innovations associated with slot graphics and mechanics. Most players, especially old-school ones, don't quite like all the changes. Instead, they prefer playing with what they know. The reason why Royals should be used was familiarity. When you see such a symbol on the reels, you know that you shouldn't expect a significant win. And that's actually very much true. You know that themed symbols bring you excellent payouts, while Royals are always low-paying symbols. For most players, that made perfect sense, and they didn't need or want any changes there.

Free Spins, RTP, Graphics, Are All Important
Once I started thinking about what players want and need versus what providers give them, I couldn't let it go. So, I started reading some other threads and topics with players' opinions. There was also one thread focused on the most important slot features according to customers. I discovered some expected and some surprising things.
First, not many players are familiar with the concept of RTP. But those who were, that was the only thing that mattered to them. They didn't care about innovations or fancy animations. They just cared about the machine's payout rate. I place these players in the group of customers who are here for the winnings. That makes sense, obviously. Everyone wants to hit a massive prize when gambling for real money. It was still interesting to see that someone would just check the RTP and play the slot regardless of the theme, design, or mechanics.
Another category of players focused on free spins and other bonus games. I thought that innovations and cool game mechanics would be mentioned, at least here. That wasn't quite the case. Yet, free spins are desired as a bonus game. Players also want multipliers that boost their winnings. That was about it. Nobody would mention any of the Yggdrasil innovative slot features or any of that sort, really. Notable things most players seem familiar with are the Megaways mechanic, and the bonus buy feature. I was surprised, to say the least.

Meanwhile, Providers Are Innovation Machines
As players don't seem overly interested in innovative and creative mechanics, game providers don't seem interested in giving up on them. Everyone who works in the industry in any way, myself included, is excited when something new hits the 'shells'. I always think, 'Oh wow, look at that amazing grid design' or 'these Infinity Reels are so awesome'. Yet, besides loving slots as games, I love them as someone invested in the industry as a professional too. Maybe that's what makes me follow any iGaming news and get excited with novelties.
The casual players, however, have other things in mind. Sure, sometimes they are attracted by the theme and the looks of the slot machine. Sure, sometimes they want to relax and unwind by spinning the reels. Yet, most of the time, the desire for winning a massive progressive jackpot or any type of cash prize is the primary goal.
Game developers, on the other hand, are a different story. Innovation has become a way of earning respect in the industry and among fellow experts. When Big Time Gaming released Megaways, every other provider surely thought, 'this should've been me'. Whenever a cool feature comes out, it seems that other suppliers get more excited than players. This doesn't stop providers, though. Every month, something new and exclusive arrives. From expanding reels to splitting symbols, there's a lot to learn, even if you haven't been paying attention for a few weeks.
Are Innovations Even Necessary From Players' Point of View?
With everything this in mind, my only question is, do players even care about innovations. If they want massive jackpots and free spins with multipliers, does it matter to them everything else that comes along the way? I don't really know, and, obviously, I can't speak in the name of ALL players. From what I've read so far in gambling forums and talked to some friends that share my slots passion, it seems that new mechanics aren't THAT important to players.
In fact, they make the experience more complex and demanding. That's not something people who want to unwind care about. For many consumers, the beauty of slots is that you simply hit the spin button and see what happens. They don't usually bother with researching cool features or mechanics. They don't really open the payout table to check how bonus games work. Instead, they open the games they know and love and simply spin, spin, spin.
To me, honestly, innovations are everything. They bring slots closer to skill games. They make the gameplay more exciting and engaging. But also, I'm a person who used to play video games, and now I play board games. So, that type of entertainment is attractive to me. Those who don't want to bother with reading complex rules and lengthy explanations don't really care if Yggdrasil came up with some trademarked mechanic. They only care about the payout rates and the possibility of hitting a massive jackpot.
This article delivers the thoughts and opinions of the author, and it doesn't represent the stance of GoodLuckMate.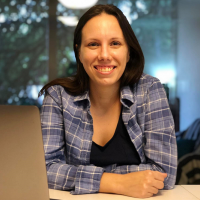 Milena is second-to-none when it comes to researching, reviewing, and recommending top online casinos. She stops at nothing when it comes to getting all of the facts and figures straight in each of her expert reviews. Plus, having worked as a writer within the iGaming industry since 2014, Milena has seen it all and is familiar with every aspect of online casinos.