In April 2021, a lucky player hit a record progressive jackpot win on Microgaming's WowPot network through the Book of Atem WowPot slot. This €17.88 million win made headlines everywhere. Microgaming was the first to boast how its progressive slots made yet another person an instant millionaire. The company wasn't shy to remind everyone that another of its progressives – Mega Moolah – holds an equally impressive record win. A user won €17.52 million on the ever-popular safari-themed game. As for the latest Book of Atem WowPot score, it was also celebrated by 32Red Casino, whose member took it home. Yet, nobody seems to mention players' contributions. I believe this is not only unfair but also a bit misleading. After all, all those massive jackpots are actually player-funded. So, I think that everyone who has ever placed a bet on a progressive deserves some credit.
Shout-Out to All Progressive Jackpot Players Out There
When I first got involved in the iGaming industry, I was mind-blown by the massive progressive jackpot wins. I wasn't sure how those jackpots reached such impressive amounts in a relatively short period. I was also thinking how generous all those online casino operators must be to pay millions of euros to the luckiest players. I remember reading about the Mega Fortune win of €11.7 million that broke a Guinness world record. "Wow! Great job, NetEnt," I thought.
I'm sure many online casino players feel the same when they read all those stories about progressive jackpot wins.
Paf Casino pays millions after a lucky spin.

32Bet Casino pays even more millions after a lucky spin.

Microgaming has paid the biggest progressive jackpot win ever; NetEnt comes next.

Kindred Group is proud of the historic multi-million jackpot the brand paid out.
One thing that's missing from all these stories is the real heroes – the players! Believe me when I say, without all the online gamblers who play these progressives, there wouldn't be progressives at all. Some may say that this is overly strict towards providers and operators, but I stand by my statement.

No Players – No Massive Jackpots
To support my thesis, let me explain to you how progressive jackpot slots actually work. Every time a bet is placed on these machines, a fixed share of that bet feeds the jackpot. For example, 10% of every stake may go towards the main prize and attraction. So, for instance, whenever a gambler bets €10, €1 goes in the jackpot pool.
Sure, this doesn't seem dramatic with this example. Yet, thousands, if not millions, of players spin the reels of the most popular slots every week. Meaning, if all of them contribute €1 to the main prize pool, it will quickly reach €1 million. Give it several weeks, and another mouth-watering progressive jackpot is born.
In most cases, even the seed money comes from the players. Seed money is reserved for the initial jackpot prize when the game is first released, or the jackpot is reset after a win. For instance, the WowPot primary jackpot seed is at €2 million. After someone hits it, it goes back to a minimum of €2 million, which isn't that modest. Well, it often seems like this cash comes from the provider. Yet, in most scenarios, players fund the seed cash, as well. Yes, huge brands may fund it initially, so the money is available if there's a lucky winner. However, it is then recovered from the bets. Only when the seed amount is reached, the jackpot starts to grow at full speed.
My Verdict – Operators and Casinos May Brag but Players Deserve Credit Too!
Obviously, if I start a progressive jackpot right now, I probably won't be able to offer players multi-million prizes. A huge part of the success of games like Mega Moolah and Mega Fortune comes from the reputation of providers standing behind them. In this regard, game suppliers surely deserve bragging rights. I'd say the same for casino operators, as that's where most of the action takes place. If players don't have platforms for placing real money bets, none of this would be possible.
Still, I'd love to see both operators and software companies give some of the credit to consumers. At the end of the day, I don't think we would've witnessed jackpots bigger than several thousands of euros without the players. That's why I'm sure one 'Thank you for staying loyal to our game and feeding its progressive jackpot' wouldn't hurt anyone. On the contrary, it would give players the recognition they 100% deserve.
You know what they say – sharing is caring. Well, it's time to start sharing that spotlight!
This article delivers the thoughts and opinions of the author, and it doesn't represent the stance of GoodLuckMate.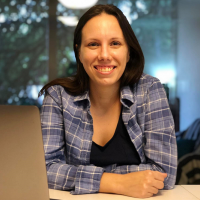 Milena is second-to-none when it comes to researching, reviewing, and recommending top online casinos. She stops at nothing when it comes to getting all of the facts and figures straight in each of her expert reviews. Plus, having worked as a writer within the iGaming industry since 2014, Milena has seen it all and is familiar with every aspect of online casinos.