Does the future of sports betting lie in esports? It's an interesting question and one that will no doubt send chills down the spines of purists. The ongoing debate as to whether esports should be considered a real sport is seemingly dead and buried. The times have changed, and it's either time to jump on the bandwagon or to get left behind.
The Times are Changing
There is no denying that the Covid-19 pandemic has accelerated the growth of esports considerably. For large parts of last year, no live sport was taking place. Key markets like Europe shut down all of their football leagues. Now, punters were scrambling for things to watch and bet on. The sudden spike in popularity of the Belarussian Football League, one of the only in the world to continue, was a fine example of this.
This was the time when esports really got its time to shine. Games like Fortnite and Apex Legends have changed the gaming world over the last few years. Before, it was only serious gamers who would be playing Counter Strike or League of Legends. Now, these games have managed to find their way into the mainstream. Everybody has, at the very least, given one of these games a whirl.
This interest peaked during the first months of the pandemic. Traditional sports are closed off and social interaction limited. As such, people began to look at their computers and consoles in an attempt to pass time. Many operators who specialize in esports, like Luckbox, reported a significant increase in their takings during 2020. This is no coincidence.

Ethical Issues with Esports
It seems clear to me that esports is the future, whether people like it or not. But, what are the ethical issues surrounding betting on them? One of the biggest issues I see is the age of the competitors. It is no secret that many of those who compete in the world of esports are young. While games like DOA and Counter-Strike have players with an average age of around 22, the average age of a Fortnite player is 17.75 years. Meaning, in the majority of countries around the world they would be considered a minor. In esports, a player who is 25 is generally considered to be old. In normal sports, this is when most players hit their peak.
The next big issue that is I see is regulation, or the lack of it. Other sports have regulatory bodies that have been in place for decades. Yet, there is currently no real equivalent in the world of video gaming and esports. This means that there is a lot of room for problems to occur. Match-fixing, doping, and other similar issues that other sports do their best to weed out. This also means that event organizers have full control. This is never a good thing. It means there can be little accountability for issues.
Should Esports be Regulated?
Surprisingly, perhaps, doping is something that has become a concern in the sport. There has been speculation about players taking pills designed to focus their attention. There is no regulatory body in place for these competitions to stop this. Concerns are that this could have a serious impact on the outcome of tournaments. I feel as this is something that is going to take a long time to address. The sport is still in its infancy and determining what can or can't improve performance is going to be tricky.
There is, of course, also the possibility of glitches and in-game cheats being used. Players may be able to give themselves certain advantages. Some would argue that every sport has elements of this. After all, how is a player taking advantage of a glitch any different from a football player diving in order to land a penalty? In my opinion, this is just something that players have to accept as part of any competition. While we may not like it, it's something that we have no control over. If you feel like this is going to affect your bet - then simply don't bet on these events.
Impact on the Gambling World
Where do these ethical issues leave us as gamblers? In terms of the age of the competitors, this is something that people are either going to be comfortable with or they're not. But, it seems unlikely to change. If companies and sponsorship deals are going to profit from these events, then I see no reason why betting companies shouldn't.
The issue of integrity is something that can certainly have an impact on our winnings. The potential of match-fixing and doping is rife. How are we to know whether we are getting on a fair bet? This one is very difficult to comment on. Ultimately, not enough information exists regarding the level of doping within the sport. Or even what exactly defines doping. The argument is that certain medication is being used to focus players and keep them awake. Well, the same argument could be made regarding the use of caffeine. This could then just end up going down a slippery slope. I feel that this is something that is going to need a lot more research to really draw clear lines.
These ethical issues are likely to cause problems for bookmakers in the future. Firstly, some regulatory bodies do not allow bookmakers to offer odds on events that feature minors. This is, for example, the case with the Swedish gambling authority, Spelinspektionen. As such, if iGaming companies opt to cover more and more esports events, it could potentially lead to more fines and cautions. Also, these kinds of laws in themselves raise some questions. If you ask me, they are a little bit unclear. Many sporting events feature players that are under 18 years old. Ultimately, I suspect that esports teams will likely find ways around them anyway.
In terms of match-fixing and doping concerns. This is another bridge that bookmakers will have to decide whether to cross. With no regulatory body in charge of esports, these issues could continue to rage on. And down the line, it could cause a lot of problems for bookmakers.
More Questions than Answers
As it so often does though, the gambling industry will no doubt adapt to survive. Many bookmakers are even sponsoring esports events. Sooner or later, with more and more people turning their attention towards it, a governing body will have to be formed. Some casinos are now also live-streaming players and allowing players to bet on them. Is this the future? It's hard to say at the moment. But, I can definitely see this continuing to develop. Esports has proven to be very popular and more importantly, lucrative. I can see an increasing number of operators turning their attention towards this in some sort of capacity in the coming years.
I realize that there are more questions than answers here. But in many ways, that's the point. Esports has come along like a cultural juggernaut over the last decade. Its rise has been rapid. In many ways, it has blindsided many of us, myself included. While the rise of esports seemed inevitable to me, it has happened at a much quicker rate than I anticipated. There is so much about the sport that raises questions right now. Still, the future looks like it is going to be very interesting indeed.
This article delivers the thoughts and opinions of the author, and it doesn't represent the stance of GoodLuckMate.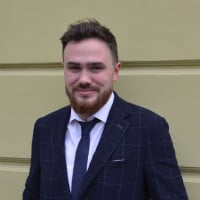 Liam is a skilled writer and journalist, highly regarded for his perceptive examination of the gambling industry. He specializes in online casinos and sports betting, and his work has been published in top-tier publications. Here at GoodLuckMate, Liam covers the latest industry news and has also authored various gambling guides, offering both beginners and experienced players in-depth analyses of games and strategies.