If I had a penny for every time I have written that slot machines aren't the most rewarding game at a casino, I would be rich. But even though I always strive to provide objective and unbiased information to our readers, I understand if they don't really care about my opinion. This is because I love slots as well. As a matter of fact, I find them to be more exciting, thrilling, and rewarding than any other casino game. If we can all understand that this is not the most lucrative type of gaming, why do we still love it?
The Problem of Classic Casino Games
As a person who played poker for years, I am allowed to say that it sometimes gets boring after a while. Mind you, I was never a pro, but I did play (and still do) on a pretty regular basis. And like with most other card games, the level of enjoyment you'll feel highly depends on many factors. Am I moody? Am I tired? Why can't this annoying guy just man up and sit out? Oh, they want to order some food? Who does that?!
A poker game lasts for hours, especially when playing with friends or in a tournament. It gets exhausting unless you are building a castle of chips in front of you. In that case, it can feel like it's going on for ages.
Also, certain gaming communities seem to have an unwelcoming vibe. Poker is often perceived as an exclusive bro club. The general opinion of blackjack is that you have to be some sort of savant to play it properly. And roulette? It might not be that exclusive, but the game itself definitely lacks some depth. But how do slots stand against them?
Slot Machines Always Feel New
All slots have the same principles, but different approaches. It is a game played on reels. You press the button or pull the lever and there you go. It is so simple that a monkey could play it! Yet that's not all that a slot machine is.
It can be a trip to discover a new world. You can meet the ancient gods. If you like, you can dance with leprechauns, slay dragons, and whatnot. The world is your oyster. And with online casinos, you can have thousands of releases available at all times. Heck, even land-based casinos support playing stations that offer multiple titles at once. The slots industry has produced many titles over the years, and still shows no signs of stopping. Who knows what kind of surprises the future holds?
Part of slot machines' charm is the fact that each game has a personality, with characteristics in form of features. I won't deny that there are some games that look and feel suspiciously similar. Despite that, each and every one of them has at least one feature that will set it apart from others. Or at least try to.

Slots Community is Inclusive
I understand that slots might seem like a pretty individualistic game. You sit alone at home, or at a machine, and play. And they might not seem friendly either. If you end up taking Rosie's favorite machine, you could get scolded by a group of ladies from a nearby retirement home. And we all know how fierce those grannies can be.
Even so, I dare say that slot machines still have a strong social aspect. Perhaps not as strong as bingo, but they do come close to it. Fruit machines are also far more inclusive than most other games.
First, there is the financial aspect. Gaming sessions on these can get expensive, especially if you set no limits, but if you approach them reasonably, they are as cheap as gaming can be. To play a spin, all you need is a couple of coins, which you are probably dragging at the bottom of your purse.
I've seen slots being played by 20-somethings on a hen party and by groups from retirement homes. It is also not rare to see middle-aged couples spending their weekend away at fruit machines. You can encounter the most diverse groups you can think of celebrating together. These celebrations might get loud and obnoxious, but they are all in good spirit. Who can complain about that?

Leave Slots Alone!
I am not trying to downplay the fact that with this type of game, the house always has a great edge. I won't deny that RTP rates can be deceiving, especially if you don't know how to read them. And yes, I do understand that all those flashy lights and buzzing sounds have one purpose – to keep you fixated on the game. I am well aware of the nature of the game you are playing.
However, I think it's about time we stop fixating on slots. There are many reasons why people play casino games. Some want to get rich (a completely wrong reason to play them, by the way). Others wish to feel important. There are people who are good with numbers and have the ability to closely follow numbers of decks at the same time. And needless to say, there are also people just looking for some fun.
The latter tend to choose slots, and there is no reason to judge them or warn them about their newly found passion. If they are of legal age, they have every right to play any game that feels good, even if it's the one about a unicorn eating candies under the rainbow. Play and let others play, but please, just stay safe!
This article delivers the thoughts and opinions of the author, and it doesn't represent the stance of GoodLuckMate.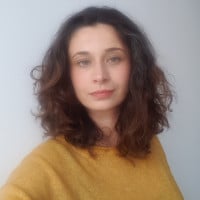 Borina Kopcic Pandur is a skilled and imaginative writer with years of experience in the gambling industry. As a writer for GoodLuckMate, she specializes in crafting detailed and engaging casino reviews that offer a fresh perspective on online gambling. With her unique writing style and profound industry knowledge, she provides readers with expert evaluations and insightful perspectives.