Like a lot of men around the world - I am obsessed with football (soccer, for my friends across the pond). I regularly place bets on the outcome of matches, and for as long as I can remember - I have played Fantasy Football. Fantasy Football, for those who don't know, involves choosing a team of 11 players and carrying them throughout the season. Those players are then rewarded with points based on their actions within a game. You are given transfers and certain bonuses to use throughout that, if used at the right time, can help propel you up your respective leagues. Fantasy Football, at least the Premier League's version of it, is free to enter and there is no cash involved at any stage of the season. Recently, however, I was introduced to the French company, Sorare. Sorare is a fantasy football competition based around NFTs, and it looks as though it could be changing the game.
A Headache for the British Gambling Commission
Due to the well-documented popularity of football in the UK and Europe, it should come as no surprise that Sorare has found itself being welcomed by a lot of fans. The set-up for the game is simple, players have five players represented by cards, and their value can go up and down throughout the course of the season. Players are then able to swap these cards with one another to try and score more points.
These cards are all NFTs, meaning that they are unique items and can only be registered to one user. Of course, these items then have a value and players are able to swap and trade their cards. Where things get interesting, however, is that players can get rewards such as other NFTs or cryptocurrencies when playing. When you first sign-up, you are given some free cards but if you want to get better players, you will have to purchase them from a marketplace using ETH. This entire space creates a headache for the Gambling Commission, which opened an investigation into the company back in October 2021.

I have talked in the past about the collectable nature of NFTs and cryptocurrencies creating a negative effect for gamblers. There is a lot of grey area surrounding the issue as to whether this constitutes gambling or not. There is also a lot of grey area surrounding whether Fantasy Football itself is akin to gambling in some ways. Risk and reward are two main elements of gambling and there are plenty of arguments to be made that the NFT space is also built around this.
As someone who has played fantasy football and gambled for several years, I can certainly see similarities between the two. The process of selecting your team, studying statistics, and making risky moves is certainly similar to gambling, only one doesn't have the financial risk attached. Once you throw NFTs and crypto into that mix though, things get a lot murkier.
Players Want Change
The investigation into Sorare comes just a few months after the Football Index debacle. The Football Index was essentially a stock market for footballers which ended up going into administration. Like Sorare, the players' value would go up and down based on their performance and players would own them as assets.
When this went bust, a lot of people lost a lot of money and many were calling for the UKGC to update its policy. An independent review was launched into the way the authority dealt with the Football Index and the way it had handled its licensing. Of course, the key difference between Sorare and Football Index is that players will own the NFTs regardless of the status of the company.
It seems to me that two things here are clear. Firstly, the UKGC needs to be quicker at staying up to date with these changes. I can see that the gambling industry is going to present a lot of changes in the near future with the rise of things like the Metaverse, NFT, and cryptocurrencies. This is going to present a lot of challenges to authorities and many of them will need to up their game to regulate these activities.
Secondly, it seems obvious to me that players are always looking for new ways to gamble. As a fantasy football player myself, I know that people are always itching to make money when playing, and presenting them with things like NFTs and crypto will definitely be an incentive. We all like to think we are experts and know more than our friends, and that can be a dangerous recipe. The UKGC, as well as other regulatory bodies, need to keep up with these demands and work out ways to regulate them but also to make them enjoyable for everyone.
What does the Future Hold for Fantasy Football?
In its current format, it's difficult to argue that fantasy football needs regulation. For example, the Premier League version of the game has no financial incentive and it would be very hard to classify it as gambling. That said, the addition of some warnings and perhaps a limitation on gambling advertising could be a good move. As I've mentioned - there are definitely some behavior patterns that cross over between fantasy football and sports betting.

The future of this looks a lot more interesting and it seems clear to me that regulatory bodies will need to act fast. The inventions of new technology are definitely causing problems. Having signed up and started a team on Sorare, I can tell you it doesn't take long before you are prompted to buy players using ETH. While this is not a necessity, it does seem if you want to succeed, you will have to part ways with real money. As far as I'm concerned, anything, where there is a financial risk and reward attached, should have some sort of regulation involved and this definitely looks like it could be considered gambling.
This article delivers the thoughts and opinions of the author, and it doesn't represent the stance of GoodLuckMate.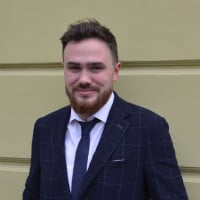 Liam is a skilled writer and journalist, highly regarded for his perceptive examination of the gambling industry. He specializes in online casinos and sports betting, and his work has been published in top-tier publications. Here at GoodLuckMate, Liam covers the latest industry news and has also authored various gambling guides, offering both beginners and experienced players in-depth analyses of games and strategies.