We live in a world full of influencers. Like it or not, the way people dress and think can often be influenced by people who don't necessarily have any talent. It could be argued that becoming a millionaire influencer takes a particular skill, but that is a completely different discussion.
Twitch, the world's largest streaming platform, bring in tens of millions of viewers, all of which have their favorite streamer. Some streamers are known for gambling and participate in high-stakes casino games during their streams. Influencers such as Adin Ross and Roshtein have both lost and made millions during live Twitch streams, and the question has to be asked, does the gambling industry need this, and does the good outweigh the negative or vice versa?
First of all, I must confess that if millions were willing to follow me place bets, I would be soaking it all up, so I don't want to come across as all high and mighty, but I don't think it is a wild stretch to suggest that some of what takes place in the gambler influencer sphere needs questioning.
English fans will know that watching a football game without seeing some form of gambling advertisement is not always easy. Many believe such adverts fuel the desire to place a bet and make gambling companies' apparent effort of promoting responsible gambling a laughing stock. Ex-footballer and Arsenal legend Paul Merson for example, we now know was going through a crippling gambling addiction at the same time he was appearing in SkyBet adverts. Recent events surrounding Twitch's gambling policy have spotlighted this subject. Although the question of integrity and betting promotions have been around for decades.
A False Reality of Gambling
There are two ways of looking at this. If Roshtein puts on a $50,000 bet at odds of 20/1, it might be so unimaginable to 99.9% of his audience to place a bet of this nature that he doesn't need to worry about who he is influencing. There is some logic to this. After all, throwing this money at a long shot either suggests that he has tremendous capital or that a large portion of this stake isn't his real money.
You can't help but start to wonder if you could make millions betting when you see someone relatively normal on a gambling stream. The same could be said when one watches a game show, however. Just because one person has won the grand prize doesn't mean you have the right to go for it yourself, and just because someone has found a great way to make money doesn't mean they should consider the apparent weaknesses of other people. I guess this is the dilemma we all have when discussing issues of addiction.
A question of integrity
Poker players who stream tournaments are often very happy to admit they are paid to play. The most influential streamers often receive sponsorship from top brands such as PartyPoker or Pokerstars to play on their site. This lets viewers know that they are not watching someone play who makes his living from the results alone. If they were less honest with this, they might give the illusion that the viewers watching can make a living too from the game, especially if they considered their skill set to be on par with the streamer in question.
Accusations of Cheating
There have been some occasions where Twitch gambling streamers have been caught with their trousers down. This isn't cheating in the sense of tricking casinos, more tricking their audience into what is taking place.
Some streamers appear as if they are placing thousands of dollars on online casino bets when in reality, they are playing in demo mode, therefore playing with a wildly different mindset. Going back to the question of integrity, this seems so disingenuous and should be considered an illegal offense in my opinion.
The concept of someone placing large bets is thrilling, and viewers will look to do the same when they come off naturally. Often looking to chase that miracle bet where you can turn a few dollars into thousands. We have all done this, and I am sure we have all been influenced in some way but rarely in a manner as shady as this.
Ultimately it is a person's responsibility to work out the good and bad, but how would you feel knowing that the entertainment you provide is disingenuous? That only you really know what is going on. In these cases, some streamers realize they are making a living by essentially lying to their audience and have consciously made a justification for this in their own head.
The Best Streams are often Educational
The best gambling streamers are educational. Going back to poker again, many watch a streamer go deep into a tournament as they are curious to know how they should play in certain spots. What do they do when they get three bets with Jacks with 45 Big Blinds, for example? This can make the student of the game learn a lot and take what they have learned into their own game.
For example, a streamer who chooses to play slot machines or roulette doesn't have this educational advantage. This doesn't mean they shouldn't do it, but it does promote a false reality of the gambling experience. No one can make consistent money with a solid strategy on these games, and if they give off the impression that it is possible to do so, that is wrong.
Summarisation of my Thoughts
The world is full of crashing bores, as Morrissey once said, and trust me, I don't want to be one of them. It is a pet hate of mine when people spread a joyous occasion with thoughts of negativity, but gambling is a sensitive issue. I think my main takeaway from this is that honesty should be the number one priority for streamers. I understand the need to give off an allure of magic. However, viewers should have some idea if the amount of money being staked is genuine.
This article delivers the thoughts and opinions of the author, and it doesn't represent the stance of GoodLuckMate.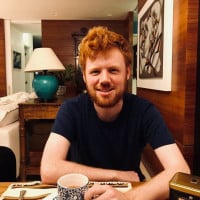 Matthew has been writing about the iGaming industry for several years. At GoodLuckMate, he shares his opinion about topics close to his heart - casino strategies, casino games, and sports betting. Basically, if the subject is gambling, we will be lost for words if Matthew doesn't have an opinion on the matter!