I have always found it interesting how many aspects of our lives have been evolving fast, yet some areas tend to remain unchanged. In a world where players have access to online casinos within a few clicks, one would expect to see equally modern solutions to prevent them from doing so. And they do exist in the form of self-exclusion tools that let you ban yourself from accessing any betting and gambling sites. Yet, the concept of fighting gambling addiction and its essence doesn't seem to have evolved all that much. That's why I'd like to dedicate my latest opinion piece on this important topic and discuss whether the time for new, innovative, and creative alternatives for helping problem gamblers has arrived. Keep on reading and decide for yourselves.
One Size Not Always Fits All!
The latest gambling addiction statistics show that between three and five of every 100 gamblers deal with this issue. If you ask me, this is some worrisome information. Even though the gambling addiction rate is pretty low in many established markets, plenty of people still struggle and suffer because of their unhealthy gambling habits. And it's not only adults who have a gambling addiction. I'd say that problem gambling doesn't discriminate, and it spreads its roots whenever, however, and wherever it can.
So, why do experts believe that all those similar programs are going to help such a versatile group of people? Yes, I believe that everyone who has a gambling addiction or even an addiction of any kind shares the experience and its consequences with other addicts. Yet, I'm pretty sure that not every person responds to a single concept of prevention.
Generally, from my modest research on the topic, I've found that most responsible gambling programs have a few identical cornerstones.

Once someone becomes a gambling addict, they're a problem gambler for life. From the moment someone accepts their addiction, they're never truly free from it, and it often becomes part of their identity. This is something Anders Bergman, QuitGamble.com's founder, also mentioned in our call. However, I'll share more on that later in this text.
Then, the person should follow some steps or principles to stay in control. Often, one of the steps is to find faith. For example, in the Gamblers Anonymous program, you'll find a line saying, "Humbly asked God (of our understanding) to remove our shortcomings." I am fairly religious, so I can relate to this. But not everyone is. What about those people who don't believe that praying will help them be better?
Other common steps were to ask forgiveness from those who suffered from your gambling addiction, accept that you are not perfect, and find support buddies. Once again, all of these make sense, but they may not do the trick for every single gambler out there. In fact, QuitGamble.com's website claims that 80% of gamblers struggling with addiction don't seek help. To me, this figure sounds scary and more than enough to push for alternative treatments.
A Positive Example – QuitGamble.com
I'd say that getting familiar with QuitGamble.com lowkey was the inspiration for this opinion piece. This project aims to help gambling addicts by removing the pain and helping them fulfill their needs. One of their tools is the Happiness Test, which helps problem gamblers understand what drives their unhealthy habit. Is it stress, loneliness, or a broken heart? QuitGamble.com believes that you won't need the escapism gambling provides if you discover the main issue and then deal with it.
In my opinion, this is a fantastic and unique approach that overall makes sense. I'm not an expert in problem gambling, nor am I a psychologist. But as a reasonable person, this concept is something I can understand and relate to.

I went a step further to get a statement from QuitGamble.com's founder, and here's what he sent me.
"We started QuitGamble.com as an alternative to Gambler Anonymous and expensive shrink visits. Don't get me wrong; if 12-steps work for someone, we get super happy! The same for people who can afford a talented psychologist. QuitGamble.com is an alternative, not a competitor.
Today, 80% of people with gambling problems don't seek help. 80%! We need new methods to motivate these people to seek support. We believe shame, guilt, pride, and fear are the prime reasons people avoid support meetings. I'd never admit to a problem in a room full of strangers. My pride would prevent me from doing that. QG is online-based, which offers the members complete anonymity, and they don't need to admit to any problems to get support.
QuitGamble.com is a free online platform with 500 members. The community gives our members a chance to ask questions, discuss or get empathy from people in the same situation. QG also offers 15 video courses to help the users work with the underlying causes of their gambling problems. For instance, if a person gambles when he feels lonely, we help him make new friends. We believe people use gambling to escape a feeling they don't want to have. By assisting them in dealing with these feelings differently, we hope to make gambling less appealing.
Our biggest challenge right now is to activate our members. How do you get people to work on themselves if they have very little motivation to do anything? Ultimately, we want to make the process of helping people feel better and regain control over their lives fun, engaging, and rewarding. It's a challenge, but a challenge worth finding a good solution to."
As you can see, his views are in a way in line with everything I've written. New options aren't a competition to the old ones. Instead, they are alternatives for those who need something different.
QuitGamble.com's community currently has 500 members who have started their stop gambling journey. Those are 500 people who probably couldn't relate to the various national and international programs available to them. What would life be for them if QuitGamble.com didn't exist? To me, it's scary to even think about it.

The More Options, the Better
In the end, I'd like to point out that I don't think the programs that already exist are bad. Not at all. They've surely helped lots of people and deserve praise for their hard work. However, I also believe that evolution is inevitable for all aspects of our lives, and this applies to gambling addiction treatment and prevention, too.
For some people, being unable to access websites would be enough. For others, praying and meditation may do the trick. Yet, every person is unique and has a different story. So, it makes sense that one treatment couldn't possibly help every single problem gambler.
In this line of thinking, I don't believe that what we have should be shut down or even changed. On the contrary, I trust that there should be new options and alternatives for those who don't can't relate to what's offered right now.
Yes, QuitGamble.com is just one great example of trying out something different. It is an example of how one can try to deal with the root of the issue and achieve some level of freedom. Who knows, maybe being a gambling addict 15 years ago doesn't have to be your identity forever, but just an experience that helped you learn more about yourself and your struggles.
And even if we put QuitGamble.com aside for a moment, I'd like to see even more different approaches. Give people quests and riddles, keep them engaged, and reward their achievements. I know lots of individuals who are driven by rewards and recognition, people who couldn't possibly find inspiration in faith or support buddies. Someone may need a new hobby or a different outlet. There are so many options that still haven't been explored.
So, honestly, I can't wait to see what creative and experienced minds who want to help may come up with. Typically, the first step is the hardest. In this case, it's already been taken by QuitGamble.com. Hopefully, their story will be the push someone else needs to develop their own ideas and concepts.
And, at the end of the day, if such new and innovative gambling addiction programs help a single person, they've already accomplished their goal!
This article delivers the thoughts and opinions of the author, and it doesn't represent the stance of GoodLuckMate.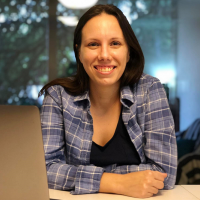 Milena is second-to-none when it comes to researching, reviewing, and recommending top online casinos. She stops at nothing when it comes to getting all of the facts and figures straight in each of her expert reviews. Plus, having worked as a writer within the iGaming industry since 2014, Milena has seen it all and is familiar with every aspect of online casinos.