Curaçao licensing is fast and cost-effective. That makes it very convenient for offshore online gambling operators. However, when it comes to players, they are often unsure of how Curaçao gambling licensing works. Many think that the government of Curacao issues licenses directly to online casino operators. That's not true. Many online casinos claim to be licensed and regulated by the government of Curacao, but that's not entirely true either. The Ministry of Justice of Curacao has issued four master licenses and delegated its authority to their respective authority bodies. These third-party companies issue sub-licenses to online casinos and monitor their compliance. Read on as we will discuss the system in more detail below.
Curacao iGaming Licenses Explained
The Curacao online gambling licensing authority has approved four master license operators to issue sub-licenses to online casinos.
Antillephone N.V. with a license number 8048 / JAZ

Curaçao eGaming with a license number 1668 / JAZ

Curaçao Interactive Licensing N.V.

with a license number 5536 / JAZ

Gaming Curaçao with a license number 365 / JAZ
All of these companies work independently, and they all handle players' complaints differently. Each master license operator has authority only upon online casinos that hold its gaming permit. You have to be aware that some of them take players' disputes with casinos more seriously than others. Since they all work differently and at their own pace, the response time is also different.
As for what makes these so popular among operators? Well, the Curacao Gaming license cost ranges between €2,000 and €8,000 a month. This makes it one of the cheapest and simplest options. So, if you were wondering how much a Curacao gaming license is, there's your answer. Plus, this license supports crypto gambling activities. That's why many crypto and bitcoin online casinos are usually based and licensed in the country.
On the other hand, The Ministry of Justice of Curacao doesn't seem all too active when cracking down rogue operators. The same often applies to the license issuers. So, sometimes it seems that even though the market is regulated, there's no regulation.

Solving Issues With Curacao Online Casinos
If you need to file a complaint, find out which Curacao gambling license operator you're dealing with. The procedure varies depending on the authority. Let's say you're playing at a Curaçao Antillephone N.V. licensed online casino. In that case, you have to prove that you have already tried to solve the problem with the casino support. You'll be asked to provide screenshots of your conversations. But that's how Curaçao Antillephone N.V. works. Other operators do it differently.
It's also important to understand that there isn't one center that collects all complaints in the jurisdiction of Curaçao. Each master license operator has different requirements for the Curacao gambling license. With Curaçao eGaming casinos, complaints are filed through the license validator webpage. When it comes to casinos licensed by Curaçao Antillephone N.V., you must send your complaints via email.
So far, players have generally been unhappy with the dispute resolution processes between them and Curacao casinos. These sites aren't that quick to respond. Yet, things seem to be changing, especially among Curacao eGaming gambling sites.
Validating
Curacao Gambling Licensing
It's known that the industry is flooded with scam online casinos that claim to have a Curaçao gaming license, but in fact, they don't. That's precisely why you should never neglect license validation. Every licensing operator has a specific license verification process.
So, how to check the Curacao gambling license validity? First of all, each operator has a unique seal of approval (their logo, basically), and you can find it at the bottom of your chosen casino website. When you click on it, it will take you to the license verification page. Now, this is an essential part, and you have to be extra careful. Scammers can easily put a licensed seal on the casino's website and take you to a fake license validation page if you ignore the domain name. Make sure that when you click on the seal, it takes you to the actual verification page. Here are the legit domain names for each master license operator:
Antillephone N.V. - validator.antillephone.com

Curaçao eGaming - validator.curacao-egaming.com

Gaming Curacao

- licensing.gaming-curacao.com

Curaçao Interactive Licensing N.V. - No verification page. Instead, CIL licensed casinos must provide a signed license agreement on their domain name.
It's also important to note that there were some changes in May 2021 with how operators need to display their licensing. Namely, Curacao eGaming has removed the validating service and instead demands that casinos have the logo on their homepage. When you click on it, it should lead to a file (usually a PDF file) with all the licensing information about the operator.
Are Curacao Casinos Trusted?
There's a lot of controversy surrounding Curaçao gambling licenses. There are many flaws in their systems, and that harms their reputation in a big way. Many casino players avoid online casinos with the Curacao gaming license because of that.
There are indeed many scammers among online gambling operators. Some of them were caught using fake software or didn't pay players. However, it doesn't mean you should stay away from all Curacao casino sites. Instead, be careful when choosing an online casino. Check the site's reputation first and check the validity of the license it claims to hold.
Only register at reputable online casinos with a valid Curacao gambling license. Many online casinos licensed there, like BitStarz Casino and Bitcasino, provide excellent player protection. Besides, they also boast an impeccable reputation among fellow players. So, don't let the bad apples ruin an entire market for you. Just be careful and do your research before trusting an operator.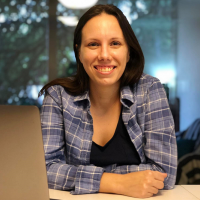 Milena is second-to-none when it comes to researching, reviewing, and recommending top online casinos. She stops at nothing when it comes to getting all of the facts and figures straight in each of her expert reviews. Plus, having worked as a writer within the iGaming industry since 2014, Milena has seen it all and is familiar with every aspect of online casinos.