I personally view gambling through the lens of great entertainment and fun. This is because I know the experience can be like no other, and the thrill I get from winning a poker tournament brings great satisfaction. It is not about the money in those moments, it is about the thrill of one bad decision having the ability to destroy your chances of achieving your final goal.
If any of you reading this have a competitive instinct, you will know exactly what I am talking about. A night out in a casino with glitz and glamour should excite anybody. Therefore, I am very protective of the industry when we are met with people who like to criticize what they deem to be the worst aspects of the industry.
Some view gambling through very different eyes. It is less about the experience for these people and more about the harm it does to certain sections of society.
Did you know that in the UK, over half of its citizens claim to have placed a bet at least once in their life? The funny thing about this statistic is that I know some of you will be reading this right now thinking that this seems 100% legitimate, while others will think that this simply can't be true. Gambling is a part of many cultures around the world, and when people talk about this industry, for the most part, it centers around the feeling of fun.
Gambling Addiction
First things first, I want to make it very clear that I take gambling addiction very seriously and would stress that if you feel that you are struggling, you should seek help immediately. When you are addicted to something, you are putting off life's other pleasures to focus on one aspect of your life that should act as a release but ends up being a drag. The expression "when the fun stops, stop" is perfect as it encaptures exactly what an addiction is.
It is not the concept of betting that is evil, it is the state of one's mind. Many people, for example, love going to the pub and relaxing with their friends with a few pints. Some even go out with the deliberate intention of getting drunk. This can result in ugly scenes at 3 in the morning on some street outside a nightclub. But what do we suggest when we see these scenes, a national drink limit? Should the people having fun be affected by those who can't control their emotions? I would suggest that very few people would think along those lines.
On the one hand, it does make sense that the government should get involved with betting. Part of their remit is to protect people from harm, and if people have an addiction, this does need to be addressed. But, the question in my eyes should be - why do we see gambling addiction differently from all other forms of addiction?
There is Hypocrisy Everywhere We Look
When people want to justify something, hypocrisy is perhaps the easiest weapon to use. This annoys me on occasion because two wrongs don't make a right. We can't use this excuse to essentially mean that we don't have to play by our own morals. There is gambling advertisement everywhere, and establishments are reliant on the income they bring in. So, isn't it convenient that they also want to promote gambling as a social evil when it suits their interests?
If you are not a hypocrite, sometimes you don't have morals. Therefore, after great consideration, I think I have found some middle ground to satisfy both sides of the spectrum on this argument.

Where Should Governments Step In?
This is a difficult question to address. To say the government should do nothing is wrong. We need casinos to be regulated, and we certainly don't want anyone to be gambling when they shouldn't be. The extent of how far a government should go is, however,f a great subject for debate.
Should there be bet limits on game machines like there are now in UK bookies? My instinct tells me no because this infringes on someone's right to essentially spend their money how they see fit. It also goes back to the theory of why someone has to be affected by the decision-making of others. On the other hand, betting limits can be great as they stop people from experiencing moments of madness.
Therefore I have come to this conclusion. Bet limits can be used with the design to stop players from gambling recklessly and losing their entire worth within the span of a few minutes. The results of this are devastating, and a limit of this nature shouldn't affect someone's gambling experience. Therefore addressing the tricky issue of whether others should suffer as a consequence of someone else's actions. Perhaps some form of a heavy roller license will solve such issues. This might be the answer to America's poker problem.
In the U.S.A it is still difficult for many people to play poker online. In my opinion, this is ridiculous and is not a representation of America that I am sure most of its citizens want to have. Freedom of choice is what should define a society. And for many people, this legal decision in place has stripped many people's livelihoods away.
Should gambling be encouraged? This is debatable. We can have long discussions regarding the merits of gambling advertisements and the criticisms that it exploits the most vulnerable members of society. Regulation in these instances does make sense. Even if you don't agree with the principle you should be able to see where the arguments are being formed.
Better help for those experiencing gambling issues is always the way forward. If a man has a serious gambling addiction he will find a way of losing money unless he seeks quality help. Regulations are only a temporary solution and lack of access doesn't mean the person in question's problems are solved.
I keep telling everyone, that if you feel bad when you have lost money, you have clearly bet with money you are not comfortable with losing. This could be a very little amount but if it leaves you feeling bad then gambling is not for you. Don't chase the thrills, enjoy the ride. If you feel that you are not capable of doing any of this that is fine. Once again, gambling is fun, and if it becomes anything else something has or will go wrong.
This article delivers the thoughts and opinions of the author, and it doesn't represent the stance of GoodLuckMate.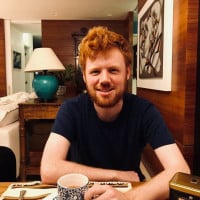 Matthew has been writing about the iGaming industry for several years. At GoodLuckMate, he shares his opinion about topics close to his heart - casino strategies, casino games, and sports betting. Basically, if the subject is gambling, we will be lost for words if Matthew doesn't have an opinion on the matter!