If fantasy sports betting sounds like your type of thing or you are looking for somewhere new to try, you are in the right place. It's true that there is not a vast selection of top-rated fantasy sports sites out there right now. A handful of sites have dominated this corner of the gambling world ever since its conception. So, we wouldn't blame you if you thought your options were limited. However, there is more than meets the eye here. Let us explain why and how it can help you research the best sites for daily fantasy sports.
What Are Daily Fantasy Sports Sites?
DFS is a type of fantasy sports betting where the sports matches take place in a shorter period of time. So, instead of classic fantasy sports that last an entire season, DFS is usually conducted in a single day of competition. Put simply, you can put together your own team, and you're only committed to it for one contest. You can draft a new team the next day or even the same night, depending on the schedule and sport you're playing.
Now, you're probably wondering, how many daily fantasy sports sites are there? Well, currently, there are over ten daily fantasy sport betting platforms. Note that most of them are similar, with small differences in game types, promotions, and sports markets.
Should You Be Looking for the Biggest Fantasy Sports Betting Brands?
Big, famous brands do not always guarantee you the best experience. We have often seen big gambling brands lose touch with the features that made them famous and popular in the first place. They chase big revenues, and user experience can suffer because of that. However, in the case of daily fantasy sports betting, it is safe to say you are going to get the most joy out of the big brands. Why? It all comes down to the turnover of daily tournaments and overall choice.
So, what are the most popular daily fantasy sports sites online? DraftKings and FanDuel are both huge players and the top fantasy sports sites. They have been enjoying the biggest market share for several years now. As it stands, DraftKings may have the edge with community size, but only just.

What Makes the FanDuel & DraftKings Experience So Exciting?
There are many answers to why FanDuel and DraftKings are the two best daily fantasy sports sites where you can win money. One of the major reasons people stick with these two leaders is because they guarantee daily tournaments and big prizes. This daily entertainment is the whole point of these sites, and they require big numbers to make that work. Both DFS sites have vast communities that allow you to log in and play every day. You're not just playing for little prizes, either.
Multiple small buy-in tournaments return four-figure cash prizes. We're talking €1-5 buy-in fees here. So, the potential return is clear to see and obviously tempting for daily bettors. A site that guarantees prizes like this on a daily schedule is going to be worthwhile for both experienced punters and beginners. Traditional tournaments, satellite qualifiers, 50-50s, and head-to-heads are all included to keep things interesting throughout the week.
Reputation goes a long way for any online gambling company, and the best daily fantasy sports betting sites are no different. If a site comes with positive reviews and a glowing reputation from users, then it's fair to say that you can trust them, too. Plus, if thousands of players log in daily to get involved, you can also assume the site is easy to use. This factor is key to anyone new to fantasy sports betting. A site that guides you through and makes itself an easy option for beginners is another sign in your hunt for the best fantasy betting experiences.

What Other Features Should I Be Looking For?
If you want a truly entertaining experience when taking part in fantasy sports betting, then you will want a site with variety. The NFL, NBA, MLS, and NHL all get a lot of coverage, but other sports, such as golf and motorsports, are also showing signs of growth. So, not only can you easily find the best daily NFL fantasy sports sites, your options aren't limited to football. Whichever sport you choose, you will get your chance to pick your lineup to earn the most points for all the daily, weekly, and longer-length tournaments that you wish to enter.
Other top features to look for include regular sports bonus promotions to keep your bankroll topped up. The Freeroll tournaments are also great for your chance to win big, risk-free prizes. Keep these features in mind if you want to find the best fantasy sports betting sites.
Where Do I Find the Best Daily Fantasy Sports Sites Options?
The top two brands are going to rule the fantasy sports land for the foreseeable future. But that has not stopped some of the newest daily fantasy betting sites from attempting to take a slice of the action. Some of the most notable places to try are Monkey Knife Fight and Fantasy Draft. Here you have two solid options that promise a professional and exciting betting experience.
The gambling industry needs startups like these to encourage market leaders not to sit back and ignore innovation. There are some excellent choices out there for your fantasy sports betting needs. You don't need to look far to enjoy those betting experiences, either. The small scope of daily fantasy sports sites makes your decision a lot easier than finding the best casinos or sportsbooks, that's for sure!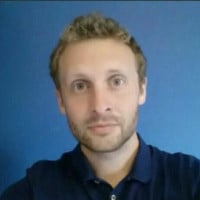 Steven is GoodLuckMate's casino veteran, having started in the industry in 2007! Although he knows everything about online gambling, it's sports betting that is his true passion. Additionally, he's not only our go-to writer for casino reviews, but he's also the one keeping the closest eye on iGaming companies, so he always knows what they are going to do next.