Are you trying to figure out a way to boost your winning chances when playing slots, but you're not sure where to start? Don't worry. You have landed in the right place. While it's true that slots are games of luck, there are some tips and tricks that can help you minimize your losses. You may even end up winning more often, even though it can never be guaranteed. Do you feel intrigued yet? If so, keep reading our tips and tricks. This article will teach you how to pick a winning online slot machine and make the most out of your gaming sessions.
1. Play High RTP Slots
If you aim to pick a winning slot machine at the casino and not only play for fun, then high RTP pokies are the way to go. RTP is an average percentage of all wagered money that the slot pays back to players, usually calculated over millions of spins. This is an important guideline that tells players which slots are the most generous and which ones they should avoid. The best slot machines to play come with an RTP rate between 92% and 97%. The higher the payout percentage, the better the chances of getting back what you've invested.
2. Stick to Games From Reputable Providers
If you want to pick a good winning slot machine, you can't randomly pick a game and expect a massive payout every time you spin. First, make sure you're playing at a safe and trustworthy online casino. Then, stick to reputable game developers. Licensed and regulated game providers are regularly tested for fairness and responsible behavior. Their games meet high standards and can't possibly be rigged. Games from reputable providers are eCOGRA-approved and come with certified Random Number Generators. Thus, the game outcomes are always random, and all players get their winnings on time.
3. Understand Slot Volatility
Volatility is the amount of risk associated with playing a slot game online, and it indicates how often a specific slot is expected to pay. There are two main types of volatility in slots - high or low. There are also levels in between, like medium-high, for example. Low volatility slots give smaller but frequent payouts. High volatility slots rarely pay, but once you land a win, it's usually a massive one. If you want to avoid losing streaks and win casino slots, pick a game that suits you. Go for low-volatility slots if you want to play it safe, but if you're a risk-taker, try your luck with high-volatility slots.
4. Play Before Guaranteed Jackpots Land
Searching for winning online video slot machines, you will find many games that come with daily jackpots. So, for example, if you're playing a slot machine where the jackpot lands at, say, midnight. Ideally, you should play as late as possible. Also, keep in mind that slots with smaller jackpots usually give more frequent payouts. So, if you're chasing wins, no matter how big they are, these games are perfect for you.
5. Trust Fellow Players
Trusting your fellow players and analyzing their play is essential if you want to improve your chances of picking awinning slot machine. So, read as many slot reviews as you can to find helpful information on activating bonus features and learn which ones are the most lucrative. Experienced slot players and casino experts write these reviews, which means you can trust them. Besides, you can find plenty of information on casino blogs, Reddit, and other casino forums or Facebook groups. There, you can exchange experiences with other players and discuss different slot machines.
6. Play Slots That Give Free Spin Bonuses
When you're trying to pick a winning online slot machine, you should always keep an eye out for juicy promotions. Bonuses of any type are always welcome when you're playing slots. However, a free spins bonus is especially beneficial because it gives you a slight advantage. NetEnt's Starburst slot and Book of Dead by Play'n GO are great examples of such slots. They offer players free spins bonuses to use before making a deposit, allowing them to test out the game and all of its features. That way, players can see if the slot actually suits their style and budget.
7. Avoid Branded Online Slots
There's no doubt that branded slots are highly entertaining due to the top-notch graphics and unique features. However, if you're looking for a winning video slot machine, these are not a great choice. Branded slot machines involve movie characters, brand labels, celebrities and much more. Developers have already paid tons of money to feature those brands, and obviously, they want to make up for the expenses. It means that you will end up playing a game with an RTP lower than preferred and a high minimum bet.
8. Set Your Expectations Straight
Finally, we'd like to remind you to set your expectations straight. Applying some or all of the tips above won't make you a sure winner. Slots are games of chance, they give our wins randomly. You can't trick them in any way. How to pick a winning slot machine can be something you analyze and work toward. Yet, at the end of the day, you should only play for fun, and with money you can afford to lose.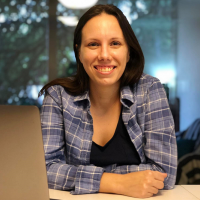 Milena is second-to-none when it comes to researching, reviewing, and recommending top online casinos. She stops at nothing when it comes to getting all of the facts and figures straight in each of her expert reviews. Plus, having worked as a writer within the iGaming industry since 2014, Milena has seen it all and is familiar with every aspect of online casinos.