I don't think I'm making a particularly insightful statement by pointing out that the US iGaming market is the number one priority for most in the industry right now. The potential of the US market is huge, with one of the most powerful countries in the world finally embracing the joys of online gambling. It's also fair to say that Americans like to do things differently from Europeans, and the operators and developers that are likely to succeed in the States are the ones that will adapt to their needs fastest. The market will present plenty of challenges for slot developers, in particular, and I'm going to look at what some of those challenges might be.
Changing Traditions
One of the biggest challenges that studios will face is moving American markets away from land-based casino-style slots. The US has a strong link with land-based games, and, as such, players tend to lean more toward these at online casinos.
This is not a huge problem for now, but as the market matures, developers are going to need to get creative and find ways to attract different audiences. If every developer is producing the same kind of content, things are going to get very stale, very fast. There are some solutions to this though.
Narrative and Characters
A growing cultural trend over the last decade has been shared universes. The rise of the MCU has led other movie studios to expand their universes, and this has also begun to seep into television, with shows like Yellowstone and the Walking Dead both embracing this format in recent years.
While we have not fully seen this happen in the slot world yet, it doesn't feel like it will be too much of a stretch. Brand recognition is a huge selling point in the United States. Audiences tend to react positively to seeing returning characters and cross-overs, and this could be a key move to make in the slot world.
The slot world is full of zany characters and franchises, and we have seen an increased push toward sequels in recent years. Relax Gaming's Money Train/Money Cart series is a good example of this, while ELK Studios Kane 'Gold' titles also highlight the potential of doing this in a slot environment. Slots are fun and don't need the strong narrative ties that film and television have. As we have seen with the Kane series, moving a character to a different location is often all that is needed. Does it need to make sense from a storyline perspective that a character has gone from Katmandu to Ecuador? No, as long as the slot action is good, no one will mind.
The potential for shared slot universes is big. Developers like Nolimit City, who boast a diverse catalog of games, could have a lot of fun here. Imagine the characters from Walk of Shame accidentally ending up in Dr Death's Hospital from Disturbed or a cross-over between the prisoners of San Quentin X Ways and Folsom Prison, with the two sides brawling. Developers that can build up characters that audiences remember and then reuse them could strike a chord with American audiences.
Branded Content
As I've already mentioned, brand recognition is a huge selling point for American audiences. While this has been explored in Europe, it has never really caught fire. We have seen football-themed slots, for example, but these have not been as successful as you'd have thought they'd be.
However, American audiences are very different in this respect. Attend an MLB or NFL game in the States and you will quickly realize that brand recognition and promotion are huge. It also seems unlikely that sporting franchises and divisions would shy away from this opportunity. The American gambling market has huge potential, and everyone wants their share of the pie.
Tapping into pre-existing sporting communities and brand loyalty could be lucrative for the right developer. There are 32 teams in the NFL, and a quick reskin job for each of them, with some fun mechanics and good winning potential, could be a winning formula.
New Mechanics
Slot mechanics and features are other areas where the US market is likely to cause some change. State legislation means that certain features will not be active in certain states, so developers will need to think outside the box.
There is still only a limited number of states open, and as this expands, this will become even trickier to navigate. We may see a swing towards more gamified style features to counter this. If there are limits in place about the features that can be used, then the best solution will be for developers to find new ways to package the same features. With a growing industry trend toward gamification in online casinos, sports betting, and promotions, this is not too much of a leap.
An Incredible Opportunity
One certain thing is that the United States presents an incredible opportunity for developers willing to embrace the challenges and face them head-on. The market is going to continue to expand and mature, and new challenges will continue to appear.
Simply delivering the same slots that have succeeded in Europe and elsewhere is not likely to work, and the developers who want to be successful will need to put their creative hats on and find new ways to entertain slot players.
This article delivers the thoughts and opinions of the author, and it doesn't represent the stance of GoodLuckMate.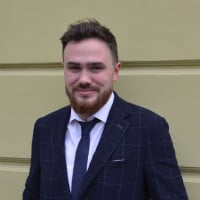 Liam is a skilled writer and journalist, highly regarded for his perceptive examination of the gambling industry. He specializes in online casinos and sports betting, and his work has been published in top-tier publications. Here at GoodLuckMate, Liam covers the latest industry news and has also authored various gambling guides, offering both beginners and experienced players in-depth analyses of games and strategies.