Chances are, if you're a person with a lot of crypto investments, the last few months have been quite rough. The value of Bitcoin, the world's primary cryptocurrency, has been in decline, while several other cryptocurrencies have flatlined completely. This all culminated at the start of November when FTX, one of the biggest cryptocurrency exchange companies, declared bankruptcy. This has sent shock waves around the crypto world. The gambling industry is one that is likely to feel some of the impact from this and I'm going to take a look at the potential reaction to the news.
Loss of Faith
I think it's fair to say that cryptocurrencies have been quite a hot topic over the last few years. There are those that swear it's the future and have chosen it as their hill to die on. Then there are those who think it is nothing more than a scam and that everyone involved will end up penniless and sorry, and then there are those in the middle, who practice a healthy degree of skepticism. I fall into the latter category, seeing the huge potential that the blockchain and some cryptos offer but remaining cautious of the numerous meme and smaller currencies appearing.
It is not too much of a leap to say that the recent collapse of FTX will no doubt raise skepticism even more among non-believers. Even those who champion crypto may now become more cautious.
In my opinion, this will be the initial reaction, and there is already some indication that crypto-spending is slowing down at some casinos. However, I suspect this will only be in the short term. Anxieties are likely to ease and given that most operators that offer cryptos will also offer fiat options, they will ride this out.

Cleaning Up the Industry
The immediate reaction to the collapse of FTX was always going to be negative. When a major player in an industry, especially a financial one, collapses, most people hit panic stations. A lot of gamblers will have done exactly that and will probably shy away from betting with cryptocurrencies at casinos for a while.
However, there is another side to this argument, one that I think is very strong. That is that the collapse of FTX will actually help clean up both the crypto industry and the online crypto casino industry at the same time.
The lack of regulation in the crypto world has been a big cause of concern for many, especially those in the casino world. The number of unregulated crypto casinos has been on the rise, and as we have seen with the recent Twitch scandal, it can have wide-ranging implications for the industry on the whole.
The collapse of FTX has made headline news around the world and financial regulators are likely to be forced to act. This regulation, in turn, will no doubt help to control a lot of the questionable activity that goes on with crypto casinos. This whole event could be the catalyst for change that the crypto world needs and could help to clean the crypto casino world of all of the scams and unregulated activity that is giving it such a bad name.
This would also benefit players massively. The introduction of some sort of regulation would protect players and provide them with some sort of third party when it comes to disputes. Crypto's selling point is its decentralization, but a lack of regulation in the gambling world is never a good thing.

Keeping the Ship Steady
As I pointed out at the start of this article, there are many people out there who have an interest in crypto but also express a healthy degree of caution when it comes to certain activities. A pragmatic approach to these things can often be the best way to go, and you can apply the same logic to what will happen to the crypto casino world.
The collapse of FTX will no doubt scare off some gamblers, especially those who have only just begun to use cryptocurrencies for gambling purposes. This is an understandable reaction, however, it is probably not one that is going to really damage crypto casinos. An initial drop-off is to be expected, but as things settle down, crypto gambling numbers are likely to return to normal levels. In fact, they are likely to continue growing in the future. `
Many crypto experts predict another bull market for cryptos towards the end of 2023. If this is to come true, then crypto casinos have very little to worry about in the long term. There will be many crypto investors that bought into the market at a much lower price and will be holding out for the market to bounce again.
The Outcome
So taking all of this into account, what do I think the outcome will be? The crypto revolution has been slowed down, but as I've suggested, this may be the best thing for it going forward. The introduction of some regulations may help to clean up the crypto gambling space and make it much more enjoyable for everyone else.
As I've explored, there will be some naysayers who see this as the death bell for crypto, but given its record of bouncing back and the dawn of Web 3 and the rise of Metaverses, this seems incredibly unlikely.
The collapse of FTX is no doubt going to be a big test for the crypto industry and the crypto gambling world, but it is one that I would bet that it survives.
This article delivers the thoughts and opinions of the author, and it doesn't represent the stance of GoodLuckMate.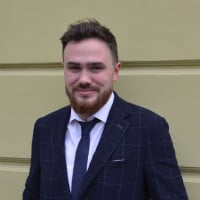 Liam is a skilled writer and journalist, highly regarded for his perceptive examination of the gambling industry. He specializes in online casinos and sports betting, and his work has been published in top-tier publications. Here at GoodLuckMate, Liam covers the latest industry news and has also authored various gambling guides, offering both beginners and experienced players in-depth analyses of games and strategies.