Just when I think I've seen it all when it comes to iGaming, the industry finds a way to prove me wrong. Earlier this year, I was surprised – yet not shocked – to learn that Real Dealer Studios has welcomed Vinnie Jones as the first-ever celebrity casino game host. This step obviously opens the door for other partnerships of this kind. At this point, if other providers decide to follow the Real Dealer Studio's example, only the sky will be the limit. When challenged, game suppliers never fail to deliver something even more amazing than what their competitors did. If Real Dealer Studios signed Vinnie Jones, can you imagine Evolution's response? And honestly, I'm here for it.
What's the Deal With Vinnie Jones and Real Dealer Studios?
Before I share my thoughts on why this partnership matters, let me first give you more information about it.
In February, the live casino software provider announced its collaboration with Vinnie Jones, a part-time actor, and former footballer. Football fans know the British celebrity for his contribution as a defensive midfielder for various teams, including Leeds United and Chelsea. These days, he's more into the entertainment waters, working as an actor and presenter.
Yes, he's not the most famous person alive. He's not Cristiano Ronaldo in the football sphere, and he's not Brad Pitt in the movie scene. Still, his next endeavor is something amazing if you ask me. It gives other providers inspiration and ideas about how they can include celebrities in the fantastic iGaming world. That's why I applaud his openness to something that, at least to me, doesn't seem like an easy job.
At the time being, I don't have more information on what exactly his job is going to be. Production was expected to start at the time when the partnership hit the news two months ago. There were some talks that the action would seem as if players were enjoying a one-on-one game with Jones.
It was announced that the game suite would be like nothing seen before. So, we'll have to wait and see what exactly Real Dealer Studios have in stock for us. One thing I'd like to note is the information that the games would come with RNG-generated outcomes. Meaning, it probably won't be live dealer action as we know it.
I'm sure the end result would be ground-breaking and inspiring, nonetheless.
Other Ways Celebrities Could Boost the iGaming Experience
So far, we've seen celebrities endorsing some gambling brands. In fact, my colleague Borina wrote about such partnerships in one of her previous opinion pieces for GoodLuckMate. Make sure to read her article if you want to learn more about famous people promoting gambling companies and activities.
However, this specific partnership between Real Dealer Studios and Vinnie Jones is so much more, in my opinion. This isn't about a celebrity saying that you should play at Betfred or bet365 Casino. Instead, this partnership literally combines the experience of gambling with hanging out with actual celebrities. While it seems that their product won't involve real-time action with Jones, it still gives plenty of inspiration to those who are willing to go a step further.

Imagine if you could join a live roulette game hosted by your favorite actor or have your blackjack cards dealt by your favorite actress? It really sounds inviting, doesn't it? Even if the celebrities wouldn't want to bother with learning the rules of the games or how to become a professional croupier, there are still options.
Think of the Blackjack Party game by Evolution or Celebrity Blackjack Party, available at LeoVegas Casino only. These games typically involve one primary game host, and then the rest participants are there to keep players entertained. Well, rather than random people, these could be celebrities. I know, that sounds expensive. But it doesn't even have to be a regular thing. Instead, online casinos could host like once-a-month events where different celebrities would host some live dealer blackjack or live dealer roulette parties or tournaments.
What Should We Expect Next?
If you think about it, the options are endless. Celebrities of all kinds – actors and actresses, sportsmen and sportswomen, presenters, artists, singers – anyone can join the fun. As for how they can partake in the action, again, there's plenty of space for using one's imagination. They can host the games or just entertain players.
Imagine Gonzo's Treasure Hunt Live hosted by Dwayne Johnson. I mean, that would be awesome if you ask me. And I'm sure other passionate and even recreational players would agree with me. There can be prize draws hosted by celebrities, as well. What the heck, there may be special games designed to match the personas of the celebrities. Like, for example, some tennis smash game hosted by Serena Williams, or a virtual racing game hosted by Lewis Hamilton.

I'm positive that any activity that lets users chat and have a personal – to some extent – experience with celebs would surely increase traffic.
As I said, however, this is probably expensive. So, I'm guessing both providers and casino brands will wait to see some reports on how Vinnie Jones and Real Dealer Studios are doing first. If the figures are promising, I expect to see more activity in this direction. After all, so many things have been invented so far, and yet, somehow, someone thought of adding some extra glitz through the presence of famous personalities only a month ago.
Now that the idea is out there and brought to life, I see no reason why it shouldn't stay and progress over time. And before I finish up this month's opinion piece, I'll admit that I'm actually looking forward to seeing where the celebrities and iGaming combo goes. There are two options when you think about it; it can either be amazing or fail miserably.
Each one is equally entertaining, and entertainment is what all of this is about, right?
This article delivers the thoughts and opinions of the author, and it doesn't represent the stance of GoodLuckMate.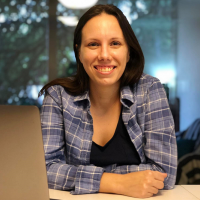 Milena is second-to-none when it comes to researching, reviewing, and recommending top online casinos. She stops at nothing when it comes to getting all of the facts and figures straight in each of her expert reviews. Plus, having worked as a writer within the iGaming industry since 2014, Milena has seen it all and is familiar with every aspect of online casinos.