In today's opinion piece, I'd like to discuss one very interesting topic – iGaming merchandise. For many people, this concept may be foreign and surprising. I felt the same way the first time I saw Nolimit City's online merch shop. Merchandise has been around for years, and it's a legit marketing tool. However, I've never expected to see iGaming brands utilizing it. And it's not always about the money as some give all proceeds to charity. So, there's a lot to discuss and analyze here. Is iGaming merch necessary at all? Should it be regulated since it's promoting gambling brands? Would I buy iGaming merchandise? These are just some of the questions that come to my mind.
A Proven Marketing Tool
Merchandize is a proven marketing tool that has been successfully utilized by countless companies worldwide. It helps with brand building, but also it's a smart passive revenue stream. Basically, any person or brand with a fan base can earn money by selling branded materials. The concept is clear. Companies offer shirts, pens, masks, caps, sweatshirts, backpacks, and all other kinds of products. These are beautified and customized with the brand's logo, slogan, or whatever comes to mind. Naturally, anyone appreciative would love to have such merchandise and show off their love.
In this regard, seeing iGaming companies opening merch shops isn't surprising. After all, many websites that offer printing services have categories dedicated to casinos and gambling. So, it's not that unusual for people to want to wear clothing and accessories with such motifs. Yet, I was still surprised and excited. I just never expected to see such shops, I guess. Now, I hope to see more of them!

Two Great Examples
Unfortunately, I didn't find any reports on how many items from merch stores iGaming companies are selling. So, I can't say if this decision is profitable or not. However, I think that it's really cool. I haven't bought any iGaming merch yet, but I sure plan to do so. I believe that anyone who's into online gambling feels the same.
I'm probably not familiar with all the iGaming brands that sell merch. Two brands I know have this, though, are Nolimit City and Big Time Gaming. Nolimit City has a range of fantastic products like accessories, clothing, and posters. The same applies to Big Time Gaming, as the merch products tend to be standardized. However, Nolimit City doesn't mention anything about what happens to the money collected from their shop. So, I'm guessing they're boosting revenues with the step. Big Time Gaming, however, gives all proceeds to charity. For them, it seems it's just a standard brand-building move as well as a way to showcase social responsibility.
While here, I'd like to mention Evoplay that I'm sure is sending branded gifts, just like a few other providers. This is another way iGaming companies utilize merchandise to spread the love and build their brand. And I think it's beautiful really. In fact, I was lucky enough to receive such a gift box from Evoplay, and I can't explain the happiness. It's just so cool to have such unique pieces and share your interest in iGaming with the world. If nothing else, this type of merch is a great conversation starter.

Should It Be Regulated Though?
However, one thing that possibly worries me about iGaming merchandise is the regulation aspect. I may be overreacting, but bear with me for the sake of the article. We know that online gambling is so strictly regulated in many countries. And it's not just the gamblers' age or the taxes I'm talking about. In many countries, there are limits on deposits, restrictions on payment methods, and the advertising rules are equally constricting.
In that sense, why shouldn't iGaming merchandise be regulated too? These branded materials always promote online gambling brands and games. If an online casino advertisement has to follow strict rules, how is anything else different with merch? Plus, what stops minors from buying such branded materials and promoting this activity, despite it being illegal for people under 18 or 21 (depending on the jurisdiction).
Again, I'm just stating some facts and opening a discussion that could be interesting. I understand that merchandising is just that – an unharmful way for a company to promote itself and its products. Yet, when it comes to things like gambling, alcohol, and cigarettes, things are usually a bit more complicated. These promote potentially addictive habits and, therefore, any promotion of such activities should be done carefully.
Will Other iGaming Companies Follow?
At this point, what interests me the most besides the possible introduction of regulations, is whether other companies will implement merch stores. I think that massive brands like Microgaming and NetEnt can especially profit from their most popular picks. Imagine how many passionate players would buy a Starburst or a Mega Moolah sweatshirt? If they combine these with some exclusive player perks like free spins or loyalty points, a fantastic hybrid could be created.
People who play casino games regularly are really into the activity, and many of them have favorite brands and slots. So, I wouldn't be surprised if selling merch becomes a steady revenue source for gambling companies. And it's not just game developers that can earn from merch. Online casinos can also reach new highs and build their brands by selling merch. In fact, I think that I've seen casinos where users can buy branded items using loyalty points. This is another marketing strategy to make players return to your casino rather than playing elsewhere.
These days, the actual activity is as important as the feeling of belonging and community. Merchandize is one of the ways to achieve this goal by making money from it along the way. That's why I hope that more companies will recognize the potential and launch their own merch shops. I believe it will be an exciting direction that's worth keeping my eyes on. Plus, I'd love to get some awesome merch from my favorite slots.
This article delivers the thoughts and opinions of the author, and it doesn't represent the stance of GoodLuckMate.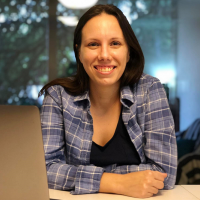 Milena is second-to-none when it comes to researching, reviewing, and recommending top online casinos. She stops at nothing when it comes to getting all of the facts and figures straight in each of her expert reviews. Plus, having worked as a writer within the iGaming industry since 2014, Milena has seen it all and is familiar with every aspect of online casinos.