Online gambling is a huge industry and has vastly changed the way people like to spend their leisure time. At this point, there are more gambling options than ever before, with many regions of the world slowly catching up to other parts of the world when it comes to gambling legislation.
Software developers continue to develop top-notch games, offering gamblers the best possible experience from the comfort of their homes. Learning different strategies and approaches to certain games is also more accessible with the help of the internet. There are no longer any excuses for not being aware of a certain strategy. This is great because it means we are able to take full responsibility for our success or lack off.
When you start your gambling journey, it's easy to get transfixed on one particular game you like or think you can profit from. However, some think it's better to explore the entire landscape and become an all-rounder. At the end of the day, what's the correct way to go about things? While it all comes down to personal preference, both approaches indeed have their advantages and setbacks.
This article discusses the possible benefits of trying your hand at several games instead of fixating on just one.
Playing Multiple Games Will Help You Gain A Greater Understanding of Odds
Playing multiple games will help you understand and appreciate the importance of odds. In fact, it may even make you better at your own specialized game since you have gathered extra knowledge from playing different types of games. Familiarising yourself with multiple types of games, in a way, gives you a sixth sense in terms of what to expect from a game. A little like an athlete will gain experience when they train with a team that plays a different sport to them.
Skill vs Luck
If you are really into your gambling you might be aware of the "skill-chance" scale. For example, games of pure luck such as roulette and craps are at one end of the scale. While skill-based games like poker are at the opposite end.
Understanding this imaginary scale will help you understand where your talent lies. While it is true that you cannot control your luck, you can still strategize - In other words find a way to use your luck to your advantage. On the other hand, skill-based games involve a lot of study, and depending on your opinion on gambling this will either be something that excites you or something that repels you. The rest of the details you can only figure out by exploring.
Some seasoned poker lovers have no interest in roulette and vice versa; such a conclusion only comes out after exploring and figuring out what suits you and what doesn't. Know that some games prompt you to think with your brain, while others prompt you to think with your gut.
You might discover that Poker really satisfies your competitive and logical brain. Knowing your odds when playing a game like this is essential to you becoming the best gambler you can possibly be. I have heard several poker players say that they only become interested in poker because they were already interested in the gambling world and now they only focus on this industry.

Access to Numerous Bonuses
If you decide on playing different types of games at different casinos instead of trying to master just one, you might be able to leverage the bonuses these websites provide.
Since bonuses come in different forms, e.g., free spins, bonus cash, no deposit bonuses, etc., you will get the chance to try various types by playing different games. Bonuses such as the no deposit bonus are perfect when playing more than one game. This way, if you're a beginner, your hard-earned cash will not be on the line every time you start playing a new game.
Furthermore, you may also increase your chances of winning by wagering (and utilizing the bonuses offered) at multiple games.
More Variety, More Fun
If you gamble frequently, you may appreciate the variety. Most serious gamblers even like to change things up a bit and test their odds by placing bets on multiple fronts.
When you broaden your gambling horizons, you enjoy the variety offered; however, you can also learn multiple games at once. You may not get the chance or time to master the games, but you will be able to familiarise yourself with the game formats.
If you find yourself bored of a particular game and its rules, you can always move on to the next one. After all, there is only so much you can do playing a single game. Playing other games might also give you more appreciation for the game you follow.
Ideal for Newcomers
When you are new to the world of online gambling, it can be a challenge to find the best games to play and the ones to drop. But when a novice tries all of the options available to them, they get the chance to realize their strengths and weaknesses. That helps them know which games are simply not for them. Similarly, it will let them figure out which games will offer them the most once they start betting with real money.
More Room for Experiments
Playing multiple game types has its benefits as well. Playing more than one game online lets you experiment with new methods. You can try implementing several skills to boost your winnings. That is to say, sticking to specializing in just one game does not broaden your gaming horizons as much.
In Conclusion
Once again, how you prefer to gamble is entirely up to you. But if you feel you can reap the benefits of gambling by experimenting, why not give it a go? After all, you can always come back to the game (or games) you prefer the most.
Online platforms offer bonuses, that allow you to experiment without fear that you will be eating into your bankroll too much. You might even discover one game that will radically change the way you view gambling.
This article delivers the thoughts and opinions of the author, and it doesn't represent the stance of GoodLuckMate.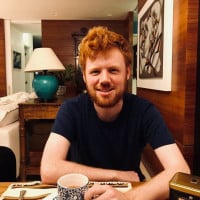 Matthew has been writing about the iGaming industry for several years. At GoodLuckMate, he shares his opinion about topics close to his heart - casino strategies, casino games, and sports betting. Basically, if the subject is gambling, we will be lost for words if Matthew doesn't have an opinion on the matter!