If you follow the online gambling world closely, then chances are, you have heard of Microbetting. If you haven't, then don't worry, you will have done soon. Microbetting is the act of placing small bets on individual moments during an event. It's an exciting form of in-play betting that is gaining some major traction. With some big names behind it, I think that there is a very strong chance it will be the next big thing in betting, and I'm going to break down exactly why I think that is.
What Actually is Microbetting?
Microbetting does as it says on the tin - it allows players to place micro bets in a game. These are bets that are based on individual, in some cases, tiny, moments in an event. For example, in a game of football, you might be able to place a bet on the outcome of the coin toss at the start of a game, or on the next corner or throw-in.
At first, I thought this was the same as in-play betting, and while there are definitely similarities, Microbetting is much faster, with the bets basically presented to you as the game goes on and then winnings paying out almost immediately. As a long-time football bettor, I must admit, it's an attractive prospect and one that could certainly liven up a boring 0-0 draw on a Friday night.
The focus here is also on small bets. These are not supposed to be the kind of bets that make you rich in one go. They are supposed to be fun, little bets that spice up the action when you're watching sports.
Major Influencers
So what makes Microbetting stand out from other betting trends then? Well, I believe there are several key factors that will help make microbetting a huge pass-time. Firstly, it is going to appeal to Gen Z bettors. People that have spent the last few years glued to TikTok and Twitch now have betting platforms that are in line with the way they consume media. Things have instant payouts and don't require you to wait around or make complex betting decisions. In a lot of cases, microbets are presented as a simple yes or no, and they are down to nothing more than luck.
Secondly, there are some major influencers that are getting behind the platform, not least of which is Youtube-star turned boxer, Jake Paul. Paul has launched Betr, a microbetting app, along with Joey Levy, an industry expert. Whatever your thoughts on Jake Paul, it is hard to deny that the guy has some serious influence. Everything he and his brother have touched in recent years has turned to gold, and he is fantastic at generating buzz around his products. If you have any doubt as to the power that Jake and his brother, Logan have, then just take a look at the success of their other ventures.
The business savvy of both Jake Paul and Paul Levy has already been on display. The duo has taken major steps toward promoting responsible gambling. It has already placed betting limits on those aged 21-25 and Levy has stated on several occasions that they intend to lead the industry in this respect. The two have made comparisons with Robin Hood, the app that made day trading accessible to the masses and have said they want to do the same with Betr.
I can't help but think this is a very clever move. Not only does the presence of Paul and the nature of Microbetting make it incredibly attractive to Gen Z players, but their approach to responsible gambling will also help remove the taboo of sports betting and could really make it popular among Gen Z players.
The American Dream
This brings me quite nicely to what could be the biggest factor in the success of microbetting - America. The United States is slowly but surely throwing its arms around sports betting and microbetting could be bursting onto the scene at the opportune time.
The potential of the American market is absolutely huge, and operators have barely scratched the surface yet. With so many operators competing for the attention of customers, something that offers a different take could have a huge advantage. The biggest sports-betting operators are the moment are Fanduel and DraftKings and they have still only managed to capture a small portion of the market.
What's more, microbetting does a great job of mixing betting with live sports. I feel as though cross-media promotion is huge in America, and microbetting goes hand in hand with this. If the major sporting franchises decide to get behind microbetting, then it could quickly be introduced to households all across America very quickly.
Finally, microbetting could well be ahead of the curve when it comes to gambling regulation and responsible gambling. The US is a growing market and I can see it experiencing plenty of growing pains when it comes to regulation and responsible gambling. If, like Betr, microbetting operators focus on smaller bets and even restrict some players from the start, then they could have a huge headstart over other operators if things start to change.
A Winning Formula
As I've laid out, all of the ingredients exist for microbetting to establish itself as the next big thing in the world of sports betting. With major influencers behind it, the potential of cross-media promotion, and a potentially huge audience, there is plenty working in its favor right now. Of course, customers could totally reject it and it could be nothing more than a trend, but given the way that a lot of social media has gone in recent years and the influence of it on sports in general, I can't see that happening.
This article delivers the thoughts and opinions of the author, and it doesn't represent the stance of GoodLuckMate.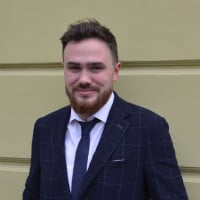 Liam is a skilled writer and journalist, highly regarded for his perceptive examination of the gambling industry. He specializes in online casinos and sports betting, and his work has been published in top-tier publications. Here at GoodLuckMate, Liam covers the latest industry news and has also authored various gambling guides, offering both beginners and experienced players in-depth analyses of games and strategies.