Land-based casinos have always been larger than gambling itself. People don't always go to Las Vegas just to gamble. No, they go there to have a thrilling and entertaining experience, which they often share with their friends and other people. This is something that online gambling sites weren't able to compensate for despite all their fantastic bonuses and massive game menus. Well, at least not until social gambling appeared as a ground-breaking concept and a solution to an ever-present issue. Is social online gambling here to stay? Read further to discover my take on it.
Social Gambling – Playing Casino Games With Your Friends
If you look for the definition of social gambling, you'll discover this is the activity of playing casino games with your friends. In fact, you don't have to limit yourself to casino games even. Playing bingo is also a type of social gambling. Everything that involves more people and gambling falls into the category of social gambling.
With that established, let's see what makes the concept so attractive. Well, like it or not, humans are social creatures. They need socializing, and they need to share their experience. Humans want to share the fun. That's the main driver behind the rise of social networks like Facebook, Twitter, and Instagram. I'd say that this desire is also what made famous all those online casino streamers on Twitch, as well.
iGaming Lacked the Social Aspect, but Providers Have Been Working on It
While online casino sites have always been superior to brick-and-mortar facilities in many aspects, they could never compare when it came to socializing. And don't think that iGaming operators haven't been aware of this. On the contrary, they've been working on solving this issue for years. This is where live casino platforms come into the picture.
Yes, they ensure more authentic gameplay and real-life action. However, they also came equipped with one essential feature – the live chat window. What's that, if not an attempt to create a more socially attractive atmosphere for players? You want to say something funny? Share it via the chat window. You have a question for the dealer? You guessed it. The chat window is here to help you communicate.
Online bingo platforms like Bingocams and Heart Bingo proved especially popular thanks to their social aspect. With bingo rooms, live chat windows, and chat games that encourage socializing, their popularity soared. These were yet another proof that players want to gamble with real money, but also that they want to share the fun with fellow users. It seems that hitting a prize when your friends are watching is much sweeter than doing it alone.
I personally always thought that even live dealer platforms couldn't come near land-based casinos when you want a fun night out. Maybe VR platforms like SlotsMillion came close enough as they enabled you to immerse into the real casino atmosphere. So, I've always hoped to see how the industry will respond to this obvious drawback.
Casino Operators Have Already Jumped on the Social Gambling Train
One of my favorites here is the ComeOn WeSpin social gambling feature. Its key point is to enable users to play together or even watch other players spin the reels.
WeSpin offers users a community feeling with a shared pot and a gaming session lobby. To join the fun, members need to contribute to the pot. In case there are winnings, there are then divided among all participants based on individual contributions.
WeSpin is a combo of real money slot action and social gambling. It lets you partake in something bigger than your lonely games. It enables you to meet new people, share your thoughts, and join an online casino party even. Imagine you and all your friends register with ComeOn Casino and join the same WeSpin room. You may lose, you may win. One thing is sure, though – you'll have a blast!
I believe this is the power of social gambling and why it's inevitable to become an essential part of iGaming.
ComeOn isn't the only brand that expressed interest in social iGaming. We have PlayStudion and MGM. They've expanded their partnership, and I don't expect this to change any time soon. Playtika and Caesars are also another example of how established brands in each industry partner to create something fun for both worlds. Sci-Play, the social gaming division of Scientific Games, became an independent entity back in 2019. This is another company I'd keep my eyes on when it comes to developing innovative real money social gambling solutions.
Global Social Casino Revenue Keeps Growing
Even with my opinion aside, the figure shows that social gambling will keep establishing itself as an important branch of iGaming. Even if it doesn't necessarily become the future of remote real money gambling, it will contribute a large share of the revenues.
Data by bV1sion shows that in 2014 the global GGR of social casinos was at $3 billion. It has been growing ever since, and it's projected to hit $7.5 billion by 2025. That's an impressive 10-year growth of 150%. Nearly three-fourths of this revenue comes from North America, which is expected to remain an essential social gambling market.
It's interesting to analyze the trend of daily average users between 2014 and the projections for 2025. Namely, there was a downward trend in 2014 when about 30.7 million users took part in social casinos. This figure dropped to 24.6 million by 2019, when things changed for the better. The COVID-19 pandemic forced people to stay at home and seek fun on the internet. This drove the daily average users to 26.9 million. Experts expect this figure to reach 33.1 million by 2025.
In 2020 and 2021, only 6% of the users were paying players, more than the traditional 5%. In the Apple App Store, the highest-grossing game was Slotomania: Vegas Slots Casino by Playtika, and the situation was the same in the Google Play Store. However, I expect these to be easily overpowered by real money gambling apps released by iGaming brands.
Social Gambling Is Here to Stay
In one of the blog posts here forecasting what to expect from the iGaming industry in 2021, we mentioned social gambling. Not only do I agree with that expectation, but I'd say that we will see much more from this concept. Even people who dislike active communication can freely participate in a community thanks to features like ComeOn's WeSpin. You don't have to say anything to share the excitement of spinning reels and massive wins.
In this regard, I'd say that social gambling may even be better than going to a noisy casino with your friends. If you stay away from everyone, you'd lose on the fun. This won't be an issue when you join a group of people or even your friends for an iGaming session.
With all this in mind, let me provide my views on the central questions in this article.
Is social gambling the latest iGaming trend? I say yes, but I'm not sure whether the statement is a fair one. Why? Well, as we can see, providers have been trying to offer social features at online casino products for years. Moreover, we already have some features that are classic social gambling offerings. So, I'd say that social gambling has been around in one form or another, and it will definitely remain sought after.
Is social gambling the future of iGaming? It's hard to say as both providers and operators continuously come up with new things. While social gambling features will play a vital part in the industry's expansion, I'm not 100% that it will be the only essential part. I expect the rise of VR gambling platforms, for example. Existing products will keep evolving, and we'll eventually see skill-based real money video slots. All these will impact the growth, but I can't say that one of them will be the absolute leader.
Let's not forget that what people want and demand continually changes. Meaning, even if something is popular right now, it may fade away in several years. That's what makes the iGaming industry so creative and what drives all those market innovations. So, I do expect an expansion of social gambling. At the same time, I'm curious to see to what extent this expansion will continue and whether it will be interrupted by new iGaming concepts. Still, I believe that investing in social gambling features will pay off to both operators and providers.
This article delivers the thoughts and opinions of the author, and it doesn't represent the stance of GoodLuckMate.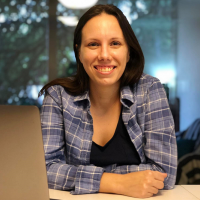 Milena is second-to-none when it comes to researching, reviewing, and recommending top online casinos. She stops at nothing when it comes to getting all of the facts and figures straight in each of her expert reviews. Plus, having worked as a writer within the iGaming industry since 2014, Milena has seen it all and is familiar with every aspect of online casinos.