With the rapid development of technology, online casinos continue to get polished by implementing various advanced tech. From 3D slots to the latest variant - Virtual Reality gambling - players proceed to seek sophistication. Back when the 3D slots were first released, they were deemed revolutionary in the iGaming world. The special bonuses, unique features, and wild symbols were what got everyone on board. Now, with VR online casinos' steady debuts, players will get to experience Las Vegas in their living rooms. This innovation has created an ultimate experience for players and has received quite the attention globally. Trust us when we say it certainly doesn't get much better than this.
How Is VR Applied to iGaming?
We know many of you are curious as to how a VR casino works. First, to create such a game, a lot of effort and investment is required. Online casinos establish software with a vast range of functions alongside uninterrupted operation even when high traffic occurs. Plus, they make sure the platform is designed accordingly with modern trends and innovations. They pay much attention to the opportunity for software updates, as well. However, most importantly, operators of the best VR casinos value having consistent communication with the games' developers.
What Do You Need to Play at
Virtual Reality Casinos
?
Playing at a virtual reality online casino won't be possible with an old laptop or even a decently working computer. There are multiple things you need to create the utmost experience for yourself.
Start with getting an essential item, such as a VR headset. You can't begin your journey without a properly working VR headset. We know there are over-the-top prices when it comes to these headsets, but there are ones out there suitable for all budgets.
Next is, of course, a virtual reality casino account. To play, you will need to register and deposit initially to have access to all the top-quality online casino games. Having a comfortable chair is a must, too. You may get immersed in these VR casino slots for hours. To ensure you're comfortable, you need to have a relaxed setting.
What's the Best VR Set for Online Gambling?
The best VR headset right now is The Meta Quest 2. Previously referred to as Oculus Rift, this headset comes directly from Meta. It's powered by the Qualcomm Snapdragon 865 chipset, ensuring it provides users with a vivid and immersive experience. You can also connect it to your computer if you purchase the Link Cable USB-C cord.
Other solid VR headsets for gambling include the Valve Index VR Kit, HTC Vive Pro 2, and the HP Reverb G2. None of these is under $399, but they have other uses aside from VR gambling. You can also play other games or even partake in exciting VR adventures, or hang out in social VR events.
Benefits of
VR Online Casino
Sites
If you can't fly out to Las Vegas to play at its grand casinos, then VR real money casino sites are perfect for you. Virtual reality online casinos will make you feel like you are walking through those halls, offering a realistic experience from the comfort of your home. Not only are VR casino games more realistic, they even beat live dealer platforms because they are much more engaging and immersive.
Moreover, since you already have all the equipment you need at home, you don't need to visit locations like the Omaha Virtual Reality Arcade. You can enjoy hours' worth of VR slot games without ever having to leave your home. Plus, did you know you can enter VR tournaments? That's right. Texas was the first one to hold the worldwide VR Hold 'em tournament. If you're someone that loves the heat of competition, then VR gambling will really do the trick for you.
Here are some features of VR gambling and VR casino sites:
VR casino games, and a real-life-like environment;

Shared with players around the world, social aspect;

Access to non-gambling and skill games, no money action included;

Casino amenities, get a VR drink or snacks;

Share the fun with friends, a true casino night from your homes;

Reinvent yourself, become who you want to be without judgment;

In-game cameras let you get memorabilia from your VR gambling adventures.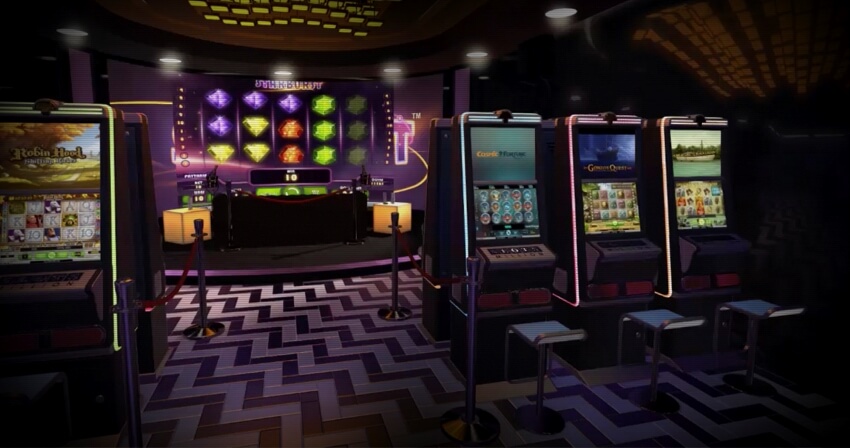 Example of Simulated Casino
Though there aren't many operators in the VR gambling market, there's a significant one we can't help but mention. We're talking about a VR Casino! Here you get to play your favorite virtual reality slot machines and table games. It provides excellent graphics and authentic sounds that will make you feel like you are playing at an actual casino. Earn chips to get unique in-game bonuses like daily wheel bonuses and all-in bonuses!
Where to Play
Real Money VR Casino
Games
Are you looking for prominent iGaming destinations where you can try out these immaculate games? Well, Slotsmillion used to be the first and probably best-known online casino with this option. It has about 40 VR games and a full VR casino floor. It was a whole thing, and a cool one too. However, after multiple visits to the casino, it seems that the VR section has been removed. We can't provide any more information, but if that changes, we'll update you for sure.
Social Club VR: Casino Nights is a casino game you can play in VR. JackpotVR is another option, but both of these are social casinos. Meaning, they don't offer real money action.
VR Gambling
in the Metaverse
Since the Metaverse was announced in 2021, many iGaming aficionados have been wondering how it's going to impact the iGaming industry. What sets Metaverse gambling apart from traditional VR is that you could live an entire day in a virtual world that features more than slots and table games. Not only can you enjoy the games at the virtual reality casino, but you can also have conversations with the other players. That said, Metaverse gambling is still in development. Currently, there are only a few casinos that operate in the Metaverse, but we expect more to hit the scene as the virtual world grows.
It's important to say that the Metaverse by Meta may not be progressing as expected. It's still far away from offering the life-like virtual world many people hoped it would. However, that doesn't mean that there aren't other VR spaces and games where players could participate in VR gambling.
VR Gambling - The Takeaway
It will probably take more time for Virtual Reality to become widely spread before casinos start employing the concept more. Yet, it's likely that more and more operators will hop on the VR train to offer something new and exciting to its players. We believe that VR is going to become the future of the online gambling industry. So, we are very enthusiastic to see the development of this creative and innovative sector.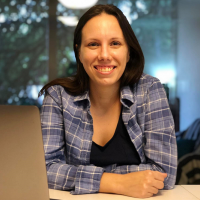 Milena is second-to-none when it comes to researching, reviewing, and recommending top online casinos. She stops at nothing when it comes to getting all of the facts and figures straight in each of her expert reviews. Plus, having worked as a writer within the iGaming industry since 2014, Milena has seen it all and is familiar with every aspect of online casinos.