Las Vegas is the promised land for adventurers, party people, gamblers, and newlyweds. People go to Sin City to have a great time but also to spend lots of cash. So, it makes sense that this spot is one of the most impressive American destinations for tourism and entertainment. Don't trust us? Well, maybe all the impressive Las Vegas revenue statistics we have on this page will help you change your mind. Scroll down to learn how much the city makes from its most important sectors tourism and gambling.
Las Vegas Revenue Statistics – GoodLuckMate's Top Picks
The Las Vegas Strip gambling revenue in 2021 was just over $7.07 billion.
Downtown Las Vegas's 2020 statistics, however, report that the area generated around $534.8 million in casino revenue.
The 2020 Las Vegas revenue report showed the lowest figures in over 20 years.
2020 reported around 19 million visitors, which is a 54% drop compared to 2019's 42 million tourists.
Per the latest gambling statistics, the Las Vegas Strip is home to the world's richest casino - Las Vegas Sands.
73% of Vegas visitors in 2021 said they were there to gamble.
June 2021 saw the most visitors by air travel, exceeding 3.81 million tourists.
Mobile sports betting in the Strip reported over $5.023 million in revenue for September 2021.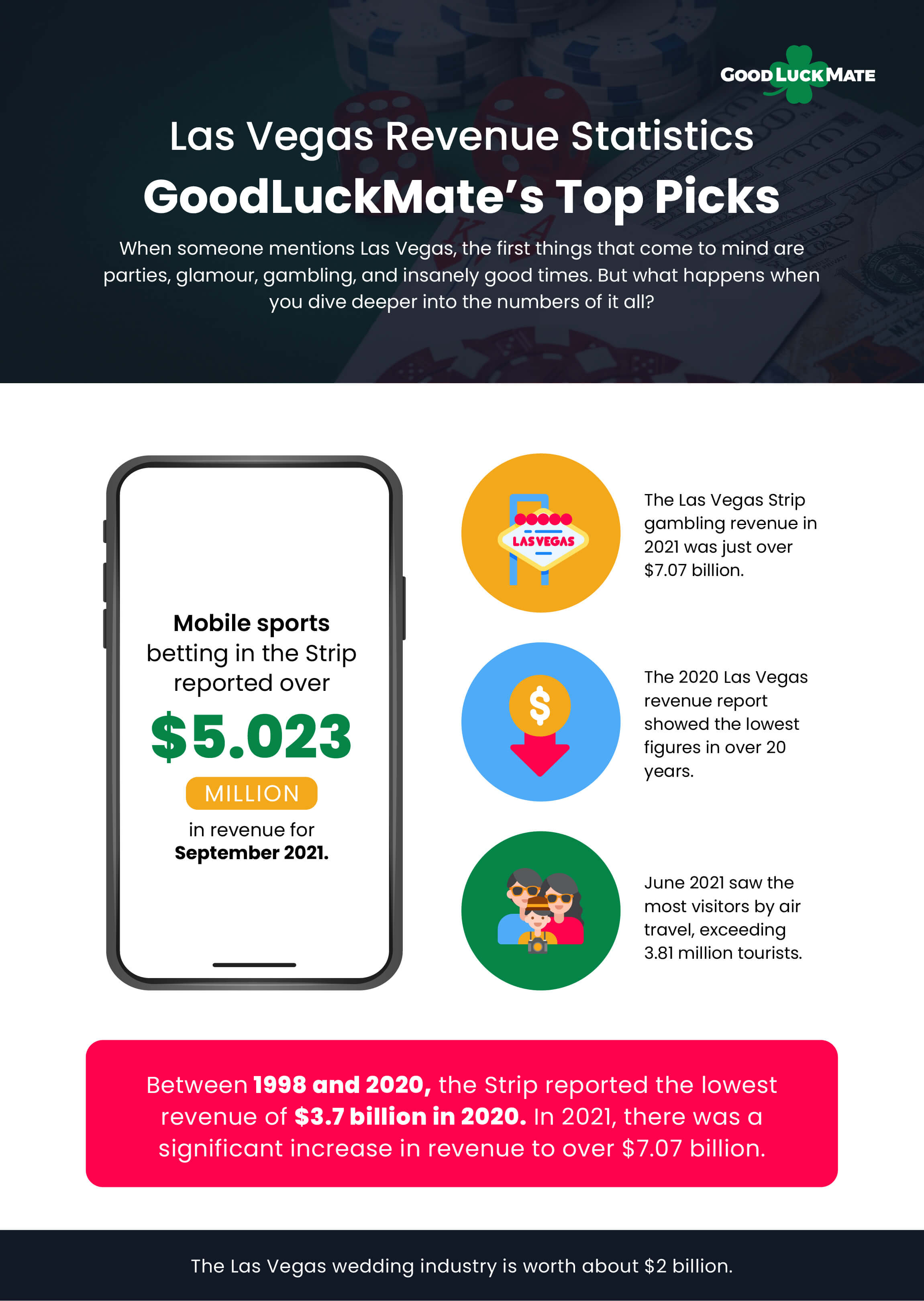 Essential Las Vegas Revenue Statistics Everyone Needs to Know
When someone mentions Las Vegas, the first things that come to mind are parties, glamour, gambling, and insanely good times. But what happens when you dive deeper into the numbers of it all? Have you ever wondered which is the largest Vegas casino or how COVID-19 affected Sin City? The answers to these questions, and many others, are down below.
Between 1998 and 2020, the Strip reported the lowest revenue of $3.7 billion in 2020. In 2021, there was a significant increase in revenue to over $7.07 billion.
The COVID-19 crisis resulted in a 43% drop in the Strip's revenue compared to 2019's figures.
Las Vegas gross gaming revenue in August 2020 was down 39% compared to August 2019.
Las Vegas income statistics show that in 2020, Downtown Las Vegas made the most money from slot revenue, which exceeded $464.2 million.
The pandemic is also responsible for the drastically low number of visitors in 2020, which barely exceeded 19 million.
The Las Vegas Strip is home to the state's largest as well as the world's richest casino resort, Las Vegas Sands.
1.7 million Las Vegas visitors in 2020 were there to attend conventions.
Sin City reported a 42.3% occupancy rate in 2020, with over 21.2 million room nights booked. In 2021, the annual occupancy rate increased to 66.5% and the room nights booked jumped to 36.2 million.
According to 2019 Las Vegas statistics, the tourism industry in the city brings in over $63.6 billion a year.
The Las Vegas wedding industry is worth about $2 billion.
About 340 couples get married in Las Vegas every day and the industry employs around 18,000 people.
How Much Money Does Las Vegas Make From Gambling?
Las Vegas is one of the best places to gamble worldwide and it makes sense that the city generates tons of money from this activity. In this section, we'll share the latest stats regarding the revenue of the Las Vegas gaming industry. We'll take an in-depth look at the income that different areas of the city generate and also discuss the most profitable games, as well as past annual revenue reports.
Las Vegas Strip
The Las Vegas Strip spreads from the Stratosphere Tower to the famous New York New York hotel. It's also home to about 30 world-famous casinos and makes up most of the Las Vegas casino revenue. Here are some fun Las Vegas casino revenue statistics about the Strip you want to know.
From March to August 2021, casinos in the Las Vegas Strip reported total revenue of $3.6 billion.
In the period between March 2020 and August 2021, the revenue grew by 207.73%.
The slot win total for the same period exceeds $2.1 billion, while the year-over-year change shows a 224% increase in revenue.
The game win (table games, keno, bingo, and betting) in August 2021 was $267 million, while this year's highest figure of $384 million was seen in July.
Las Vegas gambling statistics show that 2021 brought in a 187% increase in revenue compared to August 2020.
The total baccarat win in September 2021 saw a 538.73% jump compared to September 2020.
Downtown Las Vegas
Downtown Las Vegas is the heart of Sin City. It's located in the center of the Las Vegas Valley and looms over the Las Vegas Strip. The area boasts a dozen casinos, including Fremont, Golden Gate, and Four Queens.
Between March and August 2021, Downtown Las Vegas generated over $436.8 million in revenue.
Downtown Las Vegas gaming revenue statistics reported a 198.6% income hike compared to 2020.
The slots win in this time frame reported a total income of $297 million, which is a 200.89% increase compared to 2020.
The total game win revenue exceeded $139.7 million, with the largest figure being the $26.5 million reported in July.
In 2021, total game revenues in Downtown Las Vegas jumped by 193.86% compared to 2020.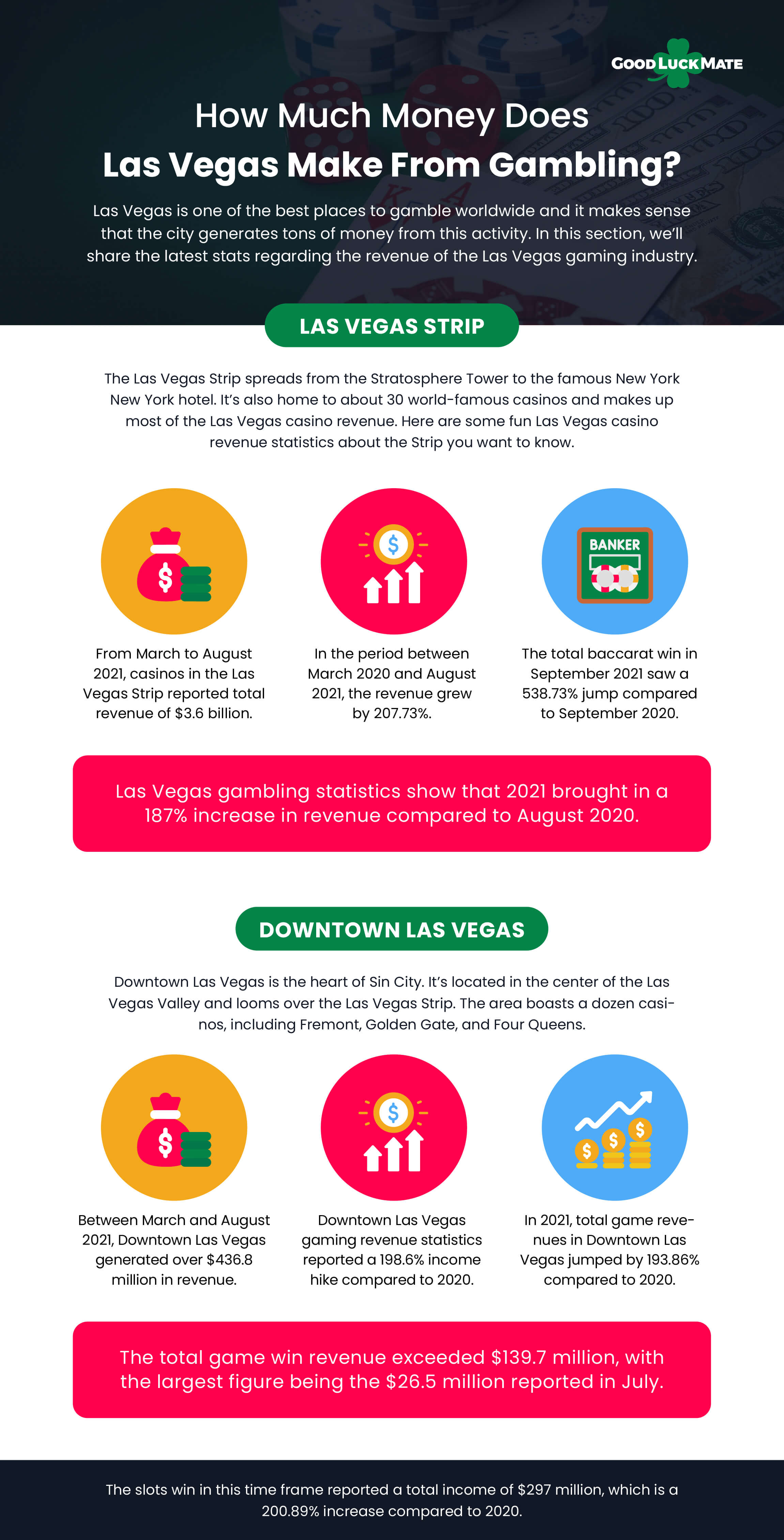 Las Vegas Tourism Stats to Know in 2021
Las Vegas revenue doesn't only come from the casinos. Though the gambling industry counts for the majority of Las Vegas income, the city also makes a significant amount of money from tourism. Since it's one of the most visited places on Earth, it only makes sense to check out some Las Vegas tourism statistics.
The annual totals of direct visitor spending and the total economic impact of the Las Vegas tourism industry were $36.9 billion and $63.6 billion, respectively.
In 2020, the number of Las Vegas visitors per year was around 19 million.
The figure above shows a significant drop in annual visitors to Las Vegas compared to 2019's 42 million, which is a direct result of the COVID-19 pandemic.
Las Vegas annual revenue from tourism lost $34 billion due to the impact of the pandemic.
A survey in mid-2021 showed that 73% of Las Vegas tourists gambled while visiting the city.
Vegas statistics report that in September 2021, there were over 2.9 million visitors.
Though the number above is a 57.7% jump compared to September 2020, it also shows a 28.7% decrease from 2019 figures.
The average daily room (ADR) rate reached its peak at $155.80 in September 2021, while the lowest figure was noted in January 2021 at $90.71. The ADR throughout 2021 was $137.38.
Las Vegas Revenue per day showed that the ADR in September 2021 had a 44.1% increase from September 2020 and a 13.6% increase from September 2019.
The revenue per available room (RevPAR) in September 2021 was $113.73, which shows a 124% jump in revenue compared to 2020.
Over 3.7 million tourists traveled by plane in September 2021, while the highest number in 2021 was seen in June with 3.81 million passengers. &nbsp.
The highest average daily auto traffic was reported in July 2021, with 144,010 passengers.
The total number of McCarran Airport passengers in 2021 reached 39.7 million.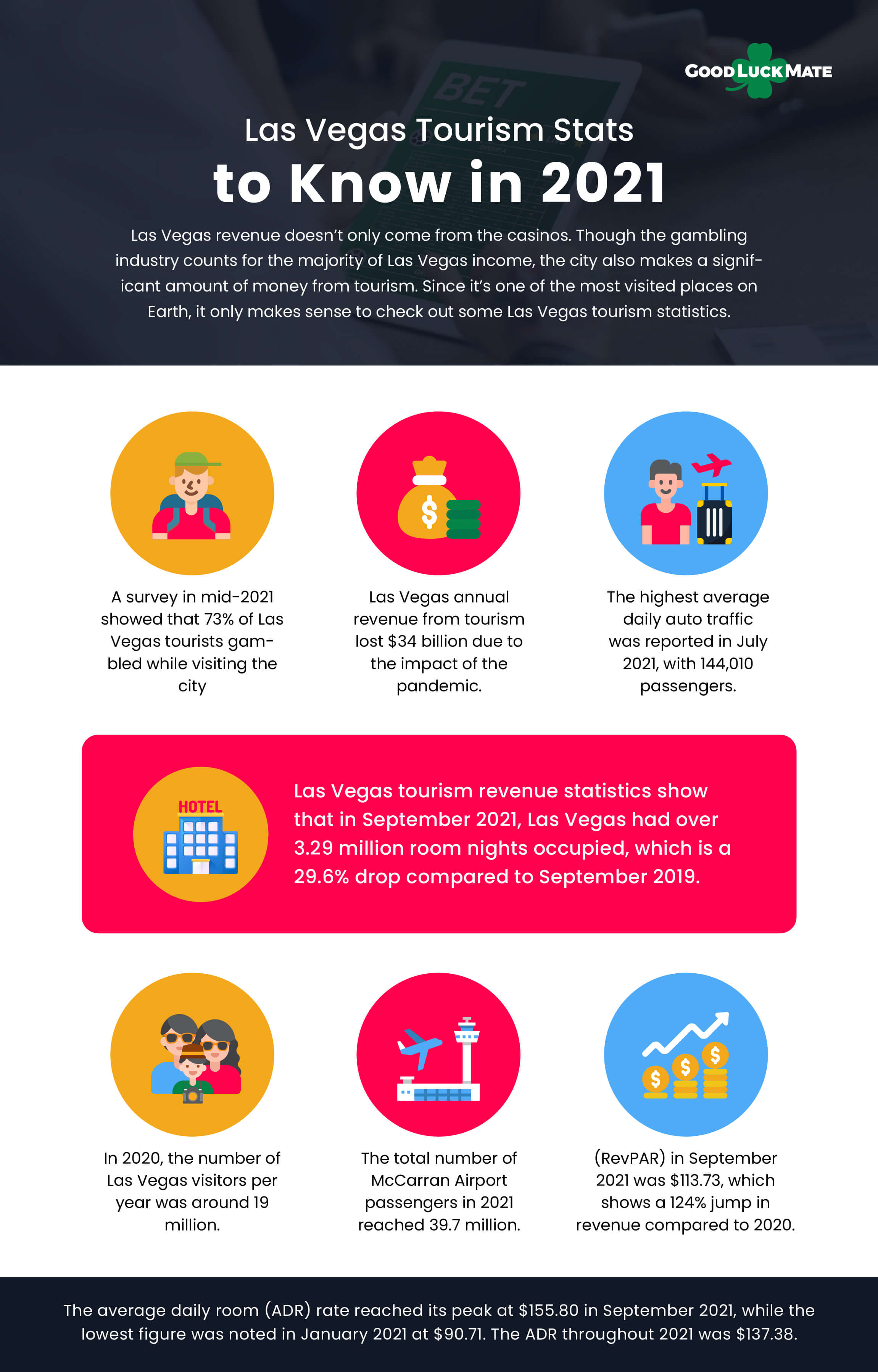 Eye-Opening Statistics About Las Vegas Bettors
Another vital source of revenue for Las Vegas is sports betting. Nevada was the first state in the US to make sports betting legal way back in 1949, alongside live and off-track horse betting. US sports betting stats reveal that this industry made Nevada over $33.2 million just in July 2021. Here are some interesting Las Vegas betting trends.
Las Vegas Strip reported over $5.023 million in revenue from mobile sports betting in September 2021.
From October 1st, 2020 to September 30th, mobile sports betting generated $33.3 million worth of income.
In September 2021, the football, basketball, and baseball betting revenues were $18.9 million, $741,000, and $7.153 million, respectively.
Between October 2020 and September 2021, the respective revenues of football, basketball, and baseball betting were $62.9 million, $51.9 million, and $17.590 million.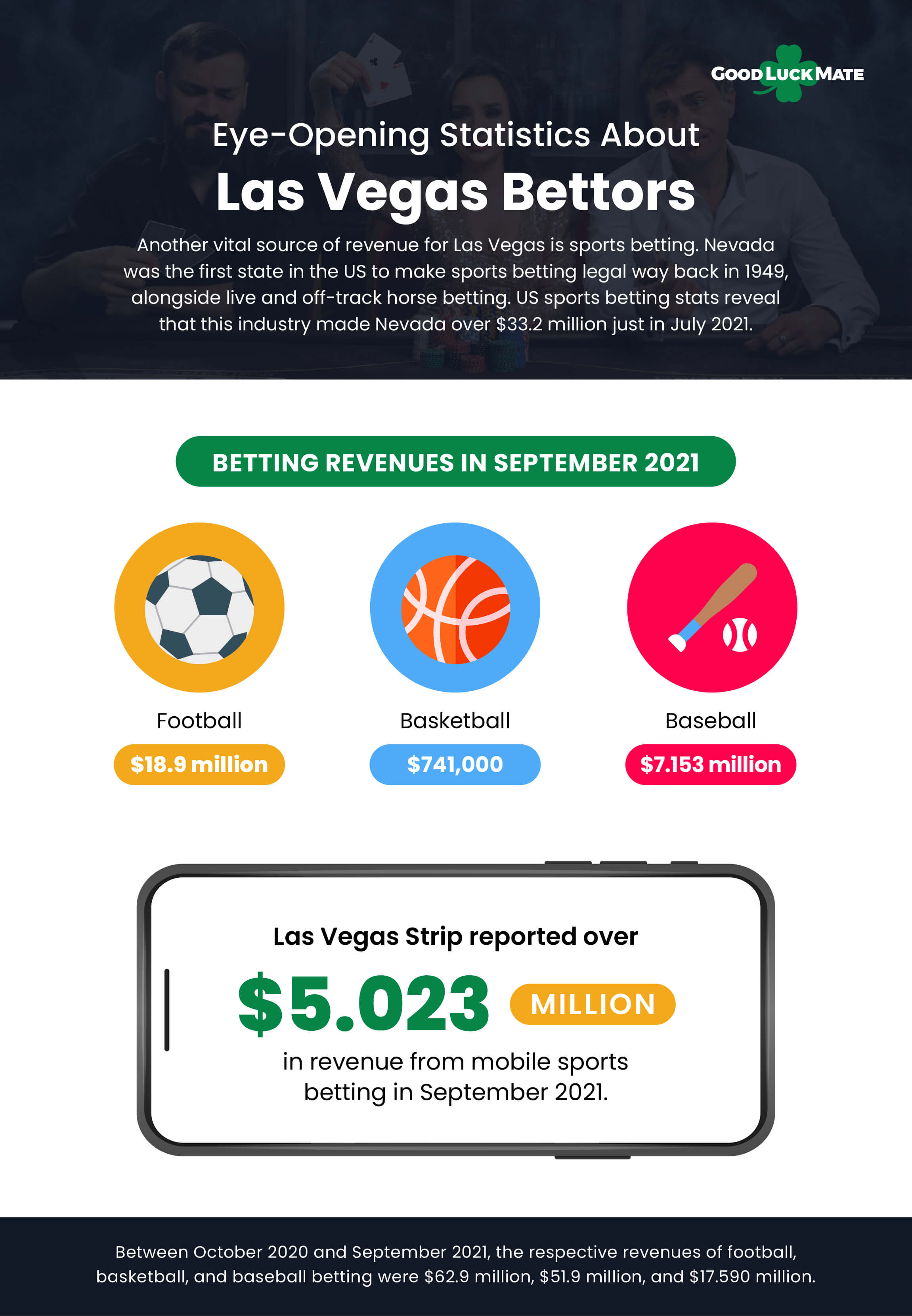 Las Vegas Revenue FAQs
What Is the Annual Revenue of Las Vegas?
According to the UNLV, Downtown Las Vegas brought in $464.2 million worth of income in 2020. Thanks to the pandemic, this figure shows a 32.23% drop from the 2019 Las Vegas gaming revenue by year, which was over $684.9 million. Las Vegas gambling statistics show that the Strip area generated over $3.7 billion in 2020 and more than $7.07 billion in 2021.
From 2013 to 2018, Nevada had a pretty consistent yearly revenue of around $11 billion a year. In 2019, Nevada gaming revenue stood at $12.031 billion, which is among the highest figures ever seen. In 2020, however, there was a 34.56% drop due to the COVID-19 pandemic's impact. Nevada gambling revenue was at its lowest in over two decades for the year, barely exceeding $7.8 billion.
How Many Casinos Does Las Vegas Have?
Las Vegas casino facts reveal that the city has 144 casinos spread over several of its areas. For instance, Downtown Vegas has 24 casinos, while the Strip hosts 61 locations. There are also 42 casinos in the Boulder Strip area and 17 resorts in North Las Vegas.
What Is the Richest Casino in Las Vegas?
The latest global casino statistics show that Las Vegas Sands is the richest casino in Vegas. This resort brought in $3.61 billion in worldwide revenue in 2020. Sadly, this figure is a huge drop from the 2019 report for Las Vegas revenue by casino that showed that the resort's income exceeded $13.7 billion.
How Much Revenue Does Las Vegas Make a Day?
According to Las Vegas revenue statistics for 2020, a casino brings in about $520,112 a day. The total for all Las Vegas casinos exceeds $4.568 billion, while the average casino brings in around $190 billion. The majority of the Las Vegas gaming revenue comes from slots, which bring in an average of $287,381 per day.
Sources: Investopedia, Las Vegas Convention and Visitors Authority, NPR, UNLV Center for Gaming Research, Statista, Statista, Las Vegas Convention and Visitors Authority, Las Vegas Convention and Visitors Authority, Las Vegas Convention and Visitors Authority, Nevada Gaming Control Board, UNLV Center for Gaming Research, UNLV Center for Gaming Research, Statista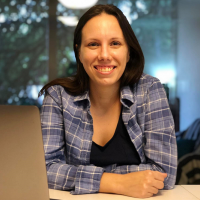 Milena is second-to-none when it comes to researching, reviewing, and recommending top online casinos. She stops at nothing when it comes to getting all of the facts and figures straight in each of her expert reviews. Plus, having worked as a writer within the iGaming industry since 2014, Milena has seen it all and is familiar with every aspect of online casinos.