The live casino is well and truly here to stay, and it didn't take long for it to become a much-loved part of the online gaming environment. The live casino experience is as close as you can get to the real thing. Of course, nothing beats the real thing, though. But as the differences between the two begin to merge, we ask which one is better? Live casinos or land-based casinos? Let's look at the pros and cons of each one and investigate the important factors that can help us answer this lingering question.
Factors Surrounding the Popularity of the Live Casino Experience
When it comes to online live casinos, the most popular feature is the convenience for the player. Not having to travel and betting at home or during a lunch break on a mobile device now comes naturally for millions of people. In short, playing high-quality casino games has never been more accessible with 24/7 gaming available.
The sheer number of games available to play online is another plus for the live casinos. There is a lot less to think about regarding overheads and rental space for the game provider. This means live studios can run several poker, blackjack, roulette tables, and pretty much anything it wants within the legal realms. Nowadays, you are never short of choices.
One other factor that may or may not be important is that you do not have any other physical players around you to distract you from your game. The sounds and shouting of other machines and people at land-based casinos can bring disruptive moments.
If we look at the disadvantages of live casinos then one standout issue is how easy it can be to lose money in such a short amount of time. At the same time, online casinos do offer limits on the amount of money deposited per month. Yet this is down to the individual whether or not to use this tool, though. Players can quickly lose more than they can afford when these limits are not in place. This is an important long-term issue to consider when deciding whether live casinos are right for you.

Is There Nothing Quite Like the Land-Based Casino Experience?
The atmosphere of a land-based casino hits your senses as soon as you walk through the doors. The sound of chips on the felt, the clicking of the wheel at the roulette table, the slot machine jingles, and the coins dispensing when someone wins. Noise is everywhere. You can socialize with like-minded punters, chat about wins and losses, all while you enjoy a drink and a bite to eat. You will not find this at your live casino tables, that is for sure.
Bankroll management is also a significant factor. It is much easier not to spend more than your budget allows in this type of environment. Getting money from a cash machine or a cage inside the casino slows down your play. It gives you time to think about what you are doing and what you intend to play.
On to the downsides and one crucial area is the inability to quickly change the lineup of games. Casino buildings only have a certain amount of space available, and new games will take time to plan and set up. There will also be a limited number of tables and there will be times when you need to wait for a seat. This is the same for live casinos, but there are table games that allow unlimited players, which is one of the huge advantages of using the live dealer technology.
Adapting to changing player preferences and the latest casino trends is not something that comes easily. The likes of MGM Grand or the Bellagio cannot do this as effectively as Evolution's live casino platform. In short, there is a lot more planning and thought required in the land-based environment. Live casino studios have a lot more freedom in how they operate.
Expert Strategies & Light-Hearted Game Show Entertainment
Professional betting strategies such as card counting require certain factors and game rules to be in place. You are more likely to find these in the land-based casinos where randomized shuffling machines are less likely to be used. However, casinos know all about these strategies, and you will likely get found out before you start making a dent in the casino's pockets.
On the flip side, you can find casual games in the land-based casino, such as the longstanding wheel of fortune, for example. But you will always find much more diversity in the online live casino environment. Again, the studios have a more accessible space to work with without thousands of punters walking around the place. The likes of Dream Catcher, Monopoly Live, and Gonzo's Treasure Hunt provide an unmatched experience that you can't find in the casino down the road.
Before we wrap this up, we should also mention the art of playing poker. Beginners often play at a disadvantage due to the experienced players being able to read another player's actions. This is something that online players simply cannot do. So, if you were looking to bluff your opponents down at the land-based casino, you would need time to master your poker face.
Our final thoughts
Deciding whether a live casino or a land-based casino is better all comes down to personal preference. Sure, the convenience of the live casino is a huge factor and gives you access to professional dealers from the comfort of your own home. But does it actually feel like you are playing in a live casino? No, it does not compare. Not yet anyway. The thought of VR technology combined with live casino games is something that has the potential to be a real game-changer. It will be a while until this advanced technology is ready to deliver a perfect VR experience, though.
If you enjoy the buzz of the casino atmosphere where you can cheer on and celebrate with other players, then there is only one choice for you. And that is your local land-based casino. If you want the latest online gaming technology, you have a world of live dealers and gameshow entertainment right at your fingertips.
Whichever way you decide to look at it, there is a lot of casino entertainment to be enjoyed at home and outside in the real world.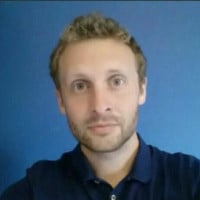 Steven is GoodLuckMate's casino veteran, having started in the industry in 2007! Although he knows everything about online gambling, it's sports betting that is his true passion. Additionally, he's not only our go-to writer for casino reviews, but he's also the one keeping the closest eye on iGaming companies, so he always knows what they are going to do next.