I think the iGaming industry is always in need of a good shake-up now and then. The more often, the better, in my opinion. There is enough room online for innovation, new ways of playing casino games, new promotions, and looking at how to push casino entertainment forward. So, today I'm looking at LiveSpins. One of a handful of companies looking to benefit from the global phenomenon of live streaming. The idea sounds intriguing. Follow a streamer, bet behind with full control of your cost, and collect your winnings along with the streamer and however many other viewers are watching. It's no different to betting behind on something like live casino blackjack, but here it's purely slots-based and obviously all down to luck. I'll pick up on this point later on. But is multi-player streaming experience something the slots community needs or even wants?
Are Multi-Player Slots the Next Big Thing?
I've not been quiet about the fact that online slots are in need of a bit more creativity. We see some new releases that try to push things forward in terms of visuals, storylines, and new bonus features. But I think there are still too many copy-cat releases being churned out. I get it, though. It's easy for game providers to give an old slot engine a lick of paint, and, hey presto, a new slot game is ready to go!
I don't think the multi-player slot idea intends to change how slots are created, such as the mechanics and actual gameplay. Here, we are talking about player experience and social interaction. Slots have always been solo games. Whether you are playing in the real casino with a pot full of coins on the stool or you are sitting back on the sofa spinning away at home. It's a game that does not require other people, and maybe that's something slot players actually like?

Is Betting Behind on Slots the Future?
I get the popularity of betting behind in live blackjack. You can watch someone for a few rounds to see if they know the game and know their blackjack strategy. If so, why not put some money behind them? For beginners, this is actually a decent strategy to follow. You learn how to play from experienced players, and you are likely to win more in the long run by reducing the number of "beginner mistakes" that many newbies make.
But playing a slot game is completely different. Blackjack is a skill-based game that offers a chance to follow a strategy. Slots? It's pure luck. It's not exactly a difficult game to play, either. Calculate your budget, choose the right bet cost, and start hitting that spin button - that's all there is to it. Spinning the reels and waiting to see what lands is pretty much the only action given to the player, so will people want to give that part of the slot game experience up to a live streamer?
Ultimately, you are passing the fun factor of slots over to someone else, and, hopefully, you'll then reap the rewards of someone else's luck.
It all comes down to that social experience factor. Are slot players social players? I would imagine the current generation of casino players are more sociable, having grown up in a world dominated by social apps. So, the likes of LiveSpins, BeyondPlay, and CasinoGrounds look as though they are on to something here. There is an interesting discussion to be had on which streamer people will decide to follow. In a case like this, skill and strategy are out the window.
Finding Entertaining Streamers Is Key
Multi-player slot streamers will need to find something that helps them stand out from the crowd. This is likely going to come down to charisma. You don't want to bet behind someone who has no appeal. What would be the point? You may find some entertaining people in the chat, but they probably won't stick around if the streamer is quiet and just clicking away with no conversation.
I think entertaining streamers will be key to making all this work. Will the top streamers make an income from this? I'm not sure how that part of it works. But streamer quality is an important element not to be overlooked. Players who watch live and bet behind will only stay if the streamer is entertaining. Else surely they'll just go back and play on their own.

Who Benefits From the Likes of LiveSpins
There is no doubting that seeing something like "LiveSpins" in the casino lobby menu will appeal to some players. A lobby menu with "Slots, Jackpots, Megaways, LiveSpins" fits well. Operators get the chance to push new experiences to help boost retention and conversion. Game providers are given new factors to play around with when designing new slots. Streamers get the chance to build a career with an opportunity to build a following of fans, whether outside of the casino on YouTube or other streaming sites.
Is This the Future of Slot Gaming?
I think the potential of companies like LiveSpins and BeyondPlay is an interesting area to keep your eye on. The idea of watching someone else play a slot game may seem a little underwhelming for some traditional players. Still, if the right elements come together, it could be something that catches on for the new generation of slot players who live and breathe online social interaction. There is clearly a lot more to come from this initial "multi-player slots" idea, so let's buckle in and see what else these companies have in store for us.
This article delivers the thoughts and opinions of the author, and it doesn't represent the stance of GoodLuckMate.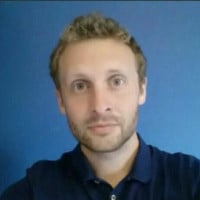 Steven is GoodLuckMate's casino veteran, having started in the industry in 2007! Although he knows everything about online gambling, it's sports betting that is his true passion. Additionally, he's not only our go-to writer for casino reviews, but he's also the one keeping the closest eye on iGaming companies, so he always knows what they are going to do next.