It doesn't matter if you're a brand new player or a veteran in need of a couple of reminders, a clever player takes the time to brush up on the fundamentals. We can't be perfect all of the time, and it's easy to slip up sometimes and make some errors. This can, of course, lead to disappointment when all you want to do is have some fun. That is why we have created this guide on rookie online casino mistakes to avoid.
Skipping the Tutorial
Just by reading this online casino guide for beginners, you are a step ahead of the rest. Whether it comes to casino reviews, promotional terms or game rules, never make an assumption. Always take the time to do the homework, and you will start seeing the benefits immediately. Knowing what promotion is a steal just by comparing it to the terms of others can equate to so much value. You might have had a pretty good run on American Blackjack, but that doesn't mean you can necessarily carry that on with you to Blackjack Switch. Even two different blackjack tables of the same variant might have different betting rules. Make sure you keep staying a step ahead by keeping yourself informed on how online casinos work.
Ignoring the Terms & Conditions
It's common knowledge that terms and conditions are a crucial part of iGaming and exist to protect players. However, many newbies make the mistake of not paying any attention to the T&C section when registering with a new casino or claiming a juicy bonus. By not reading the fine print, you're exposing yourself to unnecessary risks that could harm you down the road.
Not Practicing
They say that in life, repetition is the mother of learning, and this certainly applies to the iGaming world. After all, how can you expect to become a skilled gambler if you don't put in the hours? So, one of the best casino tips we can give you is to practice! Luckily, most operators offer a free demo version of their games. Since you're not depositing any of your money, you won't get any real money winnings. However, demo games are the perfect opportunity for you to learn the ropes and master a casino game without risking your real funds.
Online Casino Mistakes To Avoid With Your Bankroll
The downfall of most rookies and many veterans alike is a mismanagement of the budget. There are many ways in which players can lose respect for their bankroll. Oftentimes, it can appear to just be an effect of the immersive nature of casino games. While this can play a part, it can equally often be related to a lack of preparation.
Creating A Budget
This is undoubtedly one of the best online casino tips you'll get. Before even depositing at an online casino, you need to make a budget. Understand what your disposable income is and how much of that you are willing to commit to gambling. Any funds that are committed to gambling should never come from any other source than your disposable income. Working all of this out can take a little bit of work, but it will help you in the long run. Once you have it nailed down once, though, it should become much easier from there.
Playing Without Limits
One online casino mistake is not creating a budget, but another equally important error is not maintaining it. Luckily online casinos are required to provide certain limits to help you manage your funds. This can include deposit and wagering limits, which will stop further activity should you reach one of these limits. Players can set the limits themselves, which have a cooldown period whenever a request to lower them is made.
Proportional Betting
Proportional betting is a relatively simple concept that is often ignored by many players, but one of the best casino tips for having a successful run. It's so much more exciting and cinematic to make those big plays. It very rarely makes sense, though. Unless you are choosing to follow a particular betting strategy, it is generally recommended you stick with this method. All you need to do is look at your player balance and bet according to a percentage of that total. If you have a balance of €50, for instance, it makes much more sense to place wagers at no more than 1% of your balance. Placing €0.50 bets will last you a lot longer than trying a few €5 bets, and the longer you are in the game, the more potential can be generated.
Chasing Losses
Chasing losses is one of the worst online casino mistakes that's also one of the biggest downfalls of many casino players. The concept of chasing losses is when you fall into the negative and continue to play with the slight hope that you might make everything back again in one big play. The truth is that this is wishful thinking, often skirting the line of delusional. It also often happens to players who don't follow the above tips on respecting the bankroll.
The Gambler's Fallacy
The gambler's fallacy is a phenomenon that happens when a player convinces themselves that an event can't occur in the future because it already happened. For instance, let's say that the ball landed on black three times in a row on the roulette wheel. Each spin of the wheel is independent, so there's just as much chance it will land on black for the fourth time. So, you shouldn't force yourself to believe that you're owed a win and alter your stake.
Overconfidence In Betting Strategies
There are some fun and interesting betting strategies out there, no doubt. But, you need to keep a savvy mind about yourself even when following the instructions of someone else. No strategy is perfect in gambling, and losses will happen, so don't ever feel like you need to commit to a system that isn't working for you.

Neglecting Yourself
Perhaps you didn't expect a health section in an online casino guide, but the lack of self-care is one of the worst online casino mistakes you can make. This can be especially so when playing online on a computer. Healthy eating and exercise are important mood stimulants. It is also important not to forget about your eyes and back when sitting at a screen for a prolonged period of time. Don't let your enjoyment of the games come to the detriment of your health.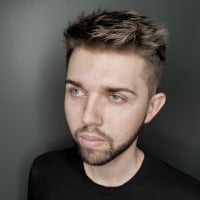 Nerijus Grenda is a prolific contributor to the GoodLuckMate site. With a deep understanding of the online casino industry, gained from his own experience as an avid player, he offers valuable insights on what sets the best casinos apart from the rest. As a writer, Nerijus shares his expertise through expert analysis and thoughtful commentary on various topics related to online gambling, including casino reviews, game guides and industry trends.