Worth over $131 billion and expected to surpass $140 billion by 2028, the sports betting industry remains a relevant revenue generator. With the rise of online and mobile betting, the activity has quickly found its way to people's homes and pockets. From the option to bet locally to placing wagers with a few clicks, the opportunities seem endless, and expansion is guaranteed. Scroll down for the latest sports betting statistics. They reveal the size of the global betting market, the most popular sports among bettors, the dark side of wagering, and more.
Sports Betting Statistics – GoodLuckMate's Top Picks
In 2020, the global

sports betting industry

was worth $131.1 billion.

By 2028, the worldwide betting market is expected to reach $140.26 billion.

Europe and the Asia Pacific were the strongest global sports betting markets in 2020 revenue-wise.

The online sports betting sector is valued at $67 billion.

One-quarter of the 2020 global betting revenue came from fixed odds wagering.

Football betting generated over 30% of the total global sports wagering revenue in 2020.

The illegal

sports betting market worth

could be anything between $150 billion and $500 billion.

America's sports betting market reached $2.1 billion in 2021.

The global eSports betting market revenue went from $25 million in 2015 to $1.81 billion in 2020.
Sports Betting Market Statistics
While there is more than one sports betting industry analysis, there is still a lack of information for specific sectors and trends. Some forecasts and figures differ, depending on what factors and numbers were included. We have collected the latest and most reliable data that paints a relevant picture of the fast-paced industry and its growth opportunities in the years to come.
In 2020, the worldwide sports wagering market size was about $131.1 billion.

The global sports betting market size is forecasted to hit $140.26 billion by 2028.


Betting market statistics

reveal that the global

sports betting market size

and lottery sector dropped from $212.79 billion in 2011 to $210.85 billion in 2021.


Between 2011 and 2021, the sports betting and lottery sector had the largest market size of $218.49 billion in 2019.

The COVID-19 pandemic gave a solid blow to the global betting and lottery sector in 2020 and decreased its market value to $202.85 billion.

In 2019, Europe held 48.6% or the largest share of the global mobile online sports betting market.

Sports betting industry statistics

establish 888 Holdings, Bet365 Group, and Churchill Downs Incorporated as the major players in the global market. These are followed by Flutter Entertainment, Entain, and DraftKings.


The global betting industry employs about 197,000 people in over 30,000 businesses.

In the UK, there were 2,439 licensed operators in 2021 and 18.2% of those offered sports betting services.


In 2020, there were 10,128 premises, and 75.9% of those were sports betting premises.

Goldman Sachs forecasted that remote sports betting could increase 40% a year over the next 10 years.

Sports betting demographics

reveal that currently people aged 45-64 (37%) bet on sports the most, in the future, they are expected to be outnumbered by those aged 34-44 (38%).

About 46% of current sports bettors make under $50,000, 37% make between $50,000-100,000, and 17% earn over $100,000.
Professional Betting Statistics
Some reports claim that pro

sports bettors make accurate guesses about 58% or 59% of the time.


The average bet success rate among experienced bettors is 53%.

Still, only about 3% of the bettors worldwide can boast such success rates.

About four out of 10 bets placed by professional punters are wrong.

Most professional bettors make from $40,000 to $100,000 a year. So, yes.

Making a living gambling and betting is possible

if you dedicate enough time and effort to it.

Parlay Patz is among the most popular professional sports bettors in the world. He managed to win almost $1 million in several months with his parlay bets.

Billy Walters is another famous pro punter. His best-known win is $3.5 million on the Super Bowl XLIV, but he also won $2.2 on a different occasion. He claimed to earn from $50 to $60 million a year through professional betting.
Sports Betting Statistics by Market
Most sportsbooks offer over 200 betting markets, and football (soccer) remains the most popular sport among bettors. The massive fandoms for football stars like Cristiano Ronaldo and Lionel Messi and famous events with excellent betting opportunities fuel football's domination. But what other sports generate millions of dollars in revenues for bookmakers? Let's see in the section below.
About 62% of NHL sports fans are interested in sports betting, Nielsen

NHL betting statistics

reveal.


This figure is much higher than the share of fans who would bet on the NBA (57%), MLB (52%), or even the NFL (48%).

About 48% of American bettors said they would be 'very interested' in sports betting if the activity was legalized in their state.

Legal sports betting is expected to boost the US's major four leagues by $4.2 billion. This money is likely to come through sponsorships, advertising, and increased consumer engagement.


MLB betting statistics

show that this league could expect $1.1 billion in extra revenues, and most of these would come from increased fan engagement.

NBA, NFL, and NHL could see boosts of $425 million, $2.32 billion, and $216 million, respectively.

AGA's reports show that American bettors wager over $50 million every month on sports other than American football.




Baseball betting statistics

show that 39% of Americans bet on this sport.

In August 2021, baseball contributed 37% to the total sports betting handle in the US, or $335.5 million.

In the states with regulated betting, the sport saw a betting handle of $2.02 billion between January and August 2021.

National projections expect that the baseball sports wagering handle for the year would surpass $6 billion.

Tennis betting statistics

reveal that, after signing a sponsorship deal with the Australian Open in 2016, William Hill reported getting 20,000 more bets on the tournament's first day.

The bookmaker's year-over-year turnover also saw a hike of 80%, while the in-play wagers jumped by 297%.

The licensed tennis wagering market has a turnover of $27 billion and generated a GGR of $1.8 billion in 2017.

The same year, Europe was the largest regulated market for sports betting, while Asia held the throne for unregulated markets.
Basketball Betting Stats
NBA betting statistics

reveal that about 45 million American basketball fans wagered about $3.1 billion during March Madness.

American bettors wagered big during the finals, and bookies saw bet size reaching $2,000.

About 47 million Americans bet on the 2020 NCAA college basketball tournament widely known as March Madness.


Among those, about 17.8 million bet online. This figure represented a 206% hike compared to the 2019 March Madness online bettors.
Football Betting Stats
US

soccer betting statistics

show that only 9% of American punters bet on this sport in 2019.


During the 2018 World Cup, bettors placed wagers worth an estimated €136 billion (about $153.95 billion).

The average betting turnover for 2018 World Cup matches was $2.4 billion, while the final game saw a turnover of $8.2 billion.

Football betting accounted for over 30% of the 2020 global sports betting revenue,

football betting statistics

show.


In Italy, Serie A is the most popular football league among bettors, and its amount wagered was €1.64 billion in 2020.

Other popular football leagues for betting in Italy by total betting amount were UEFA Champions League (€600 million), Premier League (€591 million), and La Liga (€486 million).

American Football and Rugby Betting Stats
In 2022, about 31.4 million American adults planned to wager about $7.61 billion on the Super Bowl. This figure of potential bettors is by 35% higher than the one recorded in 2021. (CNBC)

About 77% of American sports bettors placed wagers on this sport in 2019.

18% of Statista survey respondents placed bets on the 2020 Super Bowl LIV, while 82% didn't do so, per the

NFL betting statistics.

About 45.2 million Americans wagered on the NFL during the 2021 season and this figure is 36% higher than the previous year's.


Sports betting advertising and partnerships are expected to generate a revenue of over $270 million for the NFL. For example, Caesars paid $138 million to The New Orleans Saints to rename the Superdome.

Football

college football betting statistics

forecast that Americans will wager over $20 billion on such games.


Out of those $20 billion, about $12 billion would come from NFL games only.

The remaining $8 billion would be the result of college football game betting. These projections don't cover the parlay bets, expected to generate an additional $550 million.

1 in 15 NRL and AFL viewers bet on either NRL or AFL Grand Finals in 2016.


About 602,000 adult Australians, or 2.9% more than in 2013, bet on either NRL or AFL in 2016.

NRL betting statistics

reveal that 62% of NRL bets in 2016 were placed online.
Race Betting Stats
Americans love betting on horses, and 20% of US punters wagered on such events in 2019, the latest

horse betting statistics

reveal.

Between 2011 and 2021, the US horse racing track industry dropped from $5.14 billion to $3.53 billion.

In the past decade, the American racing track industry decreased by 31.32%.

In the UK, the off-course horse race betting annual turnover was £1.03 billion.

The same sector saw a much higher annual revenue of £5.44 billion during the 2010 season.

The global COVID-19 pandemic and lockdowns drove the drastic 2020 drop. Still,

horse racing betting statistics

show that off-course horse racing in the UK has been declining year-over-year even without it.

Great Britain's annual turnover of dog race betting between April 2020 and September 2020 was about £231 million.
Fighting and Wrestling Betting Stats
About 7% of American bettors wagered on boxing and mixed martial arts in 2019.

The 2019 Floyd Mayweather and Conor McGregor fight saw a bet turnover of about $65 million in Nevada.


Previously, the best match in terms of total betting amounts in the state was the Floyd Mayweather and Manny Pacquiao 2015 fight. It saw wagers of $50 million.

Sports gambling statistics

reveal Mayweather-McGregor's face-off raked in $79 million for Betfair, a renowned UK bookmaker.

Betfair reported that about $16 million of that amount was wagered no more than five hours from the fight's start.

DraftKings paid $350 million to become the exclusive marketing partner for UFC sports wagering for five years.

Oregon'sMMA betting handle stood at $1 million in June 2020.

Between May 2020 and January 2021, Colorado sportsbooks reported a betting handle on MMA events of $18.13 million.

According to

MMA betting statistics

, betting on this sport contributed about 1% of the total American sports betting handle.
eSports and Virtual Sports Betting Stats
eSports and virtual sports betting have been crucial verticals in the betting industry. New generations love both concepts, and that's why stats focused on these categories show significant 5-year market size increases.
In the UK, virtual sports betting contributes 3.9% of the total remote betting GGY in the country.

In 2019, there were 45.9 million fantasy sports players in the United States.

The global eSports betting market revenue went from $25 million in 2015 to $1.81 billion in 2020.

eSports betting statistics

reveal that by 2020, the total bets placed on eSport events increased to a fantastic $23.5 billion, showcasing the fast expansion of the sector.

Global data reveals that the total amount wagered on eSports in 2015 was $315 million.

The Asian eSports betting market contributes nearly half the global revenue. The North American and the European markets are the second and third most profitable ones.


In Asia, 94% of those betting on eSports are male, with 33% of them betting on a single discipline, while the rest bet on two or more.

Over two-thirds of eSport bettors in Asia wager on eSports exclusively.

eSports betting is popular among younger consumers in Asia. Most of them (78%) are between 18 and 25.

According to a new Nielsen report on eSports statistics and trends, about one third (30%) of eSports fans own crypto. In Brazil and South Korea the share goes up to 36%.

About one-quarter (25%) of UK eSports enthusiasts started watching and following the previous year (2021).

About 37% of German eSports fans engage with various eSports related content to find professional tips and tricks.

An impressive 70% of eSports fans in China watch Multiplayer Online Battle Arena (MOBA) events.
Sports Betting Statistics by Country
In 2020, Europe contributed the most significant global sports betting market share of more than 35%. This trend is expected to remain in the following years. However, the United States could help North America overtake the throne as more and more states regulate sports betting. In 2020, the second-largest revenue attributor was the Asia Pacific region.
Betting statistics for Canada

by VIXIO estimate that the legal gambling market in the country (Ontario) would generate CA$989 million during its first year and go up to CA$1.86 billion by 2026.

39% of Canada's sports betting revenue comes from land-based vendors.

Only 3% of Canada's sports betting is practiced online.

Over 57% of Canada's online betting platforms aren't regulated.

In 2018, 4.6% of Australians aged 18 and over placed a sports bet.

In the fiscal year 2019, the Northern Territory in Australia reported $7.5 billion in sports betting revenue.


Betting statistics for Australia

also showed that at $1.6 billion, New South Wales had the second-highest revenue from sports betting.

Our latest global gambling statistics

reveal that New Zealand's overall gambling expenditure reached almost $2.4 billion in fiscal 2018.




The country's sports betting and racing expenditure, however, reached $350 million for the same year.

The New Zealand racing board's annual expenditure for 2019/20 was $315 million.

Sports Betting in the UK
UK boasts a massive

gambling revenue by country

and the Kingdom has a lot to be proud of when it comes to sports betting revenue too. The United Kingdom's gross gambling yield (GGY) for non-remote and remote betting for the period from April 2019 and March 2020 was about £4.73 billion.

The latest UKGC

sports betting statistics for the UK

market show that the non-remote betting sector in the country had a GGY of £4.40 billion between April 2019 and March 2020.


During the same period, the GGY of the remote betting sector in the UK was £2.32 billion.

UK's remote sports betting industry's GGY grew by 13.6% in the same period the following year and reached £2.64 billion.

Non-remote and remote betting represented 17.1% and 16.5% of the total industry GGY from April 2019 and March 2020,

betting statistics

reveal.

Between 2019 and 2020, most of the non-remote betting GGY came from off-course OTC (53.4%) betting.

Off-course machine betting (44.6%), pool betting (1%), and on-course betting (no specific info) came next.

Football and horses are the most popular betting categories among UK bettors and hold respective 46.1% and 32.4% of the market.
Sports Betting in the USA
The Supreme Court removed the federal ban on sports betting in the USA in May 2018, paving the way for states to legalize the activity.

In 2021, sports betting was legal and live in 29 US states plus D.C. It was legal but not operational in 3 states, active in 2 states, and inactive in 16 states.

Sports betting statistics for the USA

show that the betting industry in the country reached $2.1 billion in 2021.

Between 2020 and 2021, the US betting industry grew from $1.55 billion to $2.1 billion or 35.48%.

By 2028, the American

sports betting industry

is expected to hit $10 billion.

Football (77%), basketball (24%), and horse racing (20%) are the most popular sports for betting among American punters.

Betting statistics

show that other popular sports wagering options among American punters are baseball (17%), soccer (9%), fighting and boxing (7%), hockey (6%), and golf (4%).

As of February 2020, only 13% of respondents in a Statista survey said they bet on sports. (Statista)

New Jersey reported over $60 million in sports betting revenue for January 2022,

sports betting statistics by state

reveal. The total sports wager value in the state soared to $1.35 billion. About $1.21 billion of those bets were placed online.

sports betting statistics by state

reveal.

Pennsylvania's highest sports betting revenue for 2021 was reported in January with $49.3 million.

Nevada 2021 reports show over $300 million in sports betting revenue, with the highest figure being January's $52.3 million. Even though

our Las Vegas revenue stats

show that gambling in Sin City is a huge revenue driver for Nevada, it seems that sports betting shouldn't be overlooked either.

In October 2021, Arkansas reported $803,557 in revenue.

Montana brought in just over $568,000 and had the lowest revenue out of all the US states in October 2021.

Per the

statistics on sports betting

in the US, the second-lowest revenue for October 2021 was reported by Washington D.C. with $632,572.

New York's sports betting market opened on January 8 2022 and in its first 30 days saw sports wagers worth over $1.98 billion.
Online and Mobile Betting Stats
It's no secret that online and mobile betting is the future of the industry. There are many reasons behind this, ranging from sheer convenience to social distancing. Many betting sites are even incorporating live betting statistics to make their platform more user-friendly. Though some may prefer real-life action, online sports wagering has proven to be the go-to choice for millions of players worldwide. Here are some cool sports betting stats.
Mobile bettors generated 70% of the online betting activity. In fact, a similar trend is seen in the online gambling sector, where

the latest casino statistics

show that nearly half the gambling activity in Scandinavian countries happens online.




Sports betting is the most popular online betting activity and makes up 40.3% of the total US

sports betting industry value

.


Online sports betting statistics

show that this industry is worth over $72.3 billion in 2022.

show that this industry is worth over $67 billion.

It's also predicted that the online sports betting market's value will exceed $93 billion by 2023 and $131.4 billion by 2027.

According to a recent survey, 59% of Americans believe online sports betting should be legal.



New Jersey reported the highest revenue out of all US states for 2020 and exceeded $397 million.

The Garden State

online betting statistics

for 2021 also reported the highest number of mobile betting software with 21 operating apps.

A 2021 study focused on Australian bettors discovered that about 34.4% of them partake in live betting.

About 26% of betting sites in 2018 had at least one in-play betting feature.


In the UK, about one-quarter of online punters placed in-play wagers in 2016, and the figure jumped to 45.5% in 2018, the latest

sports betting statistics

revealed.

Mobile wagering is especially popular in the US states where the activity is legal. DraftKings reported taking in over 62,000 bets a day through its mobile application in New Jersey.
Sports Betting's Dark Side
Sports betting is essential for regulated markets like the UK, many European countries, and various US states. It does, however, come with a dark side. Problem gambling, underage betting, money laundering, and illegal betting are the most common issues that arise from this activity.
Studies reveal that in-play betting was prevalent among problem gamblers.

Sports betting addiction statistics

show that punters are at least five times more likely to have risky betting behaviors than gamblers.

Since the overturning of the Professional and Amateur Sports Protection Act in May 2018, 32 US states and the District of Columbia have legalized online betting.




Similarly, it's expected that 17 more states will do the same by 2023.

The average spending among bettors that place illegal bets dropped by 25% in states that legalized the activity.


Confidence in getting paid winnings (25%), having legal options (20%), and wanting to use regulated bookies (19%) are the most common factors for making punters choose legal sportsbooks. These

sports gambling facts

could help authorities direct more consumers towards safe and regulated options.

About 74% of bettors that have legal options choose to place bets through regulated bookmakers only.

Nonetheless, about 52% of American bettors did place bets with illegal bookmakers in 2019.

More than half of those bettors weren't aware that they were participating in illegal betting.

Our gambling addiction statistics

establish the increased number of betting shops and the increased number of betting companies as factors that contribute towards compulsive betting.

AGA's

illegal sports betting statistics

show that the unlawful sports gambling market could be worth between $150 billion and $500 billion.

In 2018, about 97% of all Super Bowls bets or $4.6 billion were wagered illegally.
Bottom Line
Betting, just like gambling, is among the most promising industries. Present in land-based betting shops and online betting sites, the activity is widespread and increasingly popular. All the figures show that the upwards trend for the sports wagering market will continue in the years to come. The 2020 sports betting statistics show some revenue and engagement drops due to the pandemic. Still, the industry is already recovering, and we expect to see record-breaking earnings from its various sectors in no time.
Sources: GlobeNewswire, Statista, MarketWatch, Goldman Sachs, ESPN, Grand View Research, Statista, CNBC, Forbes, PRNewswire, Roy Morgan, Statista, Statista, CNBC, UKGC, Statista, Springer, Nielsen, GlobeNewswire, VIXIO, ESPN, AIHW, Statista, Yahoo Finance, Visual Capitalist, European Business Review, Statista, AGA, Frontiers in Psychiatry, Nielsen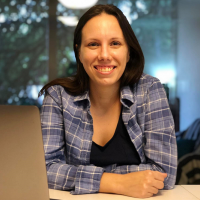 Milena is second-to-none when it comes to researching, reviewing, and recommending top online casinos. She stops at nothing when it comes to getting all of the facts and figures straight in each of her expert reviews. Plus, having worked as a writer within the iGaming industry since 2014, Milena has seen it all and is familiar with every aspect of online casinos.