Valentine's Day – a love it or hate it kind of day depending on your relationship status. Whether you're lucky or unlucky in love this year, the data analysts at GoodLuckMate have created a soundtrack to your Valentine's, to help lift your spirits or set the mood. You decide!
Over 7,400 Spotify playlists, compiled by users around the world, were analysed to uncover the most popular tracks to listen to during four key stages of the relationship life cycle: dating, loved up, breaking up, and moving on. Find out which songs have made it onto the full playlists here.
Dating can be an exciting, yet confusing time made even harder by the pandemic. You could be happy playing the field and trying new things, falling head-over-heels for someone or feeling frustrated you can't find the one.
So, whether your Tinder is blowing up, you're officially seeing someone or formally "courting" Bridgerton style, our Dating Playlist is here to supply the tunes: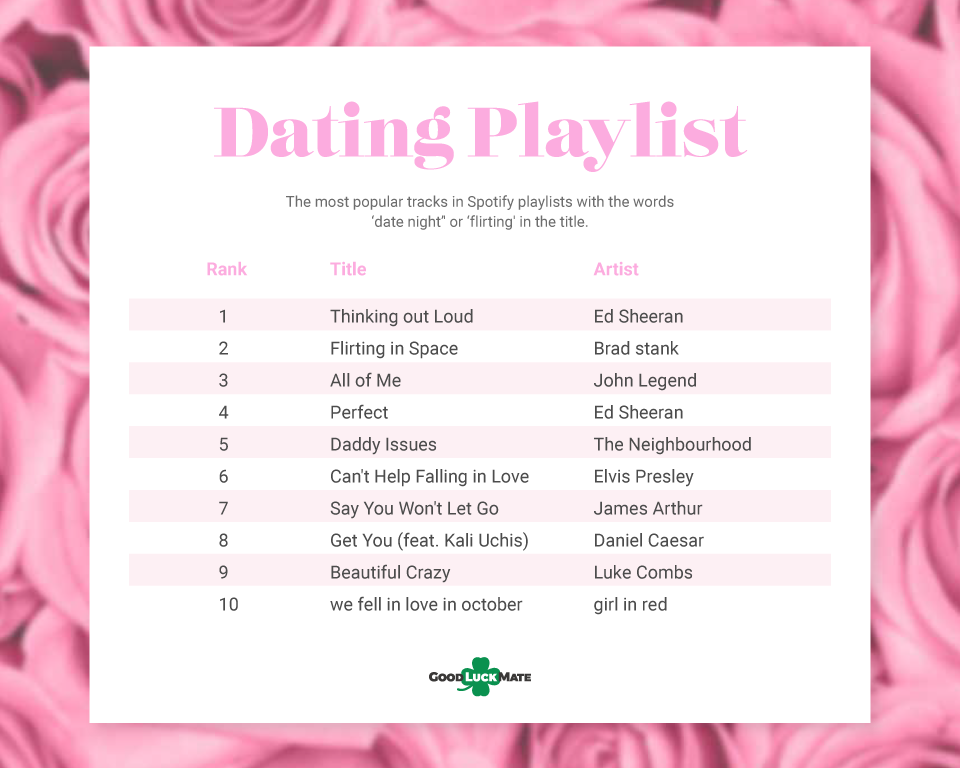 It comes as no surprise that Ed Sheeran's "Thinking Out Loud" is the most popular dating song, or that "Perfect" appears in fourth place. "Flirting in Space" by Brad Stank ranked 2nd, whilst John Legend's hit song "All of Me", a known dedication to his wife Chrissy Teigen, comes 3rd. Elvis Presley's classic love song "Can't Help Falling in Love" sits comfortably in 6th position, despite being released exactly 50 years ago!
If you've found the one and are celebrating your first, fifth or even fiftieth Valentine's Day together, our Loved UP playlist will provide the backdrop to your date night – even if it's at home in your PJs: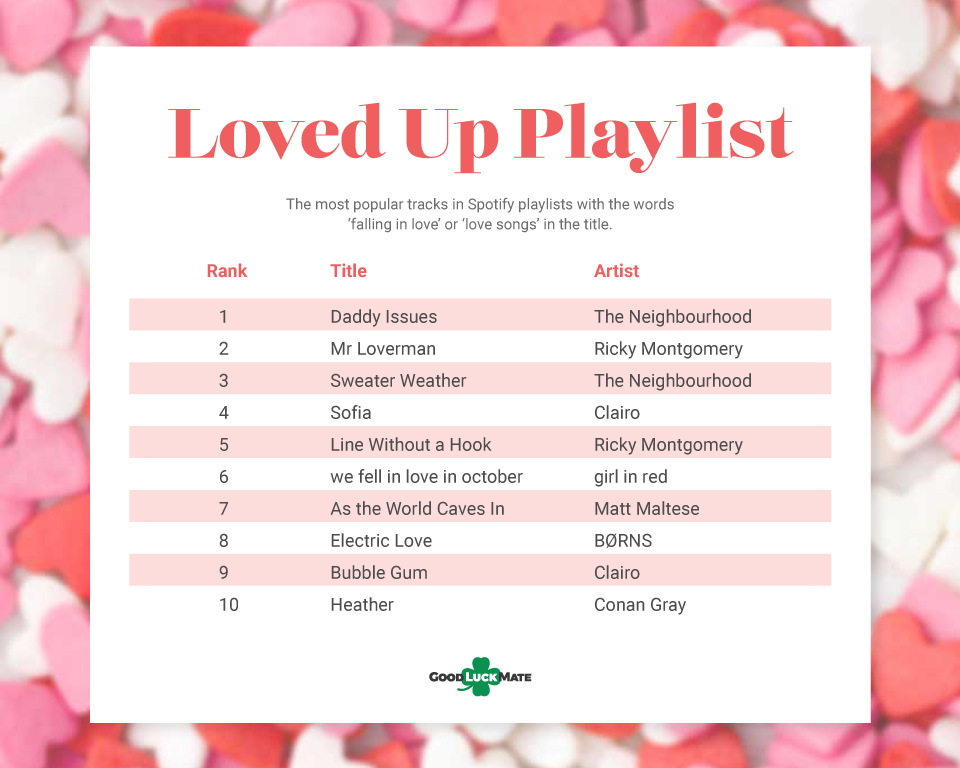 "Daddy Issues", which was released in 2015 by American rock band The Neighbourhood, ranked first for popular love songs, and was followed by "Mr Loverman" by Ricky Montgomery in 2nd place. Both of these artists feature twice in the top 10 most popular love songs, taking 3rd and 5th place in addition to the top two spots.
Singer-songwriter Clairo also makes for a popular choice when it comes to love songs, with her singles "Sofia" and "Bubble Gum" securing 4th and 9th place respectively.
For those unlucky in love singletons, we have two playlists for you to choose from this Valentine's depending on how you're feeling about it. Are you in the midst of a painful breakup? If so, the Breakup Playlist is the one for you: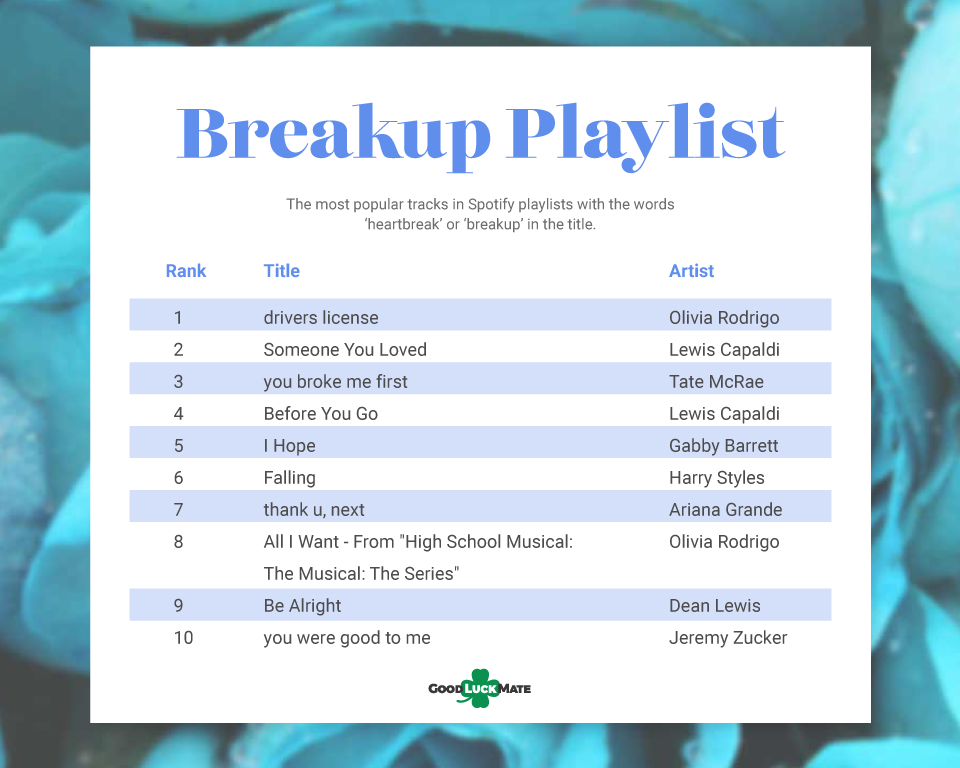 Despite only being released at the beginning of this year, Olivia Rodrigo's "drivers license" appears to be a firm favourite for those going through a breakup and has secured the number 1 position in our ultimate Breakup Playlist. Actress Olivia, who plays Nini in Disney's 'High School Musical: The Musical: The Series" also takes 8th position in this top 10 with her single "All I Want" from the show's soundtrack.
Lewis Capaldi, the king of ballads, scoops two of the top five positions with his number one singles "Someone You Loved" and "Before You Go", whilst Canadian singer-songwriter Tate Mcrae holds third place with "you broke me first".
Alternatively, if you're ready to move on from a past relationship and embrace the single life again, our Moving On Playlist will give you the boost you need to live your best life solo: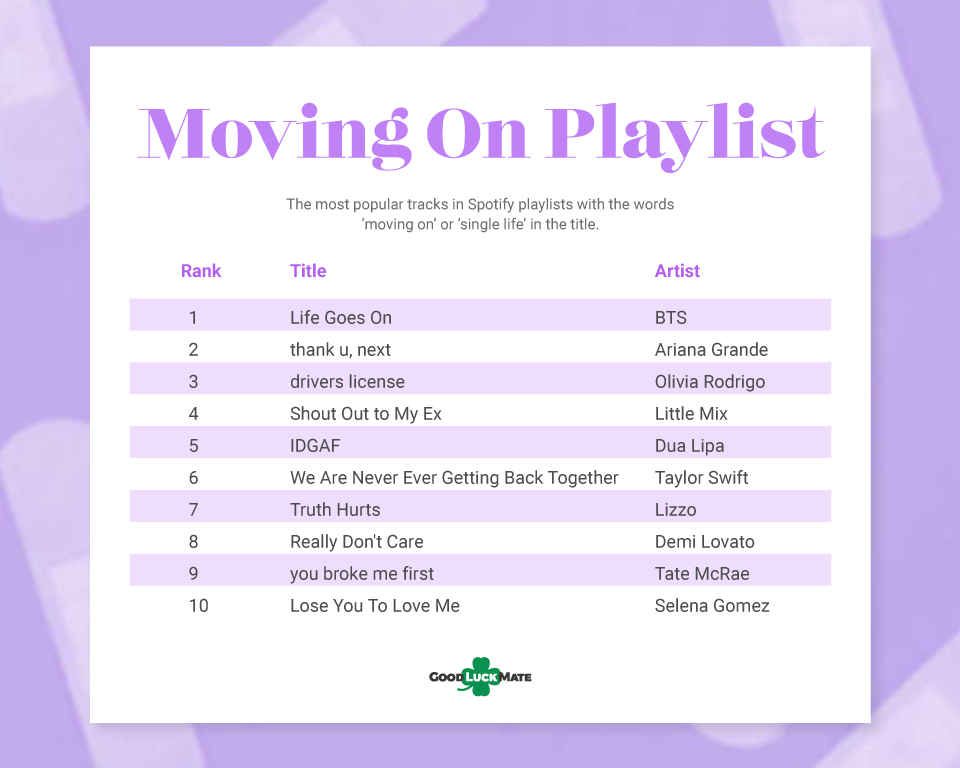 K-Pop superstars BTS have only increased in popularity over the past year, and their hit song "Life Goes On" is the most common track found on playlists dedicated to moving on. Massive pop hits "thank u, next" by Ariana Grande, "Shout Out to My Ex" by Little Mix, and "We Are Never Ever Getting Back Together" by Taylor Swift are also featured in the top 10 most popular moving on songs.
We also identified the most listened-to artists for each relationship stage. Ed Sheeran was found to be the most popular artist in Dating playlists, Clairo got the top spot for Loved Up playlists, and BTS was the most listened-to artist in Moving On playlists. Given the heartfelt nature of his records, it's no surprise that Lewis Capaldi was the clear leader for Breakup playlists, and was featured over 1000 times.
For any budding songwriters or serious playlist-curators, it seems there's a recipe for the perfect love song: a pop song lasting about 3 minutes 35 seconds, with a tempo of 133 beats per minute, in the key of A#. Alternatively, go for a C# or an E key and a slightly slower tempo (109bpm) for the ultimate breakup song.
Whether you're feeling lucky or unlucky in love, find out what the world is listening to here.
How we did it:
We used Playlist Miner to find the top 100 tracks in the first 1000 global Spotify playlists containing the following keywords in the title: 'date night', 'flirting', 'love songs', 'falling in love', 'breakup', 'heartbreak', 'moving on', and 'single life'. This data collection was carried out on 20th and 27th January 2021.
For each stage of the relationship cycle, we combined the data for the two associated keywords, giving the most popular tracks. The top 100 of these were put into a playlist.
We then used Musical Data to find out the musical characteristics of the top 10 songs in each part of the cycle. To work out the ultimate characteristics for each stage, we used modal data to determine genre, key, and era, whilst the mean was calculated for the tempo (measured in beats per minute) and song duration.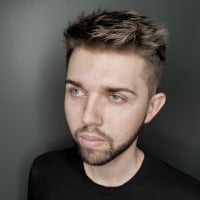 Nerijus Grenda is a prolific contributor to the GoodLuckMate site. With a deep understanding of the online casino industry, gained from his own experience as an avid player, he offers valuable insights on what sets the best casinos apart from the rest. As a writer, Nerijus shares his expertise through expert analysis and thoughtful commentary on various topics related to online gambling, including casino reviews, game guides and industry trends.