Sports gambling apps provide punters with a dedicated space to browse the betting markets and place their bets. Nowadays, an app is not essential due to the responsive nature of mobile betting sites. Even so, a dedicated app is often the go-to option because of its secure nature and useful pop-up notifications. Most of the top-rated sportsbook sites offer a mobile app, but like most things in this world, some things are designed better than others. Functionality, user-friendly layouts, and security all come into the equation when you're looking for the best sports betting app. Thankfully, we've done the hard work and created a list of the best apps for sports betting now. And yes, you can access all these on both iOS and Android devices. Whether looking at future fixtures or in-play events, you can easily manage your wagers while on the go, using a tablet or mobile device.
The Advantages
The ease and accessibility of using sports gambling apps cannot be rivaled by retail betting shops. Being able to play from virtually anywhere, with all of the benefits modern technology has to offer, has given players unparalleled convenience. The best online betting apps allow players to easily manage their bets while having access to their betting histories. A lot of freedom is given in the way you can create bet types like accumulators or handicaps. There is certainly a social element involved with going down to your local bookmaker. Yet, more and more people appear to be opting for convenience first.
Sports Betting Apps vs Instant Play
When placing bets on a mobile device, you have the choice of doing so via an app or via instant play. Instant play simply refers to any activity happening on the provider's actual website. An application is instead a program that you install onto your device for a specific function. So, when you see providers advertising that there are no downloads required, it simply means that you will be placing bets directly from their website. Hence, there would be no betting app for sports for you to download.
The truth of the matter is that neither option really has a significant advantage over the other. It used to be that apps would tend to be more optimized for mobile play. After all, that is their primary focus, whereas websites cater to desktop devices as well. A website might therefore perform fine on a desktop but struggle on a mobile device with much smaller computing power. That isn't really the case anymore though. New coding frameworks have been developed with mobile in mind, namely HTML5.
This upgrade has been massive for the entire industry. Now, every developer is jumping on board to make sites and services as mobile-friendly as possible. This has also the added benefit of not needing to develop separate products for different platforms like Android and iOS. On older devices, you might still see better performance on apps rather than on a desktop. But, for most players, the differences are not noticeable.
So, whether you choose to download an iOS betting app or instantly wager from the provider's website mainly comes down to personal preference. Some online bookmakers will offer both. Although, rarely will there be much of a visual or feature difference between the two. Just keep in mind that many sports betting app developers may only be able to cater to specific devices, like iOS. If you were to have an Android device in such a case, you could always check out the website instead.
Fan fact! Out top-rated gambling sites like Wheelz, BitStarz, and the Gamdom casino and betting site don't actually offer native apps. Instead, they focus on browser play, which is the most convenient way to play.
How to Install Gambling Apps on iOS and Android?
Using the Apple or Google Play store, you can search for the online sports betting apps available. The availability of each store will vary. Each platform owner will have its own policies for what they allow in its store. You can either search for a specific bookmaker or simply search for something generic like "sports betting". After finding a sports app you like, you can visit its page and hit the download button to install it on your device.
Unfortunately, stores like Apple and Google Play are becoming more hostile to gambling operators, as more and more restrictions are applied. These restrictions can also vary depending on your place of residence. Android users work around this through the use of ".APK" files. This allows you to install applications on your device without the need to go through the Play store. It does require that you mess around with some security settings first though. So, make sure you know what you are doing first.
How to Choose the
Best Sports Betting App
There is no mystical secret to choosing the right sports betting app. Most of what it comes down to are your personal preferences. Are you looking for the best odds, most available fixtures or a strong loyalty program? While different players have different priorities, below are some recommendations for what every sports-betting enthusiast should be looking for.
Safety and Security
Safety and security are paramount when it comes to moving your money around online. It is no different for any online bookmakers. Hence, the best iOS and Android sports betting apps will make security their number one priority. Deposits and withdrawals tend to be made on a regular. That's not even mentioning the personal information stored on your account. Make sure the provider is fully licensed to provide gambling products. Plus, check that it is using the latest SSL encryption methods. Additional features like two-factor verification for logging into your account are also great signs that the provider cares about security.
Different Speeds for Different Needs
Some players might not be interested in all sports and are just looking for the best soccer betting apps. Others might prefer a place with lots of activity and promotions constantly rolling out. The great thing about gambling online is the sheer amount of choice. No longer will you need to travel out of town to get the exact service you are looking for. With so much competition on the online scene, bookmakers are constantly trying to outdo one another in all sorts of ways. Due to this competition, many bookmakers have chosen to specialize in different areas. Some cater more to Esports fans, for instance.
Variety of Banking Options
Many of the best sports betting app providers cater to markets all over the world. As such, it is in their best interest to support as many payment methods as possible. The most commonly used online transaction methods are widely available, such as payment cards, bank transfers and e-wallets. Even cryptocurrencies are becoming increasingly popular with bookmakers.
Customer Service
A service that is able to provide 24/7 customer support via instant live chat is far more ideal than any other solution. Some establishments are surprisingly hard to get in contact with. Some bookmakers still cling to email-only support. In our experience, live chat support is the best way to get a quick solution in a conversational manner. We, therefore, recommend you look out for free betting apps that offer this.

What Are the Top 5 Sports Betting Apps?
If you're on the hunt for the best sports betting mobile apps, we've got you covered! GoodLuckMate scoured the web and handpicked the five best sports gambling apps. The list features iconic names, including Bet365 and William Hill, as well as some unexpected choices like FanDuel. So, without further ado, let's dive into the top 5 sports betting apps.
Bet365 App
Bet365 is the biggest online sportsbook in the world, and so the Bet365 betting app was always going to be a popular choice. You don't get to the top of this competitive industry without providing your customers with the best possible betting experience. Hence, it's one of the best betting apps for iOS and Android. In a nutshell, you still have all the functionality of the desktop. You can browse the many sports and click through to reveal hundreds of betting markets within each event. You still get full access to all the promotions and banking options that make Bet365 such a popular choice for punters across the world. It's easy to download the Bet365 sports app, and you can fine-tune the settings to make use of in-play notifications. Bet365 is number one for a good reason, and its mobile app plays a big part in that.
William Hill App
William Hill has been around and at the top of betting for many years now. Its mobile app for sports betting has had the benefit of a recent upgrade. This is a big reason why it has made it onto our list. Now you get all the experience and knowledge that only a brand like William Hill can provide, along with the modern functionality of a brand new sports betting app. It's the best of both worlds, and punters can now make the most of the features and betting promotions all wrapped up in a single mobile app. Horse racing and football are the dominant sports here but don't let this put you off. The A-Z list still includes all the big sports from across the world, and the app is packed full of features from live streaming to the bet-builder. It's a traditional brand reinvented for the modern world.

FanDuel App
FanDuel is commonly known for its fantasy sports betting, but it also offers a decent sportsbook as well. It's huge in the US, and many other punters from around the world continue to sign up to take advantage of the great offers and betting markets. Owned by Flutter Entertainment plc, FanDuel has one of the biggest online gambling companies backing them. So, it's no surprise to find out it has one of the best sports betting apps in 2023. FanDuel has always been customer-centric, like any betting brand should be. Instant live chat support is something that many of its users praise. But what it all comes down to is that this app puts you first. It allows you to place bets quickly to make the most of in-play markets, which is a must for sports betting fans.

Unibet App
Unibet is a global superstar in the betting industry, and it attracts punters from all four corners of the world. The reason we have included Unibet as the best app for sports betting is mainly based on the fact it delivers such a clean and simple layout. Navigation design is often where apps fall down. Clunky touchscreen buttons and complicated layouts are common issues. Unibet simplifies the process and puts everything you need right in front of you. It may sound like a simple feature, but it means so much when you have such little screen space to work with. Live streaming has been an area of growth for Unibet, and so now punters can watch thousands of events every year. Add to this the vast number of betting markets and first-class customer service, and you have an excellent betting app.
LeoVegas App
LeoVegas is widely known for its casino platform, but it also offers an excellent and ever-expanding sportsbook as well. That alone is not the reason why we have included this sportsbook on our list of best sports betting apps. LeoVegas has always operated with a "mobile-first" attitude. So naturally, the app is something that works exactly as you would want it to. The fact that the mobile site has been designed to such a high level means that the transition to the app is almost unnoticeable. You still get all the features and functions that make LeoVegas such a popular gambling brand. Great customer support, multiple banking options, and a wide range of betting markets all stand out. If you want simple, hassle-free betting, then the LeoVegas app should be on your list as well!
Which Betting App Has the Highest Payout?
Both the Bet365 app and William Hill come with a payout limit set at €2 million. This is a very acceptable figure since some bookies will limit players' payouts to as little as €25,000.
Is DraftKings or FanDuel Better?
If you have a hard time deciding between DraftKings or FanDuel, we recommend the latter. In addition to the spectacular FanDuel mobile app, the operator provides users with quicker payouts, higher win limits, and more frequent promotions.
What App Should I Download for Sports Betting?
As you can see, there are quite a few different mobile sports betting operators. All the sports gambling apps on our list are top-of-the-line and guarantee a smooth betting experience. In addition to the perfect audiovisuals and user-friendly interface, they have everything you'd find on the desktop version. So, ultimately, it's up to you to decide what you're looking for in the best sports betting app. Perhaps you want an app with a live-streaming feature like Unibet, or maybe you prefer a simpler betting platform like LeoVegas. Whatever the case is, GoodLuckMate is here for all your online mobile betting needs!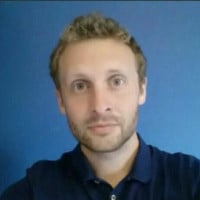 Steven is GoodLuckMate's casino veteran, having started in the industry in 2007! Although he knows everything about online gambling, it's sports betting that is his true passion. Additionally, he's not only our go-to writer for casino reviews, but he's also the one keeping the closest eye on iGaming companies, so he always knows what they are going to do next.