Have you ever heard about the celebrity effect? This term is used to describe the ability of famous and successful people to influence others, and influence is what businesses need to attract customers and keep them coming back for their products or services. Of course, the online slot industry is not different.
From the moment the first online slots hit the global market in the 1990s, we have seen efforts by many software providers to sign deals with celebs willing to support their games. I want to note that there are two ways these famous individuals help providers. First, they can market and recommend a newly-released title to their fans. Second, they can take the promotion to another level by appearing in the game. The latter is what I was referring to in the title of this opinion piece – celebrity-themed slots.
In most cases, you can see the celebrity in the background image and/or as one or more symbols on the grid. These celebrity-themed slots also usually have intros with videos featuring these stars and other audiovisual elements associated with the stars. Regardless of their appearance, we can all agree that most of these games are memorable and entertaining. Still, there's a hidden risk of exploiting fans' emotions when launching slots like this, which I will analyze below.
The Good Things
Let's be clear, celebrity-themed slots have the potential to increase appeal and recognition. When celebrities appear in online slots, they give the provider (and casinos) an opportunity to attract new players who are celebrity fans. This way, the player base expands with people who have never wagered money on online slots before.
Of course, associating a familiar face (be it a sports star, a musician, an actor, a social media influencer, or a model) with an online slot can make that title more enjoyable and engaging for any player. There's an extra layer of excitement when you play a game featuring your favorite celebrity. If they are sports stars, it will remind you of the exciting matches they participated in. If they are actors, they will make you think of the movies and/or TV series where they appeared. All these things make people feel more excited.
Another thing we should consider here is the trust and credibility these celebrities possess. So, when a famous person appears in a slot game, the provider behind that title makes a deal with that individual (invested in that game), which usually means it's legitimate.
The (Potentially) Bad Things
I have listed the good things about celebrity-themed slots. Still, these games featuring stars can also bring some negative things that many players are unaware of. One of the biggest threats related to these titles is their potential to exploit the vulnerabilities of the fans of the celebs involved.
We know how many people become big fans and idolize famous individuals. So, when you become slightly obsessed with someone, and you have an opportunity to play games where you can wager real money while being entertained by your favorite celeb, you can see how things can go wrong. This is especially risky for those who have never played slots before. Experienced players know that they should set budgets and know their daily/weekly limits. First-time slot players can jump into action without being aware of these things simply because they saw their favorite actor or influences in a slot game.
Additionally, many of these avid fans are young people more prone to developing addictive behavior. Celebrities and providers can tackle this issue by promoting responsible gambling. So, the next time when they are about to promote this type of game, it's crucial for the celebrity to mention the potential dangers of playing online slots to some categories of people, the importance of responsible gambling, and the entertaining character of these casino games.
Another thing that I should mention here is the misleading associations. Developers should never create celeb-themed slots that create the impression that the celebrity's success is linked to the game's outcomes. This can create unrealistic expectations among players. Of course, this shouldn't be an issue when a well-established star has agreed to participate in such a project. However, many modern influencers and instant celebrities who have not accomplished much in their careers but are famous can create the abovementioned impression.
Sometimes, software providers design and develop games with average or even below-average quality and cover these things by including a famous individual in their slot's stories. This unethical marketing tactic can become even more dangerous when the developer tries to hide the technical information about the game. Yes, I'm talking about slots with very low RTP (94% or lower without a progressive jackpot prize), games with very low hit frequency, and releases with low maximum win limits despite the absence of high bets.
How to Get the Most from Celebrity-Themed Slots?
Dozens of celebrity-themed slots have been released in the past two decades. Of course, not all of them are equal – some follow the ethical rules and promise great fun on the reels. To get the most and stay safe while playing these games, I suggest focusing on titles released by well-known providers. WWE Legends: Link and Win by Microgaming, Alice Cooper and the Tome of Madness by Play'n GO, Joe Exotic by Red Tiger, and Trump It Deluxe by Fugaso are excellent examples of such games and providers.
I know what I am about to write has been stated numerous times, but I feel like I must share it with my readers again, especially with new players. Don't let your favorite celebs cloud your judgment. Before playing any slot game, you should check the rules, explore the potential payouts, assess the limits, analyze the bonus rules, and focus on seemingly technical things like the slot's RTP, volatility, and hit frequency. This is the only way to ensure you have a memorable experience while playing slots, including the celebrity themed.
This article delivers the thoughts and opinions of the author, and it doesn't represent the stance of GoodLuckMate.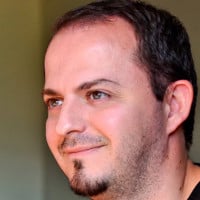 Andrej is an experienced writer specializing in online slots. He writes detailed slot reviews for GoodLuckMate, covering gameplay mechanics, graphics, bonus features, and payout potential. Andrej's expert analysis is highly regarded by both casual and serious slot enthusiasts. With his engaging writing style and deep knowledge of the industry, he is an essential contributor to the GoodLuckMate site.