The 2022 FIFA World Cup is nearly upon us. This year's tournament is the most unique in the tournament's history. The contest is being held in the Middle East for the first time, with Qatar playing host to the contest. Other than its location, what makes this contest so unique is that it is being held in November, right in the middle of the traditional football season in Europe. I believe that this is going to create some unique obstacles for bookmakers trying to promote the tournament, but I also think it could see the rise of different types of promotions and betting content.
Some Challenges for Bookmakers
First of all, let's address some of the issues that this tournament is going to present. As a contest taking place in the middle of the season, there is a chance that many bettors will already have their preferred operators.
I know from personal experience, that I tend to choose my bookmaker at the start of the season for football betting. I weigh up the ones with the best pre-season odds and promotions and then tend to stick with them throughout the season, occasionally jumping elsewhere if a good promotion catches my eye. I also know that I am not alone in doing this. Most people don't want to have multiple accounts and be jumping around all of the time.
As such, prying players away from their preferred sites is going to be a challenge for bookmakers. However, I do believe that this problem, as well as some others that will arise for bookmakers, does have a solution.

Gamified Content
One of the biggest changes I have seen from betting companies during this football season is an increase in gamified promotions. By this, I mean promotions that allow bettors to pit themselves against each other in some way.
This can be achieved in all sorts of ways but the two that are the most common tend to be predictions or fantasy sports. Both of these allow players to test their analytical skills and their betting acumen against their friends and can become incredibly competitive. I have seen this first-hand as someone who is in several of these kinds of leagues with their friends. As you can imagine, being the guy who writes about betting for a living amps up the pressure.
This leads me to the World Cup. The tournament lasts a month, giving bookmakers a very small window to attract a lot of players and ultimately, make a lot of money. If companies want to be successful during this month, then they are going to need to up their game.
Free bets, deposit bonuses, and loyalty offerings are everywhere. Outside of offering more than what your competitors can, these kinds of promotions feel a little redundant. If they want to grab players' attention, then operators will need to do something different.
Quick-fire prediction contests and prizes similar to SkyBet's Super 6 promotion are perfect for this kind of tournament. The group stages, for example, can allow players to compete with their friends to predict how they will work out - with prizes either offered by the operator or through prize pools being the incentive players need.
The smartest bookmakers are the ones who offer this service for free. They don't charge players to enter the contest, instead, they rely on the player coming back to the site to check on results and to place bets while doing so. They will also need an account to take part. In the case of the aforementioned Super 6 promotion, you are cleverly presented with a loaded betting slip featuring your predictions.

Localized Content
Another opportunity that the World Cup presents is for an increase in localized content. The tournament will feature 32 teams, and while operators won't be active in all of those countries, they can still offer a different experience for players.
Allowing players to choose their team at the start of the tournament, for example, could be a smart move. They could then be given a more personalized experience that features offers around these teams and specific players. We live in a globalized, multicultural world and operators could take advantage of this.
The fantasy-sports element could even kick in here, with players choosing their squads and then receiving bonuses based on the player's performances. For example, if Harry Kane scores for England in one match and he is in your team, you receive a price boost on him for the next match. This kind of promotion gives players an increased investment in the tournament and their bets and could be successful for everyone.
Sport-Bettors Are the Winners
One thing that is for sure is that this tournament is going to push operators to up their game. With such a small window to attract players and such a unique tournament taking place, traditional promotions just aren't going to cut it for those who want to be successful.
This can only be a good thing for sports bettors. An increased amount of promotions is never a bad thing, and an increased amount that emphasizes fun and competition is a winning combination.
Let's just wait and see which operators step up to the plate and deliver the kind of fun, engaging content that the World Cup could offer.
This article delivers the thoughts and opinions of the author, and it doesn't represent the stance of GoodLuckMate.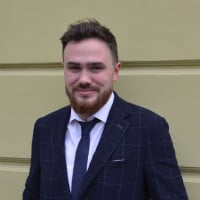 Liam is a skilled writer and journalist, highly regarded for his perceptive examination of the gambling industry. He specializes in online casinos and sports betting, and his work has been published in top-tier publications. Here at GoodLuckMate, Liam covers the latest industry news and has also authored various gambling guides, offering both beginners and experienced players in-depth analyses of games and strategies.