I usually write opinion pieces about new gambling regulations or iGaming innovations. This one is different, though, because the world is different now. Our everyday lives were forever changed by a pandemic that hasn't even ended yet, only for 2022 to get an even more tragic turn with the Russian invasion of Ukraine. Too many lives, homes, and memories have been ruined already, and the aggression doesn't seem to be slowing down. Every day, there's news even more saddening than what we've read the day before. It's stressful. It's sickening. And I'm saying this from the perspective of someone safe in her home worrying for her Ukrainian collaborators and people I don't even know. One thing that warmed my heart, however, was the solidarity and readiness to help the iGaming industry has shown these weeks. That's exactly what I want to write about today. I've read that true friends show their love in times of trouble, and I want to believe that our crazy, fast-paced, and apparently compassionate sector has done precisely that.
Everything Is NOT About the Money
Those of you who've ever played PES Pro Evolution Soccer 2009 probably remember that Headspace song "All About the Money." The lines "Everyone knows that it's all about the money, just try and say I'm wrong" have always stuck in my head. They pop up, especially when I'm reading about multimillion revenues of iGaming companies or massive progressive jackpot wins. In an industry like this, it really seems that everything is about the money.
Well, I beg to differ!
Ever since this terrible war started, all I've read on LinkedIn are words of support. Kind words from kind people who send their love and compassion to everyone in Ukraine, regardless of their profession, life story, or personal interests. Nearly everyone in my network - and most of those people work in iGaming - showed their compassionate side, and offered their help. And that's something worth celebrating.
I'm not saying let's focus on these positive stories and ignore all the bad stuff. Not at all. What's happening is scary, disturbing, and it's breaking my heart, honestly. Yet, I've always been an optimist, and I've always tried to find that last ray of sunshine even during the darkest hours of my life. So, I guess that's what I'm doing now.
Who knows, maybe someone else will feel inspired and hopeful knowing that there are still good people out there; and many of them happen to be iGaming professionals of all kinds.

Crying and Smiling Aren't Mutually Exclusive
There can be happiness in sadness and vice versa. A person you love may fail you, and a stranger may help you. Often, all these things can happen on the same day. While all this sounds poetic, it's very much true because life is magical even with all its horror, angst, and disappointment. And frankly, I can't write anything about this war without letting my heart and emotions take over my usually straight-to-the-point writing style.
I've found comfort in reading the good stories alongside the bad ones. I've felt better knowing that there are tons of people who are ready to offer their money and time to help strangers. I've felt hopeful that, after all, kindness can change the world.
If I were more into any other niche, this opinion piece would've possibly had a different focus. Yet, I'm not. I love iGaming, and I'm writing about iGaming. And now, I want to share some inspiring stories and tell the world how the industry came together to help.
The Gaming Industry for Ukraine Campaign
Organized on behalf of CHOOSE LOVE, The Gaming Industry for Ukraine is a GoFundMe campaign organized by Rasmus Sojmark and Karolina Pelc, Shona ODonnell, ORYX Gaming, and FansUnite Entertainment as team members.
The effort has already been backed by over 200 donors and raised more than £205,000. It still hasn't reached the £250,000 goal, but it did attract donations from leading industry brands like the Betsson Group, Microgaming, and Enteractive.
The organizes Rasmus starts with the following sentence:
"The global gambling industry is a family, and what has become clear over the past few days is the strength of responsibility it feels in providing assistance to the people of Ukraine."
I couldn't agree more! Hopefully, they will reach the goal as soon as possible, and these funds will go to the people who need them the most.
iGaming Group Offers Relocation to Staff
This Malta-based company helped its staff in Ukraine by offering relocation. According to the company's COO - also one of the people whose LinkedIn posts I always enjoy - Phil Pearson, the iGaming Group relocates, arranges accommodation, and provides 24/7 assistance to any employees and their immediate families. All of the costs are covered by the company.
BetGames Creates a €25,000 Direct Support and Donation Fund
BetGames is a leading provider of live dealer products headquartered in Lithuania. The company has created a direct support and donation fund to help their "Ukrainian friends, family members, and colleagues." Moreover, the company announced providing legal, compassionate leave and mental health support for any of their employees directly impacted by the war.
Stake.com Donates $1 Million in Humanitarian Relief
Ukraine has been accepting donations in cryptocurrency, and Stake.com made use of it by giving 25.63 Bitcoin or a bit over $1 million. Stake.com's co-founder Ed Craven expressed his hopes that the company's support would aid the "brave and resilient Ukrainian people." Hats off to Stake.com. I've always liked their platform, and they've consistently ranked high among crypto gambling destinations. This step just shows that besides being a top-rated iGaming operator, Stake.com is also a socially responsible and compassionate business too.
LeoVegas Group Donates SEK 500,000 to the Red Cross
Another well-known iGaming brand that has joined the efforts to help the Ukrainian people is LeoVegas Group. The company donated SEK 500,000 to the Red Cross and suspended bets on Russian and Belarussian markets.
I'll stop here because there are many more donations and campaigns worth mentioning, and I'm sure you already got the point.
I must say, I'm proud to be part of this sector where so many generous and good professionals work; where people don't give any second thoughts when it comes to mobilizing and helping those less fortunate.

What's Next?
At this point, I have no idea. I can make some general guesses, but nothing can be said for sure. Things haven't been good even without a war on European soil. So, they definitely won't be getting any better.
There are obviously many companies either based, that have offices or employ staff in Ukraine. Their work is and will be affected even after the war is over, judging by all the photos of ruined cities and infrastructure in the country. And not to mention all the trauma whose consequences are yet to be felt.
Many events will be affected too, as Russia is banned from sports competitions. For example, the Champions League Final in UEFA was supposed to take place in Saint Petersburg, but it has been replaced with Saint-Dennis, France.
Businesses are leaving Russia, and that will indeed have an impact on their revenues. The world seems to be entering an economic crisis, and Europe has been struggling with an energy crisis too. Prices are going up, which always impacts how much players spend on gambling.
However, if the COVID-19 pandemic has taught me something, it's the fact that the iGaming industry is a resilient one. Like it or not, people love unwinding with their favorite casino games, and they love playing them online. In this regard, I am sure that the industry will prevail.
As for the situation in Ukraine, I don't consider myself competent to comment or offer forecasts. Especially not while people's lives are at risk every second as I write this. So, I can just send them all my love and support while hoping that this insanity will be over soon.
Until then, I'm looking forward to any positive stories about great people doing their best to make the world a tad of a better place. They keep my dim hope for humanity alive, and I am eternally grateful for that.
This article delivers the thoughts and opinions of the author, and it doesn't represent the stance of GoodLuckMate.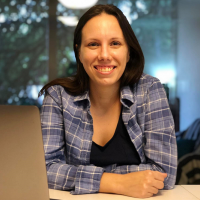 Milena is second-to-none when it comes to researching, reviewing, and recommending top online casinos. She stops at nothing when it comes to getting all of the facts and figures straight in each of her expert reviews. Plus, having worked as a writer within the iGaming industry since 2014, Milena has seen it all and is familiar with every aspect of online casinos.