While classic slots used to rule the floor at land-based casinos, they have had to make way for more modern video slot titles. That isn't the case at online casinos, though, which do not have to worry about making space for new games. This does, however, beg the question of classic slots vs. video slots and which one is better. Will classic slots always have a place amongst newer releases, or will we slowly see them fade into beloved memories? What makes each option unique, and how do they fit different playing styles? To find out, let's look at the main differences between the two.
Classic Slots vs Video Slots
– Main Differences
The differences between games in each category can be large in their own right. To try and not get too stuck in the vast amount of variance and details each individual game can offer, we will instead look at some of the major aspects of slot games in general. From this, we can make a broad comparison when focusing on video slots vs reel slots.
Game Variety
Classic slots are somewhat defined by the previous limitations of machinery and a game in its infancy. As such, they are pretty much all played in the same format. Even the diversity of game themes takes a hit in the classic category.
You can find different themes in classic slots, but they generally take a backseat to the main theme of classic itself. That means three reels with all of the time-honored symbols, such as cherries, lemons, and the lucky number seven. That is why there isn't always much room for other exciting themes like ancient times or those based on licensed franchises. Most are also limited by only providing one pay line, whereas video slots can easily offer all sorts of different amounts of paylines, some being fixed and others being adjustable.
The vast majority of new releases of slot games are video slots that employ the latest technology and innovations in the industry. It has gotten to the point where there are even VR experiences offered to online casino players now. Not to mention progressive slots with features that recall your previous game activity. Classic slot releases are therefore becoming fewer and further between, as most providers instead appear to be looking for the next big thing.
If we compare any classic slot vs video slots, the latter will win the battle. Adventure, superheroes, Egyptian, mythical, and many more themes are available on video slots. The same can't be said for the classic reel machines, and we don't expect that to change anytime soon.

Bonus Features
Ah, this aspect often goes in favor of video slots when anyone's comparing classic slots vs video slots. Many of the most popular and recent game innovations are generally linked to a game's bonus features. Cascading symbols, expanding wilds, Megaways, and many others are all features that have been innovated primarily for video slots.
Many games today even offer specific bonus rounds that change in nature depending on specific symbol combinations. This is not something that classic slots are particularly known for. They tend to remain relatively simple, although later releases have opted to employ some more modern bonus features.
Free spins and win multipliers can be found in classic slots, but this is more of an exception rather than the rule. In most cases, you get three reels, one to three paylines, and simple gameplay. That's enjoyable for some users. In fact, those who vote for the first option in the classic slots vs video slots standoff regarding bonus features are the ones who prefer simplicity.
Payouts
A classic slot with an RTP of 95% will act pretty much the same as a video slot with an RTP of 95%. Just because classic slots may have fewer reels, paylines, and bonus features doesn't necessarily mean that they provide fewer opportunities to win. All it does is provide less variety in gameplay.
In this regard, the battle video slots vs reel slots doesn't go in anyone's direction in particular. In fact, many video slots that feature lots of bonus features or large jackpots may generally do so at the expense of something else. This could be a lower-than-average RTP or a requirement to place larger bet amounts.
Double-checking the RTP and volatility of a game is a great way to get an initial grasp of a game's payouts. The best way, though, is to play it in demo mode, if possible. At GoodluckMate, we have tons of classic and video slots that you can try out for free.
Playing Experience
When we say "playing experience," we refer to the visuals and audio effects you'll find in these games. If you compare any classic slot vs video slots, it's fair to say video slot machines win. That makes sense because video slot games are heavily dependent on their theme. They may even come with an entire intro video setting up the plotline, and then you'll see various animations on the screen and reels.
The simplicity of classic reel machines doesn't leave space for such audiovisuals. Instead, it's more of the same again – same symbols, same number of paylines, same number of reels.
Stake Size
Ah, we can't provide an honest overview of the classic slots vs video slots faceoff without mentioning the stake size. In case you weren't aware, players must fund every active payline. Even on slots with fixed paylines, the game provider and operator have made sure the minimum bet size is appropriate to the number of paylines or ways to win.
As we already explained, classic slot machines typically have one to three paylines. Many of them are also penny slots that let you place incredibly small wagers. Therefore, they are usually your better option if you have a small bankroll.
It's fair to mention that there are penny video slots, as well. However, their number is minimal. Also, some providers call penny video slots those that accept a penny per payline. In such a case, if you play with 30 paylines, you won't actually wager a single penny.
The Final Verdict
So, video slots vs reel slots – which one's better?
The fact of the matter is that classic slots are becoming a beloved relic of the past, much like vinyl records. Many players still love the nostalgic and more tactile feel that a classic slot based on the machines of older times can offer. The advantages of video slots far outweigh classic titles in many ways, though. While some classic slots do offer more modern features like re-spins and other bonus mechanics, the diversity and constant flow of new video slots are what is truly driving innovations in the industry.
However, we'd like to finish this classic slots vs video slots showdown by leaving the final decision to you, the player. Sometimes, it just doesn't matter what one type of slot machine offers if you find another type more attractive. That's why we advise you to try various options – both classic and video – and see what works for you.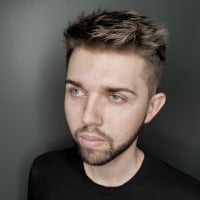 Nerijus Grenda is a prolific contributor to the GoodLuckMate site. With a deep understanding of the online casino industry, gained from his own experience as an avid player, he offers valuable insights on what sets the best casinos apart from the rest. As a writer, Nerijus shares his expertise through expert analysis and thoughtful commentary on various topics related to online gambling, including casino reviews, game guides and industry trends.