The popularity of virtual sports betting has been slowly on the rise for several years now. The advancing levels of animation technology have played a big part in that rise, but what exactly does betting on virtual sports entail? If we look at this from the top level, everything in the virtual sports world is generated by computer-run algorithms. There is very little to think about in terms of research and form, so what attracts people to this virtual world of sports? Read on as we explain all and give you the pros and cons of virtual sports betting.
What Is Virtual Sports Betting?
Before anything else, let us define what virtual sports betting is first. This concept represents betting on virtual sports events. These are games developed by software providers whose outcomes are generated by random number generators (RNGs). In the visuals, however, they mirror the action of the actual sport.
For example, you can bet on virtual football. In this case, there's a virtual football match between two teams. You get all the info and some stats before the game starts. You then create a bet slip, just like with traditional betting. Then, the match starts and plays out within a minute. You can also skip to halftime or the final result within a click. What you see on the screen when partaking in virtual online sports betting resembles a video game.
Most online bettors see virtual sports betting as a simple add-on experience. It can offer light entertainment while you wait for a real sports event to start. Betting on a virtual sports match is also no different from playing a slot game.
So, there are more similarities for casino players than typical sports betting fans. If you think about it, this virtual world is a stepping stone from casino to sports betting and vice versa. Online gambling sites are always looking to introduce new experiences for their members. Virtual sports betting online offers precisely that.
Casino Games Versus Sports Betting Versus Virtual Sports
As someone who's new to the world of virtual sports, you may be confused by the concept and not sure what it entails. Casino virtual sports betting is a combo of online casino games and sports betting, but also it's a unique product that's not like either of these two.
In this section, we'll compare virtual sports with casino games and with sports betting to make things clearer.
Virtual sports and online casino games share how outcomes are generated. Neither happens in real-time, and both have results generated from software. In a way, the only difference is in the rules of play and the visual effects.
Virtual sports and sports betting share the betting segment. Players place bets and have betting slips in both cases. However, sports betting involves betting on actual real-life matches, while virtual sports betting is betting on virtual sports. So, the first one is affected by the players, weather, and whatnot, whereas the latter is computer generated and completely random.
Virtual Sports Aren't eSports
Another gambling and betting category that often gets confused with betting on virtual sports is eSports betting. It makes sense because both are – in a way – virtual sports.
However, when we talk about eSports betting, we refer to competitive video gaming. You can bet on eSports like Counter-Strike, Valorant, and WOW. As you can see, these are all video games in which multiple teams or individuals battle among themselves. As an eSport bettor, you can bet on the winning team, the number of points, and other options depending on the game.
We already covered how virtual sports betting prediction works and that the outcomes are computer generated. While virtual sports and eSports share the graphics, the gameplay is very different.
Popular Virtual Betting Markets
Virtual betting is not just a simple computer game where you place wagers.
It's a sophisticated piece of software that takes inspiration from the real world of online betting. The graphics are based on real stadiums, courts, and racetracks. So, it only makes sense that the betting markets follow suit as well.
Most popular markets are available for virtual sports betting, and each virtual sport will have its unique bets, just like the real world.
At some sites, matched betting on virtual sports may be possible, as well.
You'll find each-way and tricast bets in horse racing, and you'll have the likes of the match result, goals, and correct score for football. Here's a list of the top virtual markets that you can bet on:
Virtual football

Virtual horse racing

Virtual motor racing

Virtual speedway

Virtual cycling

Virtual greyhounds

Virtual tennis

Virtual basketball

Virtual darts

Virtual golf
Popular Virtual Sports Bets
When it comes to bet types on online virtual sports betting, the options differ depending on the sport you've chosen. Typically, when you open the game, all the options will be listed on the screen, and you can pick the ones you want by clicking on them.
The wording may vary alongside the options. In any case, we're listing some standard virtual sports bet types below.
Win–draw–win

Over/under

Correct score

Asian handicaps

Match Result

Goalscorer

Total Goals

Each-Way

Forecast

Tricast

Halftime/Fulltime

Highest Scoring Quarter

How to Bet on Virtual Sports?
In this section, we will teach you how to actually start betting on virtual sports.
Visit an online virtual sports betting site.

Complete registration and make a deposit.

Find the virtual sport you want and open it.

Add bets to your betting slip by clicking on the bet types you want to activate.

Start the game and enjoy.
Depending on the virtual sport, you may be allowed to skip to halftime or directly to the end result in case you don't want to watch the visuals. However, we believe that watching the action prolongs the playtime, boosts the thrill, and makes the experience closer to real sports betting.
Virtual Sports Betting Strategy and Tips
There are no virtual sports betting secrets to discover in order to become a sure winner. As we established, virtual sports have RNG-generated outcomes that are completely random and unpredictable. That's what makes these games pure gambling and games of luck.
That's why an ideal virtual sports betting strategy would be similar to playing any casino game. It's advised to have a spending budget and never overspend. Never chase losses, as that never turns out well. Remember that betting on virtual sports is entertainment.
We also advise you to learn the game rules and your betting options. You can use the demo mode to understand the basics before turning to real money action.
Other useful virtual sports betting tips include understanding the odds and wagering small bets. Even though the results come from RNGs, there are still some odds involved when you place your wagers (similar to sports betting). Bets with higher odds are generally riskier. Before the start of each game, for example, you can see some stats and see which player/team is the favorite. Betting on them comes with lower odds but higher chances of winning.
As you can see, there's no single and simple answer to the "how to win virtual sports betting" question. There are several small things you can do to have a pleasant experience. Other than that, everything depends on luck!
Expert Thoughts
Betting on virtual sports is inspired by real life, and, in some cases, the betting tips also follow the same pattern. But some don't, and horse racing is an excellent example of that. Virtual racing has none of the form or inside information that can help you turn a profit.
It's all about analyzing the odds and judging your own risk versus reward strategy.
However, virtual football does offer one or two similarities, and the over/under 1.5 goal is a wise market to bet on. It's a safe number of goals for any football match, virtual or real-world, and works well as a long-term strategy.
But again, weigh up your risk and reward and place your bets accordingly.
Online Virtual Sports Betting - Pros & Cons
Virtual sports betting is an entertaining side experience found on many of the top casino and bookmaker sites. It doesn't offer the extensive markets of real sports betting. But it is a great way to pass the time if you want a different experience or are waiting for a real sports event to begin.
One of the highlights of virtual sports betting is that you can bet on a sport 24 hours a day, seven days a week. The virtual world never stops, and bookmakers can easily set up an ongoing schedule for players to jump in and out of as and when they please.
One fact about virtual sports betting is that there is minimal research required. So, unlike the real sporting world, where form and analyzing data are crucial for picking winning bets. Virtual sports are very much a luck-based experience. You pick the odds set out by the bookmaker, and the result is then generated in a non-bias way using computer algorithms.
Virtual sports betting has its fair share of pros and cons, so let us take you through some of those right now.
Pros:
Non-stop betting opportunities across all major sports, from football and racing to basketball and soccer.

A reduced number of external factors means that there is a simple learning curve for beginners.

High-quality animation is used to bring you lifelike sporting events whenever you want.

Simple player and team profiles for you to study and pick out your subsequent bets.

A great alternative to the

typical casino games

such as blackjack and slots.
Cons:
Easy to bet through your bankroll due to the non-stop virtual sports schedule.

Less entertaining experience than betting on a real-life sports event.

It takes away the research and knowledge required to find value bets.
Popular Providers of Virtual Sports
Luckily for bettors, there isn't a single virtual sports betting provider to keep your eyes on. In fact, there are several established brands that develop these popular games. Below, we'll list the leading ones to give you an idea of what providers to look for:
Kiron

Leap

Global Bet

Betradar

FLG

Inbet
Best Virtual Betting Sites
Thanks to the growing popularity of this gambling category, more and more trusted gambling sites add virtual sports to their lobbies. If you're looking for a recommendation from our experts, we can highlight National Casino as one of the best virtual sports betting sites.
National Casino is an excellent spot for enjoying a wide range of virtual sports games. The brand works with Kiron and brings a solid variety to the table, including Italian Fast League, Ice Hockey, and Platinum Hounds. This brand is one of the best-rated on our platform, has lots of great bonus offers, and it's an overall smart choice for players. National Casino supports demo play, so you can test out the virtual sports before you place real money bets on them.
How to Pick the Best Virtual Betting Site for You?
Virtual sports online betting can be a fun and thrilling experience if you do it at sites that meet your expectations. That's why we've listed some criteria you shouldn't overlook when selecting your virtual sports destination for wagering.
Bonus offers

– You want access to free bets, ACCA insurance, enhanced odds, and other types of bets designed specifically for virtual sports bettors. Bonuses are always welcome as they improve your bankroll and extend your playing time.

Game variety

– The

top virtual sports betting sites

have a solid game variety. Their game lobbies aren't about virtual football only; they also have racing options and even darts. Let's not forget that other game categories, such as slots or

live casino game shows

, are welcome too.

Streaming quality

- A huge part of the action on virtual sports comes from the visual effects and streaming quality. That's why you want these to be as realistic and smooth as possible. Otherwise, you will end up frustrated instead of happy and excited.

Mobile readiness

– Most consumers these days do everything on their mobile devices. That's why we advise you to choose an operator that's mobile-ready. Some of these operators may even have native

virtual sports betting apps

for your iOS or Android smartphone.

Payment methods

– It's essential to join a virtual sports online betting destination that supports your preferred payment and withdrawal methods.

User-friendliness

– It's important for the virtual sports betting site to have a user-friendly interface. You don't want headaches while browsing around or betting.

Useful features

– Some virtual sports come with useful features, some even found on traditional sports betting sites, such as the cash out feature and the bet builder. These will improve your experience and give you more options.
Are Virtual Sports Rigged?
No, virtual sports games aren't rigged. Of course, you should play such games developed by trusted and regulated providers as well as at the best virtual sports betting sites. In this case, you will know that the software generating the outcomes hasn't been compromised. If you follow this advice, you have nothing to worry about. Reputation is everything these days, and both providers and operators make sure to give their users safe and fair environments.
Is Betting on Virtual Sports Legal?
Generally speaking, betting on virtual sports is legal in countries where online casino games are legal. Considering the outcomes are derived from virtual sports betting software, these games are closer to casino games than to traditional betting. For instance, LEAP Gaming holds multiple licenses, including the ones in Malta, the UK, and Gibraltar. So, you will find virtual sports in casinos that operate in those jurisdictions and work with LEAP.
To be sure, you should always double-check your national regulations before you place real money bets. Most betting sites with virtual sports also use geolocation tools, which will show you only the games that you can legally play. Meaning, if you come from a jurisdiction where virtual spots are banned, you won't have access to those titles.
Can I Bet on Sports and Virtual Sports on the Same Slip?
We already explained how does virtual sports betting work, and, in that sense, you should understand that it's different from traditional sports betting. This difference makes it impossible to place traditional sports and virtual sports bets on the same slip. In fact, these two are often separate products from the operators that offer online virtual sports betting. Moreover, they may not be offered at the same site at all.
Do All Online Casinos Have Virtual Sports?
Betting on virtual sports isn't available at all online casinos. These games are usually placed in a separate category, or you can quickly browse for them using a search bar. In any case, we can't say that you should expect these games at all online casinos. Instead, focus on virtual sports betting sites like the ones we mentioned above and ones that collaborate with virtual sports betting game providers.
Betting on Virtual Sports for Free
The great news about those interested in virtual sports betting is that you can do it for free in demo mode. Unlike actual sports betting that doesn't let you place demo bet slips, virtual sports is a different story. You can find the virtual sport game you like in the game lobby and choose the "demo play" or "free play" option.
Instead of actual cash, you'll use virtual currency that has no real value. In any case, this opportunity will let you learn how to play that specific virtual sports game without risking your own money.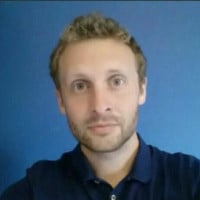 Steven is GoodLuckMate's casino veteran, having started in the industry in 2007! Although he knows everything about online gambling, it's sports betting that is his true passion. Additionally, he's not only our go-to writer for casino reviews, but he's also the one keeping the closest eye on iGaming companies, so he always knows what they are going to do next.