The British gambling industry has been under some pretty intense scrutiny for the last couple of years. The first generational review of the UK government's Gaming Act started at the end of 2019 and, for better or worse, coincided with the start of the Covid-19 pandemic. The magnifying glass was amplified further as a result of this, with more and more Brits turning towards online gambling in times of trouble, and in many cases, boredom. As a British writer working in the gambling industry, I have got a vested interest in the rules and regulations in the country. The Gaming Act's White Paper has been delayed on several occasions and now they look set to be finally be released in May 2022. With a little over a month until this happens, what can we expect when these are released?
An Emphasis on Advertising
One of the biggest sticking points for the UKGC is going to be advertising. There has been an increased emphasis on the number of adverts that people in the UK are being exposed to, and the way this situation is handled is going to prove very interesting.
A blanket ban on advertising in the UK would prove to be disastrous, but it seems unlikely things will stay the same. Sports, especially football, are likely to receive a lot of attention. Football is one of the trickiest areas for the government to deal with. I have written in the past about how football in the UK and gambling need each other, and I stand by those comments. A ban on gambling advertising in football would have a big impact on both industries.
Lower league football, in particular, finds itself in a tricky situation. So how will the government handle this? I suspect any changes here will be subtle and will probably be nothing more than a token gesture. While there are significant MPs who would back a blanket ban on football advertising, many also know the impact that this would have. Given Boris Johnson's largely populist approach to governing, anything that could impact football would be a big move to make, especially as he attempts to hold on to key areas in the North of England.
A similar move in Italy has led to the Italian FA asking for bans on advertising to be lifted due to the impact it is having on clubs, and the UK will be looking overseas to see what they think is likely to work for them.

Children Must Be Protected
Advertising and the impacts it has will no doubt also lead to the impact that it has on children. As someone who has grown up in the UK post the introduction of the Gambling Act in 2005, I have seen on countless occasions how easy it is for children to fall into gambling. An introduction to this at an early age can prove really damaging and the White Papers should be looking to address this.
Just how to control this is another matter. I have written in the past about the impact of things like loot boxes in video games and this is something I have also spoken personally about this with members of the Children's Commissioner and some people in think tanks and they have all expressed a belief in the importance of this. Whether or not the issue is addressed remains to be seen.
This will also lead to the issue of verification and identity checks. Increased checks on identity and age when a person signs up for an account should be welcomed, but anything too much further than this could lead to some issues. A proposal to require verification just to browse a gambling site would be a silly move, and it is one that would not likely be met with too much approval. A similar move was proposed in the UK with pornography websites during Theresa May's term in office and it was quickly pushed aside.

As we have seen with the reluctance to accept Covid passports, the British public is not keen on the idea of oversharing information and a requirement to sign up to visit would just force players to look elsewhere. Of course, reminders of the fact that you are supposed to be 18 to be on a page can definitely be increased without damaging the gambling experience too much. Placing the idea in someone's mind that they shouldn't be on a site if they are underage can be an effective tool if utilised correctly.
The Future
The Gaming Act review will have assessed every aspect of the gambling industry, so it will be interesting to see what it throws up in terms of potential changes within it. During the review, the Football Index crash occurred, and this will have no doubt impacted some of the findings.
The industry is undergoing a lot of changes, and people are changing the way that they gamble. Hopefully, some of these things have been addressed. Otherwise, it runs the risk of simply being dated and irrelevant within a matter of years anyway.
The reasons for delaying the White Papers are not entirely clear. I think it's fair to say that world events have pushed it a little further down the pecking order priority-wise. Let's hope that some of that time has been used wisely and there has been some assessment over these changes.
Getting the Balance Right
All eyes from within the industry will be kept closely on the release of the UK White Paper. If the proposals are too heavy-handed, it could have a severe impact on what has always been one of the best markets to operate in. The UK is big business for many gambling operators and major changes will no doubt have an impact on that.
Like all things, this will prove to be an interesting balance act. If the government over-regulates, then I think the results could be disastrous. Sporting advertising will be a key area to watch in this regard in my opinion.
Of course, there is definitely a need for some change. As I have highlighted, children need great protection and the industry is also underground some changes that the UK should get on top of. Whether the government can strike that balance and get that right is anybody's guess right now.
This article delivers the thoughts and opinions of the author, and it doesn't represent the stance of GoodLuckMate.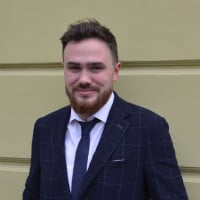 Liam is a skilled writer and journalist, highly regarded for his perceptive examination of the gambling industry. He specializes in online casinos and sports betting, and his work has been published in top-tier publications. Here at GoodLuckMate, Liam covers the latest industry news and has also authored various gambling guides, offering both beginners and experienced players in-depth analyses of games and strategies.