It was only April 2021 when I wrote about Germany becoming an overregulated market. Less than a year later, it seems that Finland has managed to overpower Germany in this regard. Namely, the country's parliament passed the Finnish Lottery Act at its first reading. As you can guess by the introduction so far, the changes aren't good. In fact, I'd say they are really bad for Finnish gamblers who appreciate versatility, freedom, and options. Rather than opening the market for new brands, Finland has strengthened Veikkaus' monopoly. The hopes of seeing established iGaming companies enter the Finnish market are dead. But what does all of this mean for the casual player? Well, let me share my thoughts below!
Short Overview of the Situation
Let's start from the start, which in this case, I'd say was the hopeful end of 2020. The European Gaming and Betting Association (EGBA) then called out the Finnish government and asked for the end of the monopoly held by Veikkaus.
Veikkaus was and still is the only regulated and legal way for Finnish gamblers to enjoy various gambling activities online. The site is in Finnish, it meets all the strict requirements imposed by the country's regulators, and it's owned by the Finnish State. This entity employs over 1,600 people, offers thousands of slot machines, and operates for the good of Finnish consumers. It basically sounds like a fairy tale, and we all know that fairy tales aren't real.
Veikkaus is the ONLY option, and that by itself is just too restrictive. Moreover, there aren't really any good bonuses for players. Plus, it imposes strict deposit and loss limits. There are also strict identification procedures that are annoying to casual players, and gambling advertising may soon be banned.
Fast forward to December 2021, when everyone was hoping to see positive changes, the Finnish government was like 'yeah, no' and ensured the Veikkaus' monopoly stands as strong as ever. Obviously, all of this was justified by protecting the best interest of Finnish consumers. Especially those who were freely playing at offshore or other European online casinos. Those whose money was basically going elsewhere instead of to Veikkaus' coffers.
Was it good intentions or greed that motivated this step? Why not open the market to other companies that will provide versatility and still respect the country's iGaming regulations? These questions remain unanswered.
Finnish Players Stuck With Veikkaus
I'd say that the biggest disappointment for Finnish players isn't the fact that they are once again stuck with Veikkaus. I think the frustration lies in the fact that there were calls and hopes for opening the country's iGaming market. These hopes are now ruined completely, it seems.
Moreover, hundreds of casinos licensed in Malta and Gibraltar, for example, used to welcome players from Finland. Those casinos have now banned Finnish players and informed affiliates that such traffic is forbidden and may result in account closures. The government's move was successful in that regard, I'd say.
Finnish users have lost access to excellent gambling destinations and various player perks. Affiliate businesses have lost a significant market, just like all online casinos that welcomed customers from the country. The only entity that didn't lose anything and gained something from this seems to be Veikkaus.
But is this going to end up being a Pyrrhic victory rather than a move that outsmarted everyone? I think that it has the potential to become one for sure. Why? Well, that's my next point!

Great News for Offshore Operators
Once I heard about the latest changes, I wanted to discuss them with some close collaborators of mine. I wouldn't go as far as to call us experts on the topic since we're all just people interested in iGaming and people who work in this industry one way or another. Yet, we are informed to some extent, and I always want to hear what other people have to say (unlike the Finnish government, hehe).
What most people said was pretty much similar – this is excellent news for offshore operators. But we're talking about those Curacao licensed ones or even those without any licenses. Operators that don't care about fair play or what the Finnish government has to say. These will surely keep welcoming players from Finland. And players from Finland will indeed find their way to them.
The consequences can be potentially bad for everyone involved, except for rogue operators. Finnish players who are scammed won't be able to complain anywhere. They will risk playing somewhere where they get showered with bonuses, rewards, and options. All data has shown that overregulated markets always push consumers to make such steps. And the money Veikkaus hoped to get by blocking operators based in the EU will probably just go to offshore casinos instead.
An Overall Bad Decision
In this regard, I think that the Finnish government really made a bad decision. There's no other way to call it, honestly. Yes, I understand their point and possibly their honest intentions to protect customers. However, I don't think this move was the right way to accomplish that goal.
In my opinion and what I've seen and read so far, opening the market would've been a much better choice. I'm sure huge brands would've been interested in obtaining a license and staying compliant with the Finnish regulations.
This would have ensured that players from Finland get access to high-quality and safe gambling platforms. At the same time, the country would collect money from taxes and licensing fees just like it's doing it now. And when consumers have safe and good legal options, gambling stats have shown that they stick to regulated casinos rather than going to illegal ones.
Right now, I'm not sure that Finnish users would think twice about joining offshore casinos that welcome them like royalty. Still, only time will show the extent to which this latest decision of the Finnish government may be damaging.
At this point, one thing is certain – Finland's market remains a monopoly. And one thing true about all state-owned monopolies is that everyone hates them.
This article delivers the thoughts and opinions of the author, and it doesn't represent the stance of GoodLuckMate.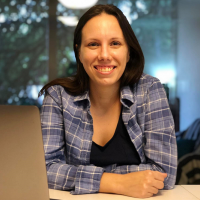 Milena is second-to-none when it comes to researching, reviewing, and recommending top online casinos. She stops at nothing when it comes to getting all of the facts and figures straight in each of her expert reviews. Plus, having worked as a writer within the iGaming industry since 2014, Milena has seen it all and is familiar with every aspect of online casinos.