Though enjoying your casino action online can be a terrific experience, sometimes you want the real-life aspect of it. If so, you would think finding the right land-based casino is the only task you need to complete. However, the attire you wear to your gambling destination is just as important. Though movies will convince you that men must be in black-tie outfits and women need elegant black dresses, that isn't the case. In fact, showing up at a Vegas casino in the middle of a Wednesday wearing a floor-length evening dress makes you completely overdressed. Well, let's see what to wear to a casino in various situations. We'll also give some practical tips on how to properly prepare and enjoy your gambling adventure to the fullest.
Styles to Consider
You have a cool casino night out planned, but what do you wear to a casino? Well, there are several standard dress codes to keep in mind. Casinos will typically list the acceptable ones on their website and at the entrance. So, it's important to know what they mean in order to make smart choices.
Sure, there is no special casino dress shirt, but the difference between a business casual and black tie dress code can be the reason you're denied entry.
Black Tie
Sporting a black-tie outfit is the go-to choice if you're attending an event that's hosted at or by the casino. Men should wear a white button-down dress shirt, a black bow tie, and a waistcoat along with a jacket. Though the safest color choice for the jacket is black, you can also choose other strong colors, like navy blue or burgundy. The entire outfit must be topped off with a pair of black leather shoes. On the other hand, a woman's attire should consist of a long evening dress paired with some high heels.
Overall, if you wonder what to wear to a casino night, the black tie dress code is a reasonable guess. Especially if you're invited to a party or some kind of fundraiser. These events are usually luxurious, elegant, and come with strict clothing requirements.
Black-tie events can also come in another form, also known as black-tie optional.
This dress code is a bit less formal than the one you would find at a standard black-tie event and is very popular in Europe. In these situations, you can't go wrong with a medium-length cocktail dress and high heels. Additionally, make sure to stick to rich or neutral colors, like black, white, burgundy, red, and navy blue. As for the men, they aren't obligated to put on a waistcoat or a bow tie. Alternatively, you can just put on a dress shirt and a tie, leaving the jacket at home.
White Tie
But what do people wear to a casino when the dress code is a white tie? Ah, well, that's top-of-the-line. We must say that not many events come with such a strict requirement. If you're in a situation to comply with a white tie dress code, let's see what it entails.
A white-tie event is the most formal dress code an occasion can have. Same as the black tie, it's usually required at private parties hosted by the casino. For this occasion, women are required to choose a floor-length evening gown. It needs to be paired with special accessories, like elegant jewelry, a small bag, white gloves, a tiara, or fur wraps.
Men must attend the event in a white tux shirt with a bib front and a fitted black dress coat with tails. Then, they should put on a white vest and white bow tie, along with some shirt studs and elegant cufflinks. As for footwear, a pair of black, patent leather shoes are the way to go, like Oxfords or Derbys.
Suppose the first two dress codes sound overwhelming, no worries! Not all answers to the "what to wear to a casino" question are as dramatic. There are much more casual options, and we'll cover them up next.

Semi-Formal
The semi-formal dress code is probably the most common type you'll come across at casinos. Unlike black-tie optional, this dress code gives you many other options. Usually, it's reserved for events that take place during the daytime. Note that it isn't usual for a facility's everyday dress code policy.
Men should pick a wool or cashmere suit for the semi-formal dress code instead of the overly formal tux choice. Though it gives you a bit more freedom, you should stick to trousers, since jeans or khakis are definitely not appropriate. The same principle goes for the top – t-shirts and polos are too casual. So, a button-down or collared shirt should be your go-to. However, what you can skip, is the tie.
Women can put on shorter dresses or cocktail dresses. Alternatively, you can settle for an elegant skirt and pair it with a nice top or other classy pieces. Depending on what time of day the event takes place, you should choose the colors accordingly. More specifically, lighter colors during the daytime, while darker ones for the evening. Since you have more freedom with this dress code, you can choose between a wider range of shoes – flats, heels, and so on.
Casual Wear
Finally, let's see what to wear to the casino that doesn't bother with dress codes all that much. Let us present you with casual wear! This is the lowest level of formality a dress code can have and, in turn – the most freedom you have with your attire choice. The best way to think about this is to plan out the outfit you would wear on a first date. So, men don't have to be imprisoned in suits and ties. Instead, they're free to put on a plain t-shirt and a pair of jeans. All colors and patterns are accepted in this scenario. However, shorts are only appropriate during the daytime or, sometimes, never.
As for the women – shirts, khakis, jeans, and sundresses are all acceptable choices. Other good options can include plain t-shirts and not-so-formal blouses. The same daytime-only rule applies to women's shorts, too.
What to Wear to a Casino
- Tips for Men
Men typically have it easier than women, as their options are pretty standard. Anything you wear to a business meeting will do the trick in a casino, as well. Even dark jeans and a jacket over a shirt can be acceptable.
Many casinos these days – except for those famous ones with strict rules – demand a clean look with appropriate clothes. Decent shoes, decent pants, and a jacket or a sweater are enough.
If there's a specific dress code (like one of the ones listed above), you'll have to follow it. We covered what each dress code imposes. So, you can find useful information and ideas under the appropriate subheading.
What to Wear to a Casino
– Tips for Women
Ladies, you want to enjoy playing your favorite casino games but also feel comfortable. If you are underdressed, you may not feel the best if everyone around is in formal attire. So, our advice is to get an idea of the dress code, if there is one. Naturally, respect it and pick suitable pieces.
If there's no dress code, we say go in pants or dark jeans, get a nice blouse, or even a button-down shirt. This is always a good idea for those wanting to know what to wear to a casino casual outing. If it's the winter season, a jacket or an elegant sweater may also do the trick.
Sneakers remain a generally frowned upon option. Instead, go for more formal shoes such as Oxfords or even flats.
What to Wear to a Vegas Casino?
Vegas is one of the best places to gamble in the world. What you wear will depend on the casino you're going to, as some have more relaxed dress codes than others. Generally speaking, you'll want to dress up a little bit more than if you were just going out for a night in town.
On this page, we already covered standard dress codes that are acceptable in casino facilities globally. For the full Vegas experience, we'd say go in business casual. It's sure that some spots will let you inside in anything as a more relaxed approach has prevailed in the past few years. Still, we believe that it's tasteful to have respectable clothes regardless of whether there's a dress code or not.
Check the Dress Code Beforehand
One what to wear in a casino tip is to check the dress code beforehand. That means first try and check the casino's website. If it doesn't exist, try calling. Alternatively, as we mention below, you can check out any new social media photos from that casino and see what other people are wearing.
If there's a strict code, you may be denied access. So, getting informed about the dress code is essential, especially if we're talking about a night visit to a popular gambling spot.
Day Visits Differ From Night Visits
What to wear at a casino if you plan to go there around midday? Well, daily visits usually are more flexible regarding the dress code. While the night events are typically reserved for more formal clothing, daily visits are perfect for casual outfits.
If you prefer a button-down shirt and dark jeans, then we advise you to visit the casino during the day. If you're in the mood for something more glamorous, such as an elegant jacket and trousers, then a night visit is the better choice.
Instagram Can Help!
One of the newest and most contemporary dress code casino tips and tricks is to use Instagram for inspiration. We live in the digital era, and it's only fair to use it to your advantage.
You can go about two routes here. The first is to simply check out what other people are wearing to casinos. Then, use their outfits to create your own. The second is to focus on the casino you're visiting specifically. There are surely more than enough photos and stories from any casino floor. So, don't be shy and use all your investigative skills.
Beware of the Weather and Temperature
People often overlook one thing when they wonder what do I wear to a casino, and that's the weather. You don't want to be sweating or freezing inside. At the same time, you shouldn't overlook the inside temperatures. Some casinos keep the temperature at the same level, regardless of the weather outside.
As you can see, having the right information is important. For instance, if outside is soaring hot, you may be cold inside and need a light jacket. Once again, source as many details as you can to ensure a pleasant time. What to wear to a casino in winter may not differ that much from what you wear to the same casino in summer if the AC makes sure the temperature is the same all year round.
Blend in With Your Companions
Sometimes when you wonder what should you wear to a casino, the answer lies in your companions.
How so, you may wonder. Well, standing out is always a good thing, but not always welcome. Going to a casino party with a group of friends is one of those occasions. You don't want to go neither overdressed nor underdressed.
The sweet spot would be to agree as a group about the dress code and stick to it. You can all have something business casual on. This dress code is probably the best choice in most situations because it offers both comfort and a serious look.
Clothing That's a No
It is important to dress appropriately when visiting a casino, we have already established that. What to wear to a casino during the day may differ from what you wear during night parties. In any case, there are some things you should always avoid.
It is not appropriate to wear overly casual clothing such as cut-off shorts, t-shirts with inappropriate images or slogans, sweatpants, or flip-flops. It is also not acceptable to wear anything too revealing, such as miniskirts, tank tops, and other clothing that may be considered inappropriate.
Generally, these pieces are a solid no in every situation:
Ripped jeans

Combat boots

Sneakers

Slippers/flip-flops

Dirty or ripped clothes

Beachwear
Some casino facilities may have their own rules and specific requirements. That's why it's important to get information beforehand to avoid any unpleasant situations later.
That's about it when it comes to what to wear to a casino. We hope our tips and guide helped you and saved you some time. After all, going to a casino should be all about fun and entertainment rather than headaches about what shirt to put on.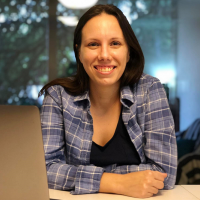 Milena is second-to-none when it comes to researching, reviewing, and recommending top online casinos. She stops at nothing when it comes to getting all of the facts and figures straight in each of her expert reviews. Plus, having worked as a writer within the iGaming industry since 2014, Milena has seen it all and is familiar with every aspect of online casinos.