Did you know that you already have a chance to join more than one metaverse casino? That's right, these gambling platforms are real, and they offer their players a wide range of games. Truth be told, this is still a new concept and even the big players like Facebook (or Meta) admit that there is a long path ahead of them.
As for the metaverse casinos, players can interact with various digital worlds and meet real people virtually. This unique experience gives them something they all miss – social interaction. Land-based casinos are still a better option for this activity than online ones. Still, the gap will be narrowed once metaverse casinos exit their experimental phase.
Of course, modern players want to know what kind of games they can play in the metaverse, and the answer is – every type of casino game. These casinos have everything you need from blackjack and roulette to poker and slots. Yet, this doesn't mean that online slots, as the most popular category of casino games, will still be dominant. Given the specific nature of the metaverse, we might witness a new trend
The Different Types of Metaverse Gambling
Since metaverse gambling is not something that has been established yet (it's in its experimental phase), we can't come up with a definition of how it looks. There are two directions in which existing metaverse casinos are going.
First, we have platforms available through regular websites, which you can open and use via desktop and mobile browsers. Second, we have VR metaverse casinos. The second category might also be available via web browsers on smartphones, tablets, and computers. Still, the central idea is to use a VR headset to get the best experience.
Logically, VR metaverse gambling should grow faster because that's the whole point of the metaverse experience – socialization in a virtual world with the help of advanced VR headsets. That's something that you can't witness when using web browsers.

What Is the Future of Slots in the Metaverse?
Let's analyze the offers of the most popular online casinos today. We will notice that the vast majority of titles belong to the slots category. It will be challenging to find a gambling website in which over 30% of the games are non-slots. In fact, in most cases, over 90% are slot titles. This makes sense because most people are interested in playing these titles. They are easy to play, fun, and versatile. On top of that, some promise massive prizes that can't be found elsewhere.
Every month, casino software providers release over 250 new titles. That's something that has been going on for several years now. But what is the future of slots in the metaverse? Will we witness the same trend there?
Honestly, it's not easy to predict trends in a developing concept. As we said, we have several metaverse casinos that are not very popular. A huge legal gap makes the most famous authorities in this field, like the UKGC and MGA, hesitate when issuing licenses for this type of casino. In any case, the existing gambling platforms of this kind prefer slots over other casino games, just like their "regular" online counterparts.
When discussing the future of slots in the metaverse and whether they will dominate, we should focus on their popularity and quantity. So, slots will likely remain to be the most numerous games, but their popularity might be lower. These games provide many opportunities for providers to make changes in the theme and visuals and even in the features section, which means we can still expect many new titles for metaverse casinos.
On the other hand, their popularity might be lower for more than one reason. First, we should consider the purpose of the metaverse. The social aspect is probably the weakest in today's online slots. For example, when playing blackjack, you do it with a few players on the same virtual table. Many online games like this let you chat with other participants. This doesn't make sense when playing slots because you spin the reels independently. This is not a multiplier game, at least for now.
Imagine walking into a brick-and-mortar casino. What do you see? There is a floor with slot machines used by individuals (or two people/friends at most). On the other hand, we have poker rooms, blackjack tables with many people, roulette tables, etc. You can see clearly where the social interaction takes place, and we can expect the same in metaverse casinos.

People who want to try metaverse casinos would like to socialize more, and the current concept of online slots doesn't allow this. Some software developers have already done experiments with multiplayer slots and live slots. Like in crash games, for example, you have 10 seconds to place a bet and wait for the software to start a round. Meanwhile, you can talk to other players via live chat. Of course, when it comes to the metaverse, you will be able to interact on a higher level through your VR headset (voice chat, etc.).
Until something like the abovementioned concept is developed for the metaverse, we believe slots will not be very attractive to the players visiting these virtual casinos. It would be much better to experience the atmosphere of roulette, blackjack, and poker tables.
Final Thoughts
Metaverse gambling is still developing even though we already have several metaverse casinos. Unless slot developers adjust the gameplay of these popular casino games for the needs of metaverse players (multiplayer options, for example), they will lose their popularity to other more interactive games for such an environment as blackjack and poker. On the other hand, likely, they will still dominate in terms of the sheer number of titles.
This article delivers the thoughts and opinions of the author, and it doesn't represent the stance of GoodLuckMate.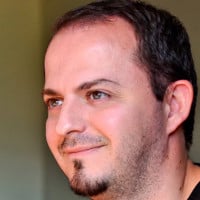 Andrej is an experienced writer specializing in online slots. He writes detailed slot reviews for GoodLuckMate, covering gameplay mechanics, graphics, bonus features, and payout potential. Andrej's expert analysis is highly regarded by both casual and serious slot enthusiasts. With his engaging writing style and deep knowledge of the industry, he is an essential contributor to the GoodLuckMate site.