For most football fans routine and tradition are very important. For English football fans the Christmas period is an exciting part of the season that can see up to four sets of fixtures being played within eight or nine days. This is great for those who love football and betting of course, as there is non-stop action to keep them interested. Will that desire to bet change this year, considering that bettors would have only witnessed a world cup final not a week earlier? The impact of this is unknown as it has never happened before!
Imagine the scenario where your Country has lost a World Cup final. You are mentally exhausted and just want some recovery time before you start caring about football again. At this moment in time, if you were a bettor, would you feel compelled to look at the football fixtures to see what is happening in the coming weeks? Of course, when the Premier League returns a week later they are not going to be playing in front of empty crowds but it is something interesting to consider irregardless.
In this piece, I will be talking about the unique challenges that bookmakers face during the Winter World Cup and how this can potentially have an impact on how people bet not just for the tournament itself but for the duration of the football season.
The Winter World Cup
Naturally, betting companies love major sporting events and there is nothing bigger than a football World Cup. Therefore betting promotions and advertising campaigns will be all the range. What makes this difficult for betting companies though is the build-up period. Traditionally excitement builds toward a World Cup so why is there a lack of World Cup fever in the air?
This excitement usually builds up to an extent where fans can't wait for the tournament to begin. On this occasion, major games in the European leagues will be taking place only a week prior to the tournament. So for a lot of football fans, the attention will only turn to the World Cup when the football season takes a break. Therefore, such betting promotions need to be timed precisely and effectively. An exciting betting promotion for the World Cup will at this moment in time be ignored by many as they are still focusing on their club team's fortunes.
Another thing betting companies need to consider is that this is a very sensitive World Cup since it is being held in Qatar where human rights issues are often a concern. For the footballing public and organizations alike this is understandably an issue and can influence the way people feel about the World Cup. Altogether, there are a lot of things that when combined make this a World Cup that is very unique and one that already the majority of football fans do not want to see repeated.

When the Football Season Returns
As mentioned earlier, the Premier leagues boxing day fixtures will only take place a week after the World Cup final. Both the World Cup and these fixtures are taking place during the festive period. A time of the year when bettors will be cautious of how much they are spending. Therefore, there isn't a single sportsbook in the world that should feel comfortable standing still and seeing what happens.
Does the Winter World Cup Represent a Great Opportunity for Betting Companies?
Okay, let's think about this for a bit. One week you have a set of premier league fixtures, then a month of the world's biggest sporting competition and then after that, the football season resumes. At first glance, this should delight bookmakers but it should also make them cautious as we have never seen a season like this before.
The importance of retention has never been so important. You need to remember that people betting on the World Cup will consist of many who wouldn't be regarded as traditional football fans. They are just swept in by the World Cup and the atmosphere that surrounds it. Normally the rest of the summer will play out and the football season will return and those people will eventually forget about football.
This year though there are crunch football games that happen just a week later. Therefore what better opportunity to retain customers from a World Cup? How do online sportsbooks achieve this though?
In my opinion, the Premier Leagues Christmas fixtures will be a fascinating period to observe. There are some incredible stats that suggest that more than 80% of people who bet using a free bet offer on the World Cup do not place another bet for the entire tournament. This issue is one that needs to be addressed itself but what is even more important is keeping good faith with the customers who love using your betting platform.
You need to let them know that you appreciate it is a difficult time of the year and the best way betting companies can show appreciation is with betting promotions. In short, we can't sleep on this unique opportunity and not expect this world cup not to affect how bettors view the rest of the season.

Final Thoughts
The World Cup is an exciting time for anyone who loves football and betting. What is also true however is that we are all creatures of comfort. We like the idea of a summer World Cup and the lack of World Cup fever in the air at this moment in time is indicative of this. If online sportsbooks think that this will be business as usual they are mistaken. Prepare for the unexpected and realize that this is a unique time to convert people to your betting platforms.
This article delivers the thoughts and opinions of the author, and it doesn't represent the stance of GoodLuckMate.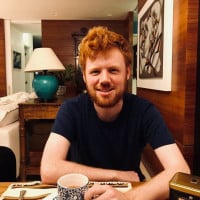 Matthew has been writing about the iGaming industry for several years. At GoodLuckMate, he shares his opinion about topics close to his heart - casino strategies, casino games, and sports betting. Basically, if the subject is gambling, we will be lost for words if Matthew doesn't have an opinion on the matter!