Working in the iGaming industry for years, I've witnessed extremely loose if not non-existent regulations progressing to some overly strict gambling laws. As a person, I've always tried to find balance in everything I do in life. I like to travel, but not too much. I like shopping, but don't spend hours on it. With such a mindset, I believe that finding the perfect balance is the way to create environments and products that work for everyone. I also know that's not easily achieved or, sometimes, even possible. This takes me to Australia's recent decision to ban credit card gambling, something that the UK introduced last year. Sure, this step may help a small percentage of gambling addicts, but is it really solving the serious issue or just adds a minor roadblock?
No Credit Cards Doesn't Mean No Gambling
In the UK, officials said that not only they banned credit card gambling, but they also banned e-wallet gambling. However, this applies only if the user is topping up their e-wallet using a credit card. This decision was supported by some figures. About 10.5 million Brits gamble online, and 800,000 of them with credit cards. For nearly 22% of those, or around 175,000, gambling was a problem or a full-scale addiction. According to the United Kingdom Gambling Commission, these figures justify the step and make remote and land-based gambling safer. I don't think so.
First, I think that problem gamblers will find a way to spend more money they can afford. In fact, a study named 'The Role of Credit Cards in Gambling' mentions some pros as well as cons of such a step. Among the drawbacks, the author says that there is a lack of empirical evaluation on the effects of this ban. Moreover, the author says that not being able to use credit cards may push gamblers to other anonymized forms of paying. With offshore gambling sites and crypto deposits so close to reach, is it smart to push consumers in that direction? I don't think so.
Second, I'm sure that there are many ways to simply outsmart this ban, so I see it more as a roadblock. Those who want to play their favorite casino games won't be prevented by this roadblock. They can always just use an ATM for a cash advance and then add the money to their debit card. Let's not ignore prepaid vouchers that can be bought with a credit card and used for gambling. There are literal ways to gamble with your credit card without using it directly at an online casino. So, I'm calling it a roadblock rather than a solution.

Feeling like you need some help?
Find out more

Have you heard about gambling limits?
Find out more
Pushing Players Towards Worse Funding Alternatives
Another point I'd like to discuss here is the danger of pushing consumers towards worse or even unsafe funding alternatives. If someone wants to get cash to gamble, they'll probably do it. If they can't get it from their credit card, there are other options. Loan sharks and payday loans with huge APRs are two things that first come to mind. We can also mention that these people will also ask for money from friends and family. It's the 21st century, generating debt is easier than ever.
Don't get me wrong. I applaud attempts to protect problem gamblers. I support attempts to limit spending and help consumers. I just don't think that moves like banning credit cards are the right course of action. I've always believed that an issue needs to be handled at its roots, with something like 'the fish smells from the head' approach. In this case, the issue is players spending more than they can afford and not being able to handle their gambling problem.
I Think We Need Solutions Targeting Operators, Not Players
With that in mind, I personally think that the industry needs solutions focused on these two. However, I believe the solutions should be imposed on iGaming operators and not on players. Affordability checks are, I believe, one way for operators to check whether customers overspend. Offering advice on gambling addictions alongside easy access to self-exclusion tools is another smart strategy. Banning credit cards just makes authorities seem dedicated to dealing with problem gambling and overspending. But I think it doesn't really affect enough players, and it doesn't quite root out the main issues.
Finally, I'd like to mention how ridiculous the measure seems when you learn that Brits can use credit cards to purchase 'good cause' lottery tickets. Lotteries, regardless of the cause, are considered gambling. If someone is a problem gambler, why should they be able to use their credit card to purchase lottery tickets? This just proves my thesis further that credit card gambling isn't the issue that needs to be addressed.
Instead, I think the industry needs more serious tools and checks to successfully detect problem gamblers and then to provide them the support they need.
This article delivers the thoughts and opinions of the author and it doesn't represent the stance of GoodLuckMate.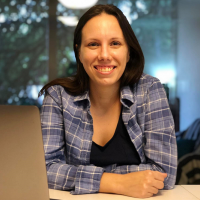 Milena is second-to-none when it comes to researching, reviewing, and recommending top online casinos. She stops at nothing when it comes to getting all of the facts and figures straight in each of her expert reviews. Plus, having worked as a writer within the iGaming industry since 2014, Milena has seen it all and is familiar with every aspect of online casinos.