Disclosure: GoodLuckMate is reader-supported. We may earn a commission if you sign up to a casino via links on our site. Find out more.
Bubble Rama – an Espresso Games Slot
20 more slots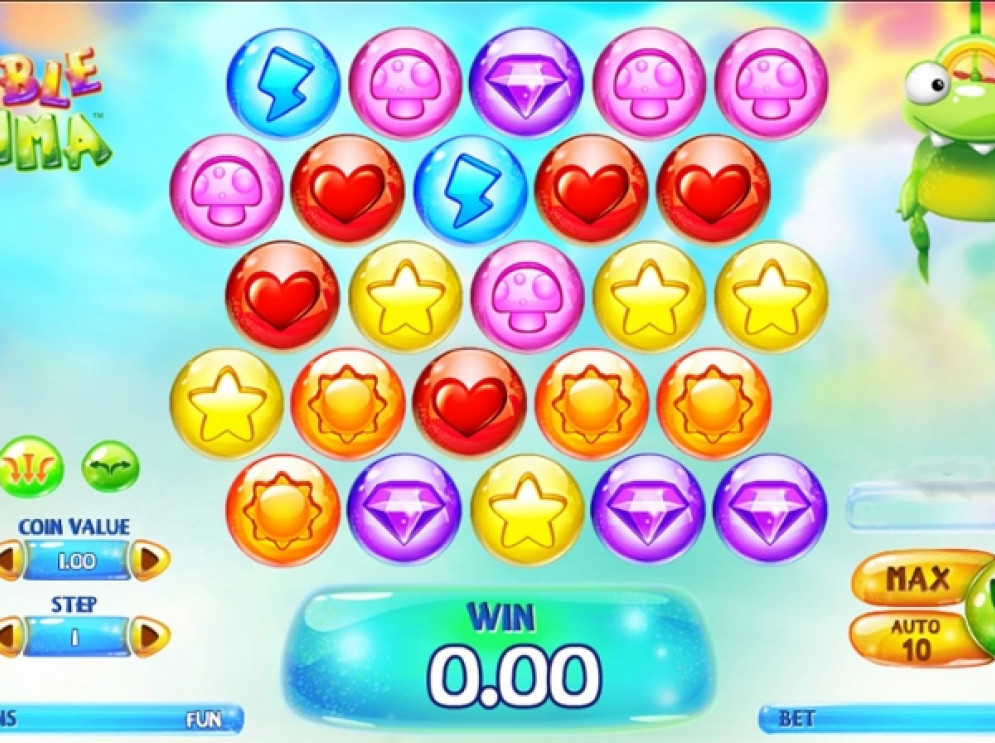 Ready to play Bubble Rama for real money?
Enjoy gambling in moderation – only play with money you can afford to lose
Casinos that offer Espresso Games games
The Bubble Rama slot is a brightly colored game that pays all ways. Rama is an adorable, toothy frog that wants to make sure you have the best game possible. He perches to the right of the reels to monitor your progress and help out whenever he can. The rainbow reels are backed by colorful, pastel clouds for a whimsical feel. The gameplay is accompanied by an upbeat soundtrack and Rama's occasional ribbiting. The best Bubble Rama bonus feature combines free spins, respins, and multipliers together for bubbly fun. You'll find full details on how to pop your way to big wins down below. You and Rama aren't just stuck to playing on a desktop or PC. This game is formatted in HTML5 so you can enjoy it across all mobile devices, too. Ready to spring into the clouds and catch some prizes? Go ahead and play a free demo of the Bubble Rama slot here on GoodLuckMate.
The setup for this slot is not traditional by any means. There are 25 offset spaces laid out in a five-by-five honeycomb pattern. There are no paylines, as this game pays all ways. The betting range is ideal for those who enjoy placing small stakes or veterans who want a little room to stretch their legs. You place your bet by adjusting the coin and step values. Coins range from €0.01 to €2.00 in value, and step options range from five to 25. This gives a minimum stake of €0.05 and a maximum of €50 per spin.
There are a handful of options available for you to customize the game. You can turn Autoplay on and set it for 10 to 500 spins in the outer frame menu. Music and sound effects can be controlled separately or turned off. There isn't a Turbospin selection available. However, you can change the way that bubbles appear on the screen with arrows located above the bet button. Choosing upward, downward, or inward patterns slightly changes the animation speed.
Wins in this game are awarded when three or more bubbles of the same color touch each other. They don't have to be in any particular pattern or any direction, as long as they are connected. There are eight winning bubble symbols: a white cloud, a green four-leaf clover, a blue lightning bolt, a purple diamond, a pink mushroom, a red heart, an orange sun, and a yellow heart. They're all equal in value. All normal wins are multiplied by the step value you choose.
The biggest win occurs when all 25 bubbles are the same color, and you'll receive a 1,000x prize. When bubbles do form a winning combination, they'll pop. New bubbles will emerge in their place and grant you a free respin; this occurs for every win in the game. There are two special symbols as well. The first is the black skull bubble. This doesn't offer a payout and instead breaks up bubble groups. A Super "?" bubble will award you an instant cash prize.
The Bubble Rama free spins feature places Rama in a more active role. He sits next to the reels, and a bubble blower is located above his head. It generates a variety of unique bubbles that Rama will keep an eye on. One bubble it produces awards a single free spin. Before it's used, the game will determine which bubble color you have the most of on the reels. Only the most prevalent color will be retained, and the others will pop. The free spins do still qualify for the respin function. Of course, these aren't the only bubbles available. Multiplier bubbles abound, too.
The multipliers are 2x, 3x, 4x, or 5x. Rama jumps up to pop the bubble and capture the multiplier in his mouth. He'll proudly display it and yell in support as you're awarded a free spin. The prizes from that free spin and any subsequent respins will all benefit from the multiplier for some decent wins. Finally, you may see an occasional Free Spin Bomb. Rama eats the bomb and swallows it. When it explodes, all the bubbles on the reels will be exploded for a free spin.
The Bubble Rama RTP is 97.05%. This is significantly above the standard 95% associated with similar video slots. With the presence of multipliers and free spins, it's likely that plenty of gamblers will be excited to give this game a try. Espresso Games has not released the volatility of the slot. By our best estimate, it's probably a medium volatility game.