888 UK Limited has been issued a £9.4m fine by the United Kingdom Gambling Commission (UKGC). The fine is about social responsibility and money laundering failings by the company. An official warning was also handed out to the company.
Failure to Recognise Risk To Customers
The UKGC is strict when it comes to social responsibility, and the investigation into 888 UK Limited highlighted several failings. These included failing to identify players who were at risk of harm, not reaching out to a customer who lost £37,000 over 6 weeks, and failing to give caps that didn't reflect the salaries of customers. In one instance, an NHS worker on £1,400 a month was given a cap of £1,300.
It was also discovered during the investigation that a lot of the interactions between the company and its customers were not adequate. Most responsible gambling messaging was coming through e-mails that highlighted what tools were available. There was also no evidence that the company had actively restricted accounts that may be a cause for concern.
Another area that raised concerns was customers using multiple accounts. In one instance, a player had restrictions placed on just one of their eleven accounts. They were then allowed to open another three accounts following the restrictions.
Money Laundering Issues
The fine was also issued for several money-laundering failings. The operator was found to have a policy where customers could deposit up to £40,000 before any proof of funding checks were carried out. It was also revealed that it was accepted verbal assurances from players regarding their income. There were also no clear guidelines on what information and documents needed to be supplied.
888 UK Limited operates 78 different websites, making it one of the biggest providers in the UK. As well as the fine and the warning, the company will also have to undergo a detailed independent audit.
The Biggest Fine to Date
888 has received previous fines from the UKGC. The company was fine £7.8m for failing vulnerable customers back in 2017. The latest fine, however, is the largest fine that has ever been handed out by the UKGC.

Andrew Rhodes, the Commission's Chief Executive spoke about the fine in a statement on the UKGC website. They said that failing customers was simply not acceptable. They also said that if 888 continued with its approach, then it would have to consider whether it was capable of keeping its license. They finished by saying that players in the UK deserve to know that they are in safe hands when they gamble.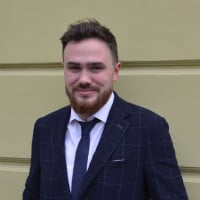 Liam is a skilled writer and journalist, highly regarded for his perceptive examination of the gambling industry. He specializes in online casinos and sports betting, and his work has been published in top-tier publications. Here at GoodLuckMate, Liam covers the latest industry news and has also authored various gambling guides, offering both beginners and experienced players in-depth analyses of games and strategies.