Leading content aggregator iSoftBet announced its partnership with Arcadem. The newly-founded game studio will see its entire game portfolio become available on the content aggregator's platform.
Arcadem Joins iSoftBet's Aggregation Platform
Arcadem becomes the latest game developer to join iSoftBet's aggregation platform. iSoftBet is known worldwide as an online games developer creating immersive content. It's also known for its content aggregation services.
The content developer and aggregator boast a presence in over 20 regulated jurisdictions. iSoftBet built its reputation around action-packed releases with captivating topics. It also offers its clients top-of-the-line aggregation services to allow them to adapt to different markets in the shortest time possible.
Partnership Comes with a Launch of a New Slot
The collaboration between Arcadem and iSoftBet comes with a cherry on top. And that is the launch of a slot title as a treat to players. Eternal Night is the name of the release and it's set to be available from September 23 on iSoftBet's aggregation platform. This will be an exclusive launch set to last for two weeks before other platforms can have access to the slot.
Christian Hellman said the partnership with iSoftBet allows Arcadem to become a part of the massive network under the aggregation program. The Arcadem co-founder also expressed their excitement saying the team is already working hard to create a batch of releases set to join the existing products on iSoftBet's platform. Information about the exclusive games will be available in the coming weeks.

Arcadem's Reputation Around Narrative-Based Slots
The newly-formed developer not only offers top-quality visuals along with bonus features. But also an engaging storyline to add more depth to the games. This is evident from the developer's catalog boasting exciting formats, original storylines, and recognizable characters.
The company started after two friends fused the industry experiences. Its overall production line consists of thoughts, opinions, life experiences, and views blended into a single memorable game release.
iSoftBet is not the only game developer Arcadem has signed partnership deals with. Oryx Gaming is one of the recent partners, having joined forces in October 2020. The partnership took a similar route to that with iSoftBet. This is the launch of an exclusive slot title named Neon Samurai: Kawa. Other partners include Vulkan Vegas, Arena Casino, and BetConstruct just to mention a few.
Peering into Arcadem's Catalog
Eternal Night is set to launch on September 23. But there are plenty of Arcadem slots on the way. For instance, The Armory: Bulk Buy was released on September 7. October 28 is set for the launch of Guardians of Inari.
Players can look forward to engaging gameplay based on the already existing titles. Evil Elf: The Night Before Christmas is one of these titles. Then there's Merlin and the Philosopher Stone that use well-known storylines. Undying Romance is an example of a reincarnated slot developed by another studio.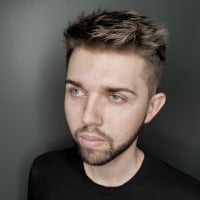 Nerijus Grenda is a prolific contributor to the GoodLuckMate site. With a deep understanding of the online casino industry, gained from his own experience as an avid player, he offers valuable insights on what sets the best casinos apart from the rest. As a writer, Nerijus shares his expertise through expert analysis and thoughtful commentary on various topics related to online gambling, including casino reviews, game guides and industry trends.