It hasn't taken bettors in Arizona very long to adjust to sports betting. The state recorded huge figures for October, which is only the second month that sports betting, both online and retail, has been legal there. The PlayUSA Network has said that it has never seen numbers so impressive, especially in the second month.
A Successful Start
The state of Arizona only opened its sports betting market at the start of September. In October, it saw $486.1m placed and $37.5m in gross operator profit. It had also recorded similar figures in its debut month.
The PlayUSA Network was blown away by these figures. It said that the numbers were unprecedented and that they had not seen anything like them before since sports betting had been legal in the country.
For comparison, the state took $777.3m in sports bets in September and October. Virginia, a state with a bigger population, recorded $324.7m during the same period. Arizona took a total of $69.8m profit while Tennessee took less than half of that with $27.1m. Not all records were broken though, with the state taking $1.1m tax on $10.7m profit. This is because $57.2m was written off for promotions.

Arizona is the State to Be
As a new state for legalized sports betting, there is a bit of a queue for licenses to operate in Arizona. Unsurprisingly, DraftKings and FanDuel dominated proceedings in the state, with Barstool Sports trailing behind its rivals. The early numbers delivered by the state suggest that it could be an incredibly popular market and many operators will want to get a license to operate there.
Eric Ramsey, who works in data analysis at the PlayUSA network said that the numbers delivered were unlike anything they had ever seen before. They said that there were various reasons for the state's success. Firstly, there is timing. The state's market opened in September, which is also the start of the American Football Season. Many other states have also seen record figures over the last couple of months.
Ramsey also added that several infrastructure benefits also make Arizona a great state for sports betting. This, combined with the evident enthusiasm from residents has created a perfect storm. The analyst also said that this was just the beginning for the state. They said that Arizona has the potential to be a top iGaming state in America over time.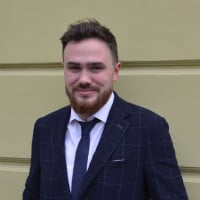 Liam is a skilled writer and journalist, highly regarded for his perceptive examination of the gambling industry. He specializes in online casinos and sports betting, and his work has been published in top-tier publications. Here at GoodLuckMate, Liam covers the latest industry news and has also authored various gambling guides, offering both beginners and experienced players in-depth analyses of games and strategies.