Mobile sports betting in Arkansas is one step closer after the Arkansas Racing Commission voted in favor of changes to gambling laws in the state. The new rules will now have to be approved in a legislative committee vote before they become law.
Unanimous Support
The new rules that have been forward will see sports bettors in Arkansas allowed to place bets online. This must be done through local venues, with slightly different rules in place for those that are operated by third parties.
The rules received overwhelming support and were unanimously passed. The meeting to discuss the changes took just two hours. A legislative vote will now take place on the 28th of January. Scott Hardin, speaking on behalf of the Arkansas Racing Commission said that if the rules were passed, then they would be brought into effect immediately.
The committee said that all casinos have to get at least 51% of their profit if they are operated by third parties. This would apply to the likes of Draft Kings and FanDuel. Other states have different split agreements with these companies. The average agreement is 5-15%, which sets Arkansas aside.
A Great Opportunity
Arkansas is a big state with a lot of opportunities for online casinos and sportsbooks. This has not gone unrecognized by the Capitol Advisors Group. The company owns many top brands like Fanduel, Draft Kings, and Bet MGM. John Burris, speaking on behalf of the company taled of its excitement at the opportunity.
They emphasized that they didn't see the situation in the state to be one pitting them against local casinos. They said that they believe that this idea has formed but it is far from the case. They believe that their presence will give players a chance to play through regulated channels and that it will only help to serve local casinos.
Concerning the proposed split rate, Burris asked for the state to reconsider. They said that it would be much fairer if local casinos were allowed to discuss the split with operators and come to their agreements. Burris said that it would make for a much better marketplace and has asked the local government to not put the restrictions in place.

Numbers Looking Strong
The decision looks set to be a beneficial one for Arkansas. Betting wagering numbers in the state doubled from €30m in 2020 up to €60m in 2021. Scott Hardin said that these numbers show that more and more people in the state want to partake in sports betting.
The state collected taxes totaling $583,000 in 2020 and this increased to €1.2m in 2021. Hardin believes online sports betting's presence could see this triple in 2022. Needless to say, these numbers support the rules being passed.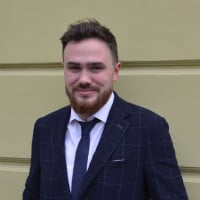 Liam is a skilled writer and journalist, highly regarded for his perceptive examination of the gambling industry. He specializes in online casinos and sports betting, and his work has been published in top-tier publications. Here at GoodLuckMate, Liam covers the latest industry news and has also authored various gambling guides, offering both beginners and experienced players in-depth analyses of games and strategies.