It's been a busy month for Bally's Cooperation, with the company completing two successful takeovers in a short space of time. The two companies that the group has purchased are Gamesys, a successful online gambling company, and Monkey Knife Fight (MKF), a fantasy sports-based company.
Fantasy Sports Betting Markets Opened Up
Monkey Knife Fight a big name in the fantasy sports world. Signing a deal with this company is a big move for Bally's, as it will give the group a significant portion of that market. As a result, Bally's is now only the third company on the US sports betting market to have access to fantasy sports options.
The deal is a big move and the company has expressed its happiness with it. George Papanier, President and CEO of Bally's Corporation is enthusiastic about the change, and he is looking forward to integrating Bally's into its interactive division. The CEO also mentioned how important the daily fantasy sports market is in the US and how this would positively impact Bally's going forward.
There are plenty of positives for Bally's to look forward to from this deal. Monkey Knife Fight has over 200,000 registered users a month, all of which are now going to become a part of Bally's network. MFK also has a serious presence throughout North America. The iGaming company operates in 37 different states, as well as the District of Columbia, and Canada, which gives it some serious reach!
Big Deal for Gamesys
This is not the only deal that Ballyäs has been busy getting over the line. It has also completed the takeover of the successful online gambling firm Gamesys. The company revealed that Gamesys shareholders would receive 1,850 pence a share. The deal itself is a major move for both companies and is believed to have been worth $2 billion.
There was also a new deal put on the table for Gamesys investors, with Bally's offering 0.343 new Bally's shares in exchange for its Gamesys stock. This offer puts a price of 1,665 pence on Gamesys shares.
News of the deal saw the share price of Gamesys jump up. It has been a successful year for the company already, with its share price going up 150% since last March. A significant improvement by anybody's standards.

Soo Kim, the Chairman of Bally's had plenty to say about this deal. He spoke of how impressive Gamesy's management team was and how the deal marks a big moment for his company. The two companies combined would be able to make a significant impact in the growing US gambling market.
Lee Fenton, the man who is currently CEO of Gamesys and who will head up the new merger company was also full of excitement regarding the deal. Since day one, the energy of the companies has been a big driving factor in their agreement. He believes that the two parties are set to head on an exciting journey together that is only going to benefit everybody that is involved.
It's been a very busy start to 2021 for Bally's. The company signed several multi-year partnerships in the US with major sporting brands. This included huge deals with the NHL, NBA, and the MLB, three of the four big sporting franchises in the United States.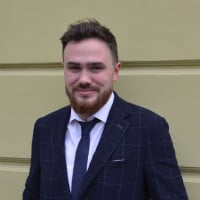 Liam is a skilled writer and journalist, highly regarded for his perceptive examination of the gambling industry. He specializes in online casinos and sports betting, and his work has been published in top-tier publications. Here at GoodLuckMate, Liam covers the latest industry news and has also authored various gambling guides, offering both beginners and experienced players in-depth analyses of games and strategies.