The leading sports betting operator BetMGM has agreed with NBC Sports to show wagering integrations during NFL Games. This will see real-time odds displayed during the game by BetMGM and provide massive exposure for the company.
A Range of Sports Betting Content on NBC Sports
The deal between BetMGM and NBC Sports looks to provide some big exposure and benefit to both parties. As part of the deal, BetMGM odds will be displayed during Monday Night Football coverage of the NFL. This is one of the most watched sports spots of the week in the USA and will put BetMGM in front of millions of viewers.
As well as this, BetMGM will also be featuring other content on Monday Night Football. This includes a weekly segment that will be hosted by Chris Simms, a former quarterback, and Matthew Berry, sports betting expert and fantasy sports pioneer.
It won't just be Monday Night Football where people will be able to see BetMGM's odds either. Peacock Sunday Night Football Final, a post-game show that reflects on events in the sport, will also feature BetMGM heavily.
If all of that wasn't enough - BetMGM odds and lines will also appear in other content hosted by Matthew Berry. Berry will also feature BetMGM heavily on his social media platforms, providing the company with further exposure. There will also be more content hosted by Berry and Simms coming throughout the 2022 season and the 2023 draft. This gives football fans plenty to get excited about in the coming season.
A Brilliant Opportunity for Both Parties
Both BetMGM and NBC Sports seem very excited about the deal. Matt Prevost, BetMGM's Chief Revenue Officer spoke with great enthusiasm. They said that it is a tremendous opportunity for BetMGM to work with some major talent from NBC sports. It will also provide the company the chance to engage with NFL fans all over the country.
Fan engagement was also at the forefront of NBC's comments. Will McIntosh, the president of NBC Sports Next said that this new content will give the company a chance to engage with fans in a different way and across other platforms. They said that they aim to continue to grow in the sports-betting marketplace, which they noted was rapidly growing in the country. They finished by saying that they were very excited to work with BetMGM and looked forward to what opportunities this would present in the future.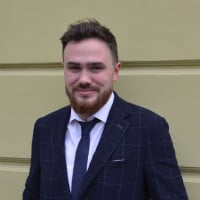 Liam is a skilled writer and journalist, highly regarded for his perceptive examination of the gambling industry. He specializes in online casinos and sports betting, and his work has been published in top-tier publications. Here at GoodLuckMate, Liam covers the latest industry news and has also authored various gambling guides, offering both beginners and experienced players in-depth analyses of games and strategies.